Colonia del Sacramento On a Budget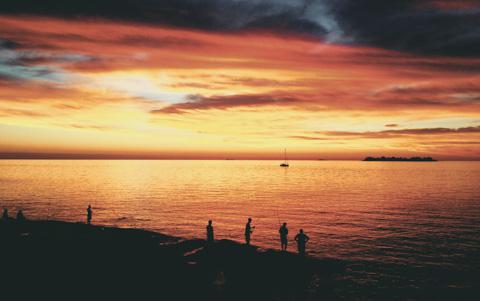 Colonia del Sacramento is in the Rio de la Plata region of Uruguay. It is filled with old colonial buildings and cobbled streets, and is inscribed on the UNESCO World Heritage List. Colonia del Sacramento was founded in 1680 by the Portuguese, sandwiched in between the Portuguese colony of Brazil and the Spanish Viceroyalty of the River Plate, later Argentina, Uruguay and Southern Brazil. Its strategic position and use as a smuggling port meant that its sovereignty was constantly contested and the city changed hands several times between Spain and Portugal. The irresistibly picturesque town's charm and its proximity to Buenos Aires draw thousands of Argentine and other visitors on weekends and in summer. Prices rise in these periods and it can be difficult to find a room so make sure to book your trip well in advance.
Sights
The best activity in Colonia is walking through its peaceful
Barrio Historico, Old Town, a UNESCO World Heritage Site
. Portenos come to Colonia for romantic getaways or for a break from the city. The Old Town Gate is also called Puerta de Campo or Puerta de la Ciudadela, and was built in 1745 by the Portuguese governor Don Manuel Lobo. The region of the Rio de la Plata was valuable and was regularly fought over, so this gate with its walls served to defend the strategically located town from attacks. Today, the well preserved gate marks the limit between the new part of the city and the historic part. Climb Colonia del Sacramento's lighthouse for great views over the Barrio Historico and the River Plate. Towering above the Plaza Mayor is the lighthouse, built in 1857 on top of a tower that was part of the ruined San Xavier convent. It was entirely engulfed in flames in 1873 after a lighthouse keeper had an accident with the oil used in the lamp at the time. Visit Uruguay's oldest church, the
Basilica del Santisimo Sacramento
, also known as the Church Matriz in the Plaza de Armas in the historic district of Colonia. In the church, which is nearly in the same condition as at the moment it was built, you will find two graves, one for the vicar Domingo Rama and the other one belonging to Father Barredo.
If you like to keep busy on your travels, a late-morning arrival and early-evening departure give you plenty of time to see the sights and wander at will in Colonia. However to really see the city at its own pace, spend the night in one of its many colonial-style hotels or bed-and-breakfasts for a more rewarding visit. (If you're on a budget,
check out the best hostels in Colonia here
.) Head to the Old Harbor, also called Puerto de Yates de Colonia, because of its many sailboats, and it lies on the Rio de la Plata. If you visit the area a bit outside of the city center of Colonia, head to Plaza de Toros Real de San Carlos, a bullring built in a typically Moorish style. It is the only bull ring in the whole country and it welcomed the most famous bullfighters of the time, Ricardo Torres and his brother Manuel who came from Spain. Plaza de Toros opened in 1910, and hosted eight fights in the first two years until bullfighting was prohibited by the government.
Planning on seeing more of Uruguay? If so, you should check out this
great guide to planning a week-long road trip through Uruguay
. This country has to much to offer, so make sure you don't miss out on the best parts!
Activities
Head to the
Museo Municipal
to discover a fantastic collection of objects related to the city's history. The Museo Portugues is perhaps the town's most interesting museum, as it documents the city's ties to Portugal. It is most notable for its collection of old map reproductions based on Portuguese naval expeditions. A small selection of period furnishings, clothes, and jewelry from Colonia's days as a Portuguese colony complete well the exhibit. The Nacarello Museum is found in a 17th-century structure, where a colonial Portuguese residence has been fabulously re-created. The simple bedroom and kitchen furnishings are period pieces, but the real attraction is the house itself, with its thick white washed walls and low ceilings. Otherwise, you will find a small collection of the beautiful handmade French majolica tiles that adorn fountains all over Colonia at the Museo del Azulego. This tile museum is housed in a small 18th-century building near the river. The Museum Granja Arenas, founded by Emilio Arenas, opened its doors in 1956 to present 16,260 black graphic writing pencils, the biggest collection in the world, as declared by Guinness World Records. If that is not enough, visitors will find there 3,600 perfume bottles, and much more. All Colonia's museums entrance are less than USD$2.
A must-visit in Colonia del Sacramento is one of the local wineries. Opt for the Bodega Turistica Bernardi, a family-run business established in 1892, Los Cerros de San Juan, the oldest and most traditional winery in the country, which opened in 1854, the youngest winery, Bodega Familia Irurtia or Narbona Wine Lodge for an upscale, indulgent Uruguayan wine experience. These are located a bit outside of Colonia del Sacramento, but worth seeing. The Bodega Familia Irurtia winery has won several international prizes for their products. All of the mentioned wineries offer guided tours with tasting sessions that should not be missed. If you understandably find yourself unable to leave at the end of the day, you can book a stay at some of these properties' sophisticated and homey rooms. At the Narbona Wine Lodge, for example, your stay includes a vineyard tour, mountain bikes for borrowing, and access to Narbona's private beach.
Food and Dining
Colonia has plenty of delicious cafes, restaurants and bakeries. If you have a sweet-tooth, you will enjoy your time in Colonia. Ranging from moist, chocolatey and decadent fondant to delicate Italian sponge cakes and German-style chocolate cakes layered with cherries and whipped cream, Colonia's deserts are simply fabulous. Have a cup of mate tea in the home country of mate. Mate is a brewing beverage where boiling hot water is poured over various herbs to create an infused tea. On tasting it the first time, it could be a bit unusual and strong, but as you get used to the taste, it changes into a delicious drink, and perhaps it will become a life companion. Parrillas and asados, are also such an integral part of the culture in Uruguay that you must try one during your stay there.
Transportation
There are a number of boat connections that arrive and depart from Buenos Aires, Argentina throughout the day and these are managed by three companies, Buquebus, Colonia Express and Seacat. Buquebus provides two services. One faster and more expensive in a catamaran ferry with WIFI, that will bring you to Colonia in one hour and costs about USD$60 one way and is usually quite crowded with day tourists and travel groups. Make sure you book in advance for weekends and the peak season, from Christmas until the end of February. The other slower and therefore offering cheaper prices when booked in advance and online costs around USD$90 for a round trip from Buenos Aires and takes about 3 hours.The Colonia Express costs roughly USD$70 per person return and takes about one hour to reach Colonia. There is no wifi provided but there is a duty-free shop and a small bar selling snacks and coffees. Seacat costs roughly USD$90 per person return and also takes one hour to reach Colonia. A sometimes cheaper possibility is to take a boat from Tigre to Nueva Palmira in Uruguay. From Nueva Palmira, take a bus, which run every two to three hours from the center of the city to Colonia. You will see beautiful landscapes during your bus trip and a spectacular river route in the boat. There are also several connections by bus from Montevideo to Colonia, with most buses leaving from Montevideo's Tres Cruces terminal. The ride takes 2h30 to 3h30 depending on stops and costs about USD$15. Many people who wish to extend their stay in Argentina, come to Uruguay for a few days to be able to come back on Argentinian territory, as this is a cheap and fast way to get out of the country.