Montevideo On a Budget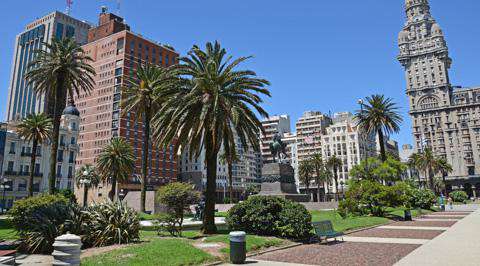 As the morning sun tinges the calm waters of the Rio de la Plata with a golden hue, the Rambla and its city awakens to life with new adventures for those near and far. From tanning on the luxurious beaches to peering into Uruguayan history at local museums, one can be far from bored while staying in Montevideo. Combining the quaintness of the countryside with the excitement of urban life, this city holds a unique trait that cannot easily be replicated.
Sights
If you are looking for a place to play sports, tan, or swim, look no further than Playa Pocitos, or Pocitos Beach. Cast along the Rambla, an avenue that goes along the coastline of Uruguay, it is occupied by mostly the youth culture of Uruguay. Pocitos Beach is always bustling with life as soccer, volleyball, and other nautical events consistently take place. With the Rambla so conveniently tucked beside it, it is easy for tourists and inhabitants alike to sleep lazily in the sun in the morning and then later go for a jog or walk along the avenue in the afternoon or evening.
Nevertheless, if you thirst for live entertainment, the Teatro Solis, and Solis Theatre, will formidably quench you. Varying between plays, musicals, and philharmonic orchestras, Solis Theatre is the most renowned theatre of the arts throughout Uruguay. A relic to Uruguayan theatre and music, the theatre was first opened in 1856 and premiered the first work of Uruguayan opera in history, Tomás Giribaldi's La Parisina, in 1878. Solis Theatre is conveniently located in Ciudad Vieja, next to the Plaza Independencia.
Ciudad Vieja, however, is a trip in itself. With many nightclubs and shops within the Plaza Independencia, Montevideo's oldest town has easily become the most up-to-date. Throughout the historic city of Ciudad Vieja lays sparkling cathedrals, such as the Metropolitan Cathedral, and dazzling government buildings that truly capture the essence of the Uruguayan colonial era. Whether you are looking for fresh foods alongside the Mercado del Puerto to exploring museums of Uruguayan history at the Museo Torres García, there is something for everyone in Ciudad Vieja.
For those who want to experience a more peaceful setting in Montevideo, the city holds a multitude of parks where one can sit, walk, and socialize with locals. Both a barrio, or neighborhood district, and park, Parque Prado, or Prado Park, are important venues to its inhabitants. Along the residential streets of the neighborhood, it provides peaceful, suburban scenery with trees lined along it. The park itself has been noted to be quite gorgeous, with a rose garden, fountains, and monuments scattered throughout. The Miguelete Creek flows through the park and into the Rio de la Plata. Other significant parks include Parque Rodo, La Plaza Fabini o Plaza del Entrevero, and Parque Lecocq.
Food and Dining
There are a wide variety of eateries located within Montevideo, making the fine dining experience far from a scarcity. The Uruguay Natural Parrilla Gourmet is one of the many restaurants that perfect the taste of South American cuisine. Mainly priding itself on traditional Uruguayan barbeque, the restaurant is known by many for having outstanding customer service as well as delicious meats and seasonings.
However, if you are looking for a wider range of food groups, Chef Gabriel Coquel can happily oblige. His restaurant Tandory was named the Traveler's Choice of TripAdvisor in 2015. Prepared with only the freshest ingredients, Tandory acquires all types of entrees that should surely satisfy one's taste buds. With over twelve years of success, Tandory still remains an excellent choice for those seeking a one-of-a-kind dining experience.
Transportation
Getting around in Montevideo is relatively painless. If you are looking for a cheap, convenient alternative, do not hesitate in calling up the local taxi companies. Scattered throughout the city, but especially around the airport, it is not too difficult to hail a cab and get where you need to go for $10 or less. If you are looking to take a bus, the terminal is located east of the historic center. A very modern terminal, the station provides all the amenities that you need, including an Internet cafe, ATMs, restaurants, tourist information kiosks, and left-luggage. Depending on your route, the total fare is no more than a dollar.
However, if you are looking to travel to other parts of South America and don't want to pay for outrageous airfare, take the ferry, both a pleasant and convenient alternative! These boats are stocked with all the comforts, such as cushioned seats, quality food services, and pleasant views of the ocean. The terminal is near the center of Montevideo and the fare is relatively reasonable. This is but another opportunity to explore the fantastic continent of South America!