Punta del Este On a Budget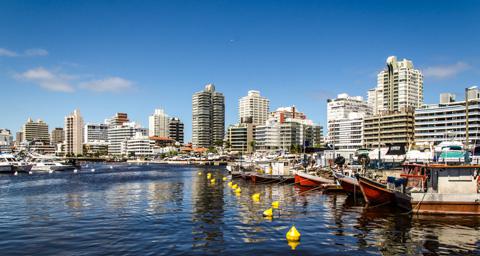 Punta del Este with its many beaches, elegant seaside homes, yacht harbor, high-rise apartment buildings, pricey hotels, ardent night scene and glitzy restaurants is a chic beach resort town in Uruguay. Many tourists come from Brazil and Argentina, on the other side of the Rio de la Plata, to get some nice sun and lay on the beach for a weekend getaway. Punta del Este is more expensive than other areas in Uruguay and has been called the Monaco of South America. Tourist season varies wildly from totally deserted in the winter to very crowded in the summer.
Sights
One of the most iconic images of Punta del Este is the famous hand sculpture, with fingers rising out of the sand. La Mano or Los Dedos is a sculpture made by Chilean artist Mario Irarrazabal, that emerges from the beach on Playa Brava. Another popular sight is Punta del Este lighthouse, on the tip of the peninsula. Built in 1860, the location and height provide great panoramic views of Punta del Este. While access inside the lighthouse is not always possible, the walk here is worth it both for the picturesque lighthouse and the views along the peninsula. If you have already enjoyed Punta del Este scenery for a few days, head to the small but chic resort town of La Barra for new beaches, restaurants and fun bars. It is only a short drive north of Punta del Este, over the undulated suspension bridge Puente de la Barra. You can also drive north to another laid-back beach town on the outskirts of Punta del Este, Jose Ignacio, the chicest beach town in Uruguay with a paradisiac beach. Jose Ignacio is home to the very popular restaurant, La Huella.
Activities
The number one reason to visit Punta is to enjoy the beaches. Choose between the calmer coast at Playa Mansa, or the windier side at Playa Brava; perfect for surfers. If you want to follow the model crowd, head to Bikini Beach in La Barra. However there are many other activities that will keep you busy on rainy and sunny days in Punta del Este. Visit the Museo del Mar, which is a fascinating place to learn more about the natural and social history of Uruguay's coastline. The Museum of the Sea holds a large collection of whale skeletons, a vast shell collection, a pirate room and more. Or you can head to the unique Casapueblo designed by Carlos Paez Vilaro, a Uruguayan abstract artist. This sprawling white compound has a unique design meant to resemble the mud nests of the local Hornero birds. Today, the "house-village" is a hotel, but it also has a museum, the Museo Taller de Casapueblo, an art gallery and cafe. It is also a spectacular spot to watch the sunset. Check out the most popular shopping area in Punta del Este, El Remanso or "Little Paris," which runs along Avenida Gorlero and Calle 20. For art lovers, stop at the Pablo Atchugarry Foundation, which consists of three gallery spaces and an impressive sculpture park dedicated to Pablo Atchugarry, a famous contemporary Uruguayan sculptor. You can see moving exhibitions, a permanent collection of his sculptures, and the tastefully curated sculpture park, which balances the styles of the sculptures by artists from all over the world with the spectacular natural setting. You can also head to Punta Shopping for plenty of shopping options or to Plaza Artigas, also called Plaza de los Artesanos, to pick up souvenirs and handcrafted goods. Take a break from the glitzy people and shoreline with a boat tour to Isla de Lobos, an island home to a large colony of sea lions, located 8.5 km from Punta del Este. Get a close up view of the colony on the island and sail past the Isla de Lobos Lighthouse. Finally do not forget to experience Punta del Este's exciting nightlife. Whether you go to the city's finest hotspots, chilled bars, or one of the casinos, the nightlife in Punta del Este over the summer months will not disappoint you.
Food and Dining
Excellent beaches, great surf, vibrant nightlife, cultural activities and delicious food make Punta del Este and its surroundings the perfect summer destination. Its continuous rise in popularity has led to the rapid development of amazing restaurants to keep up with the demand for great food. Uruguayan cuisine is particularly known for its tasty meat. Asado is the quintessential Uruguayan food. It consists of a massive grill called parrilla, where the asador grills different meats, sausages, vegetables, and cheese using the embers from a wood fire. You will also find great seafood in Punta del Este.
Transportation
Punta del Este is linked to Montevideo by a well-maintained four-lane divided highway. Regular buses come back and forth from Montevideo in 2 hours for around USD$8 one way, making Punta del Este a convenient day trip. If for whatever reason you get off the bus at Maldonado Terminal which is a few kilometers north of Punta del Este you can easily catch a local bus, marked "Punta del Este" in top front, at the stop just behind the bus terminal for USD$0.60.
If you are in Buenos Aires, you can take a short direct flight of less than 1 hour to Punta del Este. Alternatively, you can take the ferry, which is about 3 hours, from Buenos Aires to Montevideo. There are several ferry companies that offer services to and from Buenos Aires. Another option is to jump on a ferry that will take you from Buenos Aires to Colonia, then you will take a bus to Punta Del Este. The complete journey is a bit long, about 7 to 8 hours, but is not obscenely expensive when compared to air travel and significantly shorter than the overland option. If you need a transfer from the airport you can use the bus or get a taxi located in front of the airport. However rates in taxi are very expensive, so you can pre-book online a remise or a private transfer with Airport Transfer Uruguay.