Great hostel, best hostel in Vienna I think. It was very easy to make friends down at the bar as there are always events down there, and before it closes you are directed to another place near by. Staff are also very friendly. Highly recommended if you go to Vienna! - Jason
What sets them apart?
This hostel's friendly atmosphere, family style dinners, and daily activities make it a popular place to stay in Vienna.
Hostel Personality
Who's staying here?
This hostel has a relaxed but social atmosphere so it's popular with solo travellers, backpackers, couples, and budget travellers.
Insider Tip
If the en-suite shower in your room is occupied, find a shared option down the hall to save some time.
Hostel Ruthensteiner Vienna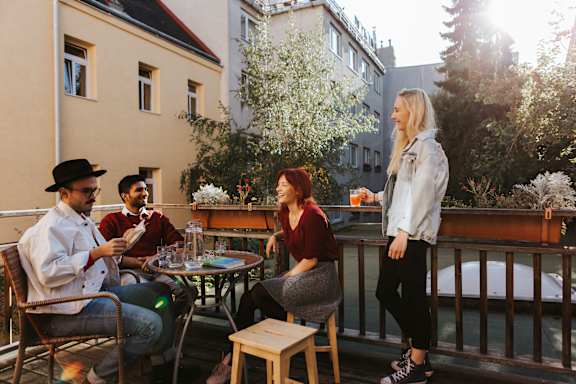 Hostel Ruthensteiner offers a personal atmosphere with lots of activities, friendly staff, and even musical instruments you can use for an impromptu gathering. They host nightly family style dinners where you can pay what you choose to enjoy a fun meal with other guests. There's breakfast in the morning (for a small price) and daily activities that let you meet other travellers.
If you want a change from the larger chain hostels, then Hostel Ruthensteiner is a great option. It's close to the train station and accessible by public transportation.
The Facilities
Dorms
This hostel has dorms that range in size from six to ten beds. There are both co-ed and single sex rooms available (both female only or male only). The beds are comfortable and each guest gets a large locker with a key. There are also outlets and reading lights available.
Private Rooms
In addition to dorm rooms, there are private rooms available that sleep between one and four people. There are doubles and twin rooms of a variety of styles including rooms with bunk beds or single twin beds.
Bathrooms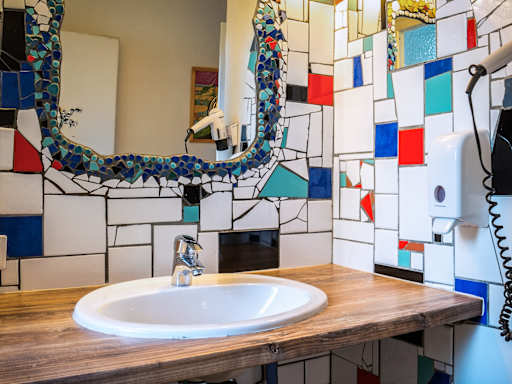 Most rooms here have private attached bathrooms. The dorm bathrooms may get a bit crowded during peak times (there's only one per room) but there are also shared facilities down the hall that you can use.
The bathrooms are very clean and reliable and in general there are very few complaints.
Bar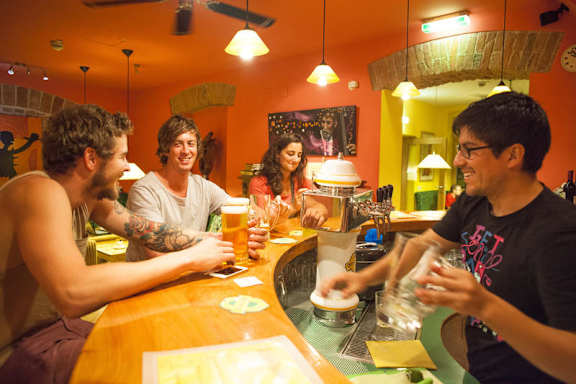 This hostel has a cozy, on-site bar where guests enjoy hanging out and enjoying a drink. They often host activities at the bar like quiz nights or happy hours. The prices are reasonable, particularly during the happy hours, and the drinks are good.
They also have free musical instruments you can use, so it's not uncommon for impromptu gatherings to turn into music sessions. There's a piano, guitars, ukulele, drums, and more.
Common Areas
In addition to the bar and outdoor garden, there's a nice lounge area where you can get some work done, chat with friends, or play a game. They have chess, backgammon, cards, and many other board games available to guests. There's also a book exchange if you need something new to read.
Outdoor Space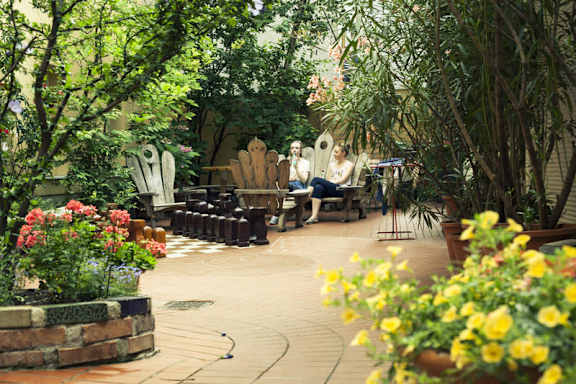 When the weather's nice, many guests enjoy hanging out in the beautiful garden area. You can grab a drink at the bar and then sit at one of the tables or you can make a meal in the kitchen and head outside to enjoy it. There's a large chess board available, musical instruments, and plenty of greenery which add to the setting. This is the perfect place to unwind after a busy day exploring the city.
The Location
Rudolfsheim-Funfhaus
What's Nearby?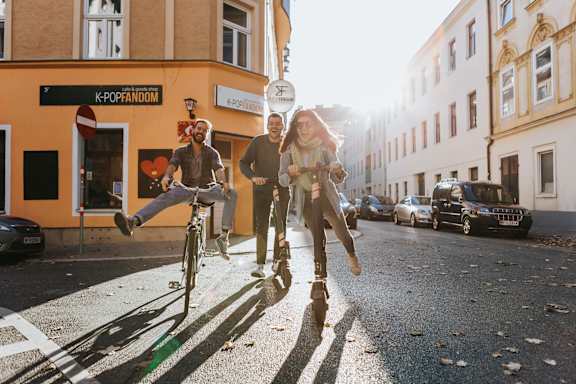 This hostel is convenient to Wien Westbahnhof Train Station, which is just a quarter mile away (less than a five minute walk). It's also close to Schonbrunn Palace and Raimund Theatre. The city center is a bit farther away, and many popular sights, like Vienna State Opera, the Austrian National Library, and St. Stephen's Cathedral are best accessed with public transportation.
The hostel is convenient to grocery stores and restaurants, all of which are very close. This is convenient if you plan to cook your own food or grab a cheap meal out.
Nearby Transportation
This hostel is accessible to the metro, which is nice because you'll use it to travel to many sights around town. The closest metro stop is Gumpendorfer Strabe Metro Stop, which is just a couple minutes walk away. The hostel is also very convenietn to Wien Westbahnhof Train Station, which can be reached in under five minutes. Schwechat Airport is 12 miles away.
Activities
This hostel is all about the activities. There are family dinners every night where you pay what you can. The on-site bar hosts music sessions, happy hours, and trivia nights. There are also walking tours and bike tours of the area. In addition to all of the organized activities, the unplanned social gatherings are really fun. Many guests hang out in the bar until it closes and then head down to the street to other bars. It's never hard to find friends to go out with here.
Amenities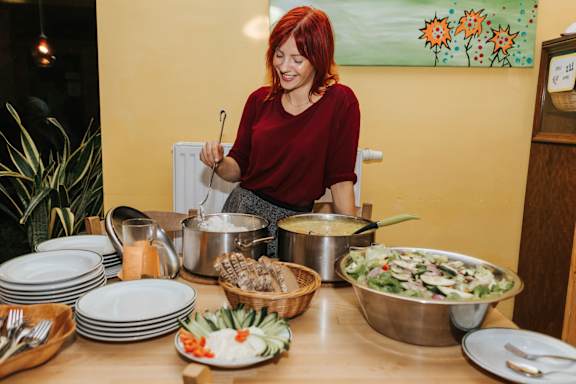 This hostel is all about the personal touches. From the musical instruments to the board games and chess boards, there's a lot of interesting amenities here. The kitchen is great if you want to prepare your own meals. There's bike storage available for the avid cyclists. There's also meals, vending machines, and any travel information you might need.
Staff
The staff here are great, and they keep the place running smoothly. They can be credited with organizing activities and maintaining the friendly atmosphere. Don't hesitate to ask if you have any questions or concerns while you're here.
Heads Up
One of the most consistent complaints about this hostel is that it's a bit removed from many of the tourist sights. It is very convenient to public transportation though, so for most people this isn't a big problem.
Hostel Ruthensteiner Vienna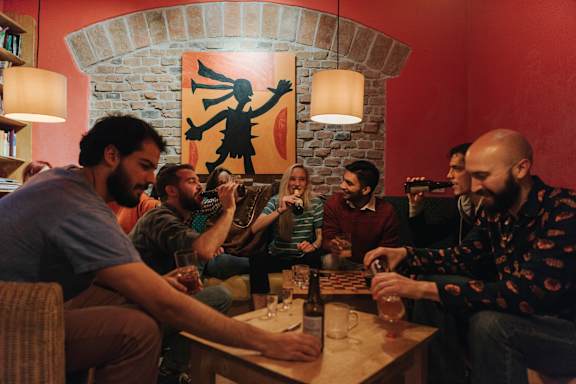 Do you have a favorite hostel that you would like to review? Let us know!