This place was great! Awesome staff and the hostel itself was super nice and clean. The common area was super relaxing with lots of outlets. I would come back for sure. Also the free walking tour was awesome!! - Jacqueline
What sets them apart?
This hostel's prime location, on-site bar, and large rooms make it a favorite among travellers.
Hostel Personality
Who's staying here?
This hostel is large and it has a reliable reputation so it attracts all types of travellers including groups, couples, backpackers, solo travellers, and more. It's large size means it can be a bit hard to meet people, but hang out in the bar one night and you'll make a whole new set of friends.
Insider Tip
Check out nearby Cafe Central for breakfast. It's quite good!
Wombat's City Hostel Vienna Naschmarkt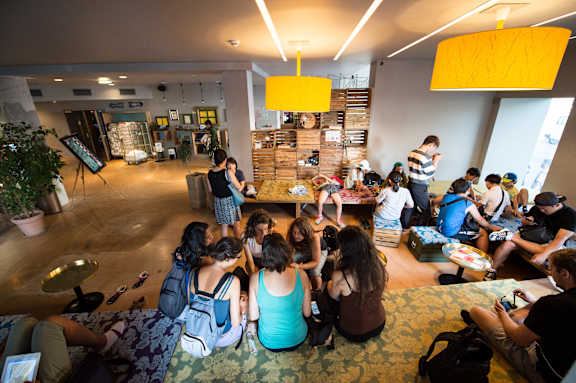 This hostel is part of the Wombats chain of hostels, which has been in Europe for over twenty years. It's a reliable chain with clean rooms and comfortable beds. The hostel is quite large, so it doesn't really have a local vibe, but it is a favorite among travellers, so there's always something going on.
The on-site bar, WomBar, is the place to hang out if you want to meet other guests, enjoy some cold drinks, and hear some good music. There always seems to be something going on so make sure you check it out.
The hostel's location is great as well, near the city's most popular market, Naschmarkt. You can enjoy great restaurants, food stalls, and shopping nearby or simply walk around and soak up the atmosphere.
The Facilities
Dorms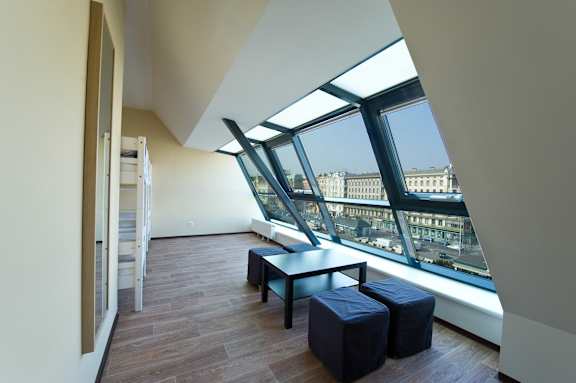 This hostel has a large number of dorm rooms that sleep either four, six, or eight people. The rooms are quite large and the beds are comfortable. Options are available for either co-ed or female only rooms. The rooms have fans and heating, as well as an en-suite bathroom. Some of the rooms have impressive views, large windows, and lots of natural light.
Private Rooms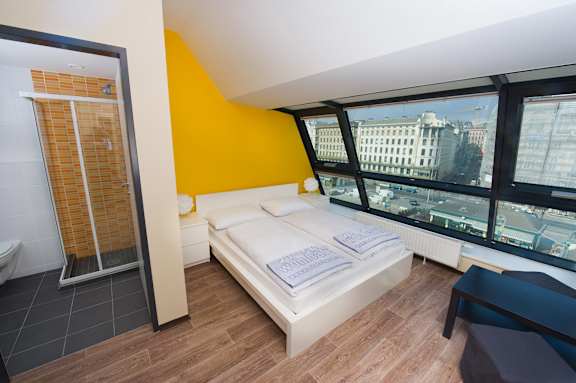 A wide variety of private rooms are also available. There are twin, double, triple, and quadruple rooms to choose from. The rooms have private attached bathrooms with showers and toilets.
The double room has a queen bed while the twin room has twin beds. The triple has a bunk bed and a single bed and the quad has to bunk beds.
Bathrooms
The bathrooms at Wombats are very clean and modern. The rooms each have an en-suite bathroom with a shower and toilet. The bathrooms are cleaned regularly and the shower provides hot water with good water pressure.
Bar
Wombats on-site bar,
WomBar
, is legendary. It's the place to go to meet other guests and enjoy a drink. They have music and activities and there seems to be something going on most nights. The drinks are good, but cost a little more than you might pay elsewhere.
Common Areas
In addition to WomBar, there's a common area attached to the lobby where you can hang out, use the Wi-Fi, and relax with a book. This is a large hostel and many guests stick to their groups, so you might find it a bit a difficult to meet people, but it's a modern, clean, and comfortable place to stay.
The Location
Wieden
What's Nearby?
This hostel is conveniently close to Vienna's main market area, Naschmarkt, so there's no shortage of great restaurants, food stalls, and shopping nearby. It's also walking distance to a lot of the city's top attractions. You can easily reach the Hofburg, Secessioinhaus, and the Vienna State Opera on foot, or the metro is also very close by.
If you plan to take advantage of the hostel's large kitchen, you'll appreciate that there's an Aldi's very close by. Grab some cheap food and make your own meals to skip out of the high cost of eating out in Vienna.
Nearby Transportation
Wombats is also just a five minute walk from the U4 metro stop Kettenbruckengasse. This line will take you directly to Schoenbrunn palace, among other interesting parts of Vienna.
Activities
This is a large hostel with a handful of activities that guests can enjoy. The bar is the place to be most nights, where they have parties, music, and happy hours. During the day you can learn about Vienna on one of the hostel's convenient walk tours. Ask when you arrive about the activities and schedule, and the staff can help you out.
Amenities
This is a large and well established hostel, and with size come amenities. There's a large and clean kitchen available to guests, laundry facilities (coin operated), a book exchange, board games, travel information, and bike rental. There's also a buffet breakfast available to guests for a price.
Staff
The staff here are great and do an amazing job running such a large hostel. They're flexible and relaxed and will go out of your way to help with any inconveniences that pop up. While the hostel is large and can feel a bit impersonal, the staff are approachable and friendly and will make your stay convenient and enjoyable.
Heads Up
For most guests, the large size and sterile feel is their only complaint about this hostel. But sterile really means clean and despite the hostel's size, the staff keep the place running smoothly.
Wombat's City Hostel Vienna Naschmarkt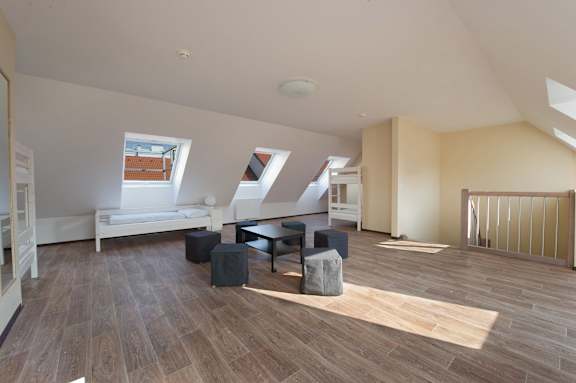 Do you have a favorite hostel that you would like to review? Let us know!