Cheap Alternative Cruise Shore Excursions in Cozumel, Mexico (On Your Own)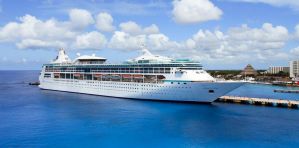 Cozumel is a popular place, and the reasons are obvious: beautiful beaches, clear water full of tropical fish, terrific food, friendly locals, and a convenient transportation infrastructure to get you around.
If you're arriving on a cruise, there are so many activities that you'll have a hard time deciding what to do. Snorkeling is clearly a popular option, especially given that a marine sanctuary sits right off the coast that protects beautiful reefs, thousands of species of tropical fish, and sea turtles. Or, head inland to see the Mayan ruins, the jungle paradise, and local villages. Or, do both! Many excursions combine multiple activities so that you get the best of the sea and the land.
Leaving from La Ceiba Beach Resort (adjacent to the cruise ship port), your off-road capable jeep will depart on an adventure that will take you to see the best that the island of Cozumel has to offer. First you'll see the El Charocal Mayan ruins in the jungle where crocodiles relax in the sun. Views of the beautiful lagoon will be available from the higher vantage points, too. Your guide will help you learn about the ruins, the Mayans who created them, and the cultural and ecological significance of the land you're touring.
Then head to the beach! The nearby white sands and crystal-clear water are great to relax for awhile, or plunge into the water with a snorkel. Your guide will show you the best spots to see tropical fish, the coral reef, sea turtles, and more. Again, the guides here are terrific and can help explain the biology and ecology of everything you are viewing.
Then your jeep will take you to the Navigation Museum at the Punta Celarain lighthouse for some great views before headed to lunch at a nearby luxury beach resort. Here the Mexican food is gourmet and authentic, and you will have worked up your appetite at this point! After lunch, relax on the beach or at the resort's pool before headed back to port.
This tour is guaranteed to have you back in time for your ship's departure or they pay for your transfer to the next port-of-call. You can rest assured that you'll have a great time, eat some yummy food, and not have to worry about your schedule.
Approximate Price:
$
82.00
The Playa Uvas is a private beach club with great food, an open bar, a beautiful white sand beach, and snorkeling access to the Chankanaab National Marine Park. Picking you up from the port, you'll be whisked away to this private club to enjoy the open bar, buffet lunch, and fun and relaxation on the beach. Snorkeling and Kayaking in the crystal clear waters is a great privilege here, as the colorful fish and vibrant coral reef await your exploration. If you choose, you can also take a guided snorkeling trip with a PADI certified swim/dive guide to not only keep you safe, but also teach you about the marine environment.
Everything you need or could even want is included with your admission to Playa Uvas. They also offer a guarantee that if they don't have you back to your cruise ship on time, then they will pay to have you meet your ship at the next port!
Approximate Price:
$
71.00
Why not combine two amazing activities into one day? First, you'll spend your morning headed into the jungle for some ATV adventures through the dirt and mud. On the way, you'll see some Mayan ruins and temples, swim in the clear waters of a submerged cenote, check out some caves, and more. Yes, you will get dirty, but that's all part of the fun. And your guides will be there to help you ride the ATVs and provide historical, ecological, and cultural information about everything you're seeing.
For lunch, you'll head to the private beach club of Dzul Ha, where you can order a gourmet lunch, relax on the beach, or go snorkeling the crystal-clear waters full of coral and tropical fish.
With their on-time guarantee to get back to the ship before departure, you only need to worry about having fun!
Approximate Price:
$
70.00
Yes, you will be boarding a real submarine for this adventure! The U.S. Coast Guide certified Atlantis submarine will take you 100 feet underwater in the famous Chankanaab National Marine Reserve, which is a protected underwater environment. The waters are clear and blue and beautiful, and naturally full of tropical fish, coral reefs, sea turtles, and more. The on-board guide will give you an overview of everything you see out the windows of the submarine during this forty minute underwater cruise, which is comfortable and air-conditioned. It's a once-in-a-lifetime adventure, and you don't even need to enlist in the Navy! This is a terrific opportunity for those that are not scuba certified or don't wish to swim.
To reach the submarine, you'll first take a short ferry along Cozumel's beautiful coast, and a return ferry ride will take you back where you started after the submarine ride. The return-to-ship guarantee will make sure that you're back on your cruise ship before it departs the port, or they pay for your transfer to the next port!
Approximate Price:
$
105.00
Akumel Bay
, on the Yucatan mainland, is known for its large population of sea turtles. The calm, clear water combined with the protected environment is the perfect situation to see these special creatures in their natural environment. If there was ever a reason to grab an underwater camera, this is it! The Akumel Bay area is one of the premier diving and snorkeling sites in the region, and you'll find out why.
After spending time with the turtles in the open sea of the bay, you'll then head into the nearby Yal Ku lagoon where you can swim with various tropical fish, explore some sea caves, and more.
A buffet lunch and open bar are also available, of course.
Coming from Cozumel, you'll also meet your guide at the ferry terminal to take the 30-minute ferry across the water to the mainland before meeting the van.
This tour is not available to Carnival Cruise passengers.
Approximate Price:
$
146.00
Share This Article