Cheap Tours and Things To Do in Charleston, South Carolina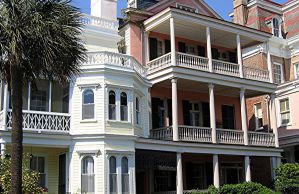 Beneath the hot, blue southern sky, an elegant city arises beside the shivering, reflective waters of the canal. Charleston, South Carolina is both the largest and oldest city of the United States and is located on the south of the state's coastline near the Charleston harbor. With a thriving population, the metropolitan area of Charleston was deemed the third-largest of the state. Founded under the name Charles Town, in honor of King Charles II of England, it was originally located on the west point of the Ashley River. In 1680, the inhabitants then moved to its present location where it became the fifth-largest city within a decade. Throughout the latter part of the 1700s and 1800s, Charleston slowly became a majority-enslaved population, with the government largely controlled by wealthy white plantation farmers and merchants. Because of its rich history, well preserved buildings, and fantastic tourist sights, restaurants, and shops, Charleston has become a hub for tourists. In 2013 and 2014, Charleston was considered the friendliest city by
Travel + Leisure
and
Conde Naste Traveler
respectively. While the possibilities are endless in Charleston, there are some spellbinding activities that you simply must explore.
If you are a lover of southern history, considering one of the many historical tours available with the optional Joseph Manigault House visit. A short, simple tour of either 2 hours or 90 minutes, you will get to explore more than a 100 points of historically significant and fascinating locations, such as the Rainbow Row, Colonial Lake, the Old Exchange Building, South Carolina's most historic building, White Point Garden, Fort Sumter, and Patriot's Point. As stated previously, patrons are given the option to take the 30-minute walk through the Joseph Manigault House, an exquisite piece of architecture of the antebellum period. With a professional tour, you will be educated on the interesting history of Charleston on a mini coach. Food and beverages are not included as well as the hotel pickup and drop-off.
Approximate Price:
$
22.00
However, no matter how beautiful the earth's land is, it is nothing compared to its profound seas. The South Carolina Aquarium was opened under the Marine Mammal Protection Act of 1972 and holds over 60 exhibits and nine galleries that include
endangered sea turtles, jellyfish, sharks
, and more. Besides its 7,000 aquatic animals, the Aquarium also has river otters, owls, eagles, and other woodland creatures. Some notable species found at the Aquarium include albino alligators, bald eagles, pythons, seahorses, and great blue herons. There is also a 385,000 gallon-tank known as the Great Ocean Tank as well as a Touch Tank for children. Unfortunately, the original price does not include hotel pickup and drop-off, food and beverages, or transportation. Be that as it may, the South Carolina Aquarium is a fascinating place with even more fascinating life within. Spend your time under the seat at the South Carolina Aquarium!
Approximate Price:
$
25.00
Travel back to colonial times in Charleston by climbing aboard the horse-drawn carriages. Within one hour, you will discover 300 years worth of history within the expanse of this metropolitan area. Churches, mansions, gardens - all will be narrated by a professional guide, so you get the full experience of learning and understanding every inch of Charleston's vast history. From the Old Exchange to the Provost Dungeon, you will enjoy the romantic clip-clop of horses trotting as you gaze at this scenic town. Because of its short duration, there is no hotel pickup or drop-off as well as food or beverages included in the original price. Take a time machine back to the past at Charleston!
Approximate Price:
$
25.00
Nevertheless, if you want to explore modern-day Charleston and its soulful southern cooking, take a culinary tour through downtown Charleston. Walking in a small group, you will get to travel to many popular tourist destinations as well as taste delicious food samples. You will explore the historic center of Charleston as well as four favorite, locally-owned restaurants. Each food sampling lasts from twenty to thirty minutes and includes a tasty dessert in the end. With so many samples, you will find yourself in very little need of supplemental food and beverages. From Poogan's Smokehouse to Carmella's Cafe, you will get your fill of the Charleston taste. All the while, you will be
guided by a foodie guide to educate you on the culinary history of Charleston
. The total time of this tour is 2.5 hours, and it is well worth the extra calories!
Approximate Price:
$
60.00
Share This Article