The Best Cheap Tours and Activities in Washington, D.C.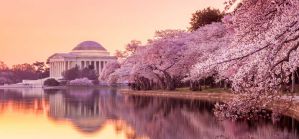 Ivory monuments that commemorate the nation's miraculoous history scatter across this glimmering cityscape, making this city and capital a true gem of the United States. A compact city nestled on the Potomac River, this city was established on July 16, 1790. After Virginia and Maryland donated sections of land to create this federal capital, the city was named in honor of President George Washington. While the city has a population of 681,170, the amount of commuters of Washington estimates to nearly one million during the workweek. The Washington metropolitan area has an estimated population of six million, making it the sixth-largest metropolitan area in the country. All three branches of the American federal government are located in Washington as well as many national museums and monuments. Washington also hosts about 176 foreign embassies as well as holds headquarters for many international organizations. With so much history and culture surrounding Washington, you may be a bit overwhelmed by how many places you can explore in the city. Nevertheless, there are definitely some activities that you simply must pursue during your visit!
If you are a lover of history and cycling, then the Washington DC monuments bicycling tour is perfect for you! As you cycle past famous DC landmarks, including the Washington Monument, Vietnam Veterans Memorial, Lincoln Memorial and Jefferson Memorial, you will be able to get a up-close view that cannot be easily attained by trolley or car. On a comfortable hybrid bike, you will spend nearly 3 hours delving into the history of Washington and receive a plethora of anecdotes and history provided by your knowledgeable tour guide. Due to the length of the trip as well as the physical exertion, snacks and water are provided free of charge. Helmets as well as equipment for kids is provided also during the tour. Hotel pickup and drop-off is available upon request. Get a firsthand look of the history surrounding D.C.
Approximate Price:
$
54.00
Another unique, fun way to travel about the city is through a segway tour. With these neat scooters, you will be able to glide past important landmarks like the U.S. Capitol Building, the National Museum of Natural History, the National Air and Space Museum, Ford's Theater and many other fascinating sites. Throughout this experience, a professional, friendly tour guide will fill you in on the history and stories surrounding these sites. As you explore the expanse of Washington, D.C., you will find there are plenty of breathtaking photo opportunities available for you and your loved ones. In order to create a personal, intimate atmosphere, the groups are kept in a limited number, so be sure to reserve your space fast! Prior to the tour, a 30-minute training session will allow you to get a firm grip on your segway. Food and drinks, however, are not included in the original price. Get a chance to roll through Washington's history at lightning speed!
Approximate Price:
$
66.00
Nevertheless, when all else fails, the hop-on, hop-off trolley tour of Washington, D.C. is always available for you. During this extensive tour, you will get a chance to hop on or off more than 25 amazing sites. Unlike many other tours, Washington's trolley tour makes a stop to the important Arlington National Cemetery. Because the capital brings in international audiences, a foreign language app is available for non-English speakers. When you book for this fantastic trolley ride, you will be given the option for a one- or two-day pass. Besides a great, friendly tour guide, you will also have an onboard hostess that will help you with any concerns you may have. Local taxes and a shuttle to the Arlington National Cemetery are available and included in the original price. Earbuds, food, and drinks, however, are not. Enjoy your stay in Washington, D.C.!
Approximate Price:
$
49.95
Share This Article