Lovely stay. Hostel is nice and clean, staff was just lovely and super helpful. There is supermarket across the street and the train station is short stroll from hostel location. Highly recommended. - Monika
What sets them apart?
This hostel is an affordable option outside of Amsterdam's city center. It offers clean rooms and modern facilities.
Hostel Personality
Who's staying here?
This hostel is basic and affordable so it's attracts guests that are passing through or don't mind a commute into the city center. It's not the most social hostel, but is a decent place to crash for a few nights.
Insider Tip
Grab some groceries at the supermarket across the street. It'll save you money on eating out.
Dutchies Hostel
Dutchies Hostel is a basic but affordable place to stay just outside of the city center. It's easily connected to public transit and you can reach the city center or museum district in about 15 minutes by tram.
The hostel has basic dorm rooms that are comfortable and include a decent sized locker (with padlock included). The hostel is located on the ground floor of the building, and the rest of the space is filled with student housing.
The staff here are really great and check in is smooth, but some guests expressed concerns about the neighborhood. The hostel itself is very safe and secure.
The Facilities
Dorms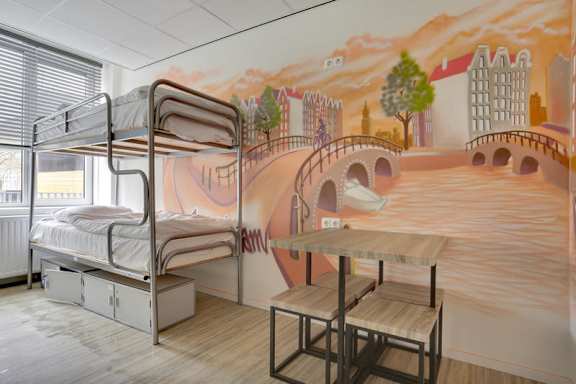 This hostel has dorms that sleep 6, 8, or 10 people. All of the rooms are mixed with no female only rooms available. Each bunk has its own outlet where you can charge electronics as well as a security locker that will fit a small backpack. The rooms are clean and comfortable.
Bathrooms
The bathrooms are small but cleaned regularly. It's difficult to control the temperature for the shower, which is push button. Some guests find this inconvenient.
Restaurant
The hostel has a small cafe style restaurant where you can grab a light meal or a drink. It's a convenient option if you want somewhere to hang out for a little bit.
Common Areas
There is a television room available to guests as well as a pool table, board games, and other entertainment options. There's also an outdoor terrace with tables, and a shared kitchen where you can prepare you own meals.
Outdoor Space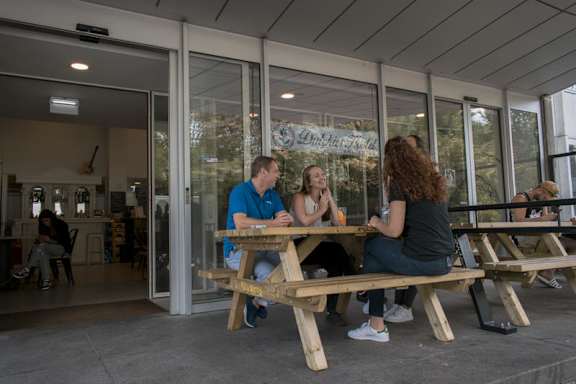 There's an outdoor space with picnic tables available to guests. There's also parking available for a reasonable price and bikes available for rent.
The Location
Westpoort
What's Nearby?
Located in a new and modern building, Dutchies hostel is a bit outside of the main tourist area of Amsterdam, but very close to public transit. You can reach the city center in about a 15 minute tram ride. the museum district is also about 15 minutes away by tram.
The hostel takes up the ground floor of a building that is otherwise occupied by student housing. It's in the western part of Amsterdam and there's a supermarket nearby.
Nearby Transportation
This hostel is right by Amsterdam Sloterdijk where you'll find great bus, tram and metro connections. You can reach the city center in about 15 minutes by tram. There's also a bus that goes directly to Centraal Station in about 20 minutes. The hostel also has parking available for a reasonable daily price, so if you're driving you'll appreciate the convenient of the location.
Amenities
This hostel has some great amenities available to guests including bike rental, bike parking, car parking, a shared kitchen, laundry facilities, and all kinds of travel information and tickets. There are also the standard amenities available including Wi-Fi access, security lockers, and more.
Staff
The staff here are friendly, professional, and helpful. They keep the check in process running smoothly and are very responsive to any questions or concerns you might have.
Heads Up
This hostel is a bit outside of the city center, but easily accessible to public transit. It's not the most social hostel, but it's comfortable and clean with friendly staff.
Dutchies Hostel
Do you have a favorite hostel that you would like to review? Let us know!