The train lodge was one of the best hostels I have ever stayed at throughout my European trip. Please don't miss this one, staff are friendly, great people to meet and the trains have that vintage feeling. I slept great, it wasn't cold and beds are comfortable. Thanks again train lodge ! :) - Anonymous
What sets them apart?
This hostel offers a truly unique experience. Night trains are becoming less common throughout Europe and this hostel gives you the opportunity to sleep in a luxury sleeping train car. It's a destination in itself, and not one to miss for any train enthusiast.
Hostel Personality
Who's staying here?
This hostel appeals to all kinds of travelers. Groups can rent out entire compartments or cars (which sleep up to 33). Solo travelers or couples can reserve a bed in a shared compartment.
Insider Tip
This hostel is all about the experience. If you love trains, then you'll love this place.
Train Lodge Amsterdam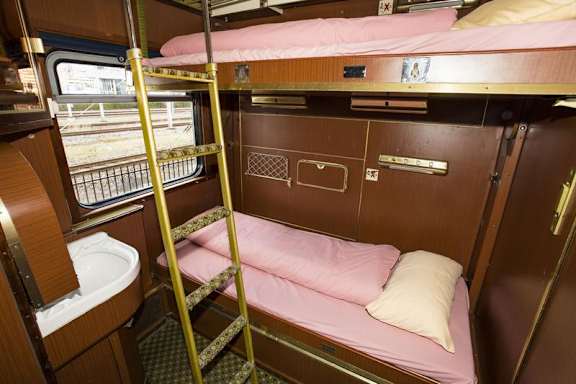 Train Lodge Amsterdam is a truly unique hostel. The hostel is made up of four luxury sleeping cars that were once part of the
Zurich to Rome
night train. The cars are divided into separate compartments that have three bed high bunks. There are shared bathrooms and shelving available by the bunk beds. There's also a bar-bistro train car where you check in and can grab a bite to eat.
The hostel is a bit outside of the city center, but it's right by all types of transportation. You can be in the main tourist area in about a 25-minute ride.
The Facilities
Dorms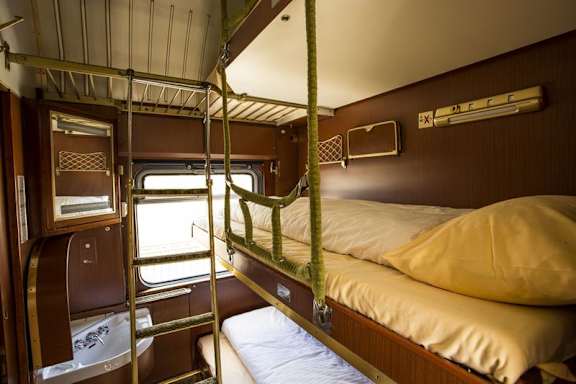 Train Lodge offers guests the unique opportunity to sleep in luxury train cars that were once part of the Zurich to Rome night train. These cars are surprisingly comfortable and give you a true train experience. there are shared compartments that sleep three people in a three person high bunk bed. The hostel has 132 beds in total spread over four sleeping cars, each sleeping up to 33 people.
Private Rooms
If you're traveling with a group, you can reserve an entire compartment. It's also possible to reserve an entire car if you're traveling with a large school group or club. One car sleeps up to 33 people.
Bathrooms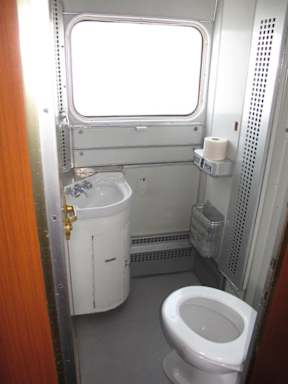 This is a train car, so the bathrooms are a bit tight and inconvenient. There are aren't really enough showers for the entire car but everything is very clean and it offers a unique experience.
Restaurant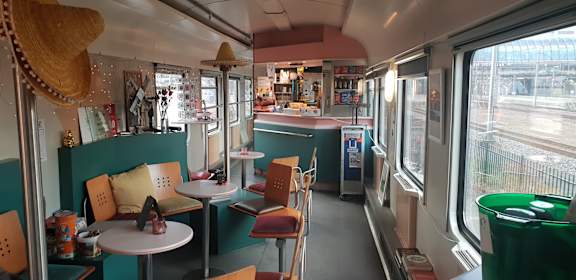 Head to the bar-bistro train to grab a bite to eat or a cold drink. This is where breakfast is served and also where you check in. There are some small tables and chairs, some travel information, and a television.
Outdoor Space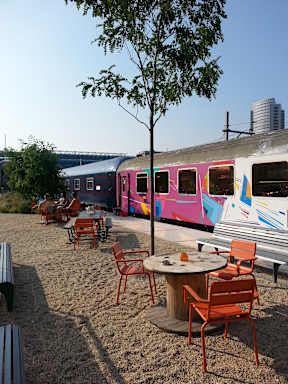 The terrace is a great gathering place for guests. There's a variety of tables, a little bit of shade, and a little garden area. It's the perfect place to relax with other travelers while you enjoy a cold beer or a meal. The environment is casual and relaxed and it's easy to strike up a conversation with anyone.
The Location
Westpoort
What's Nearby?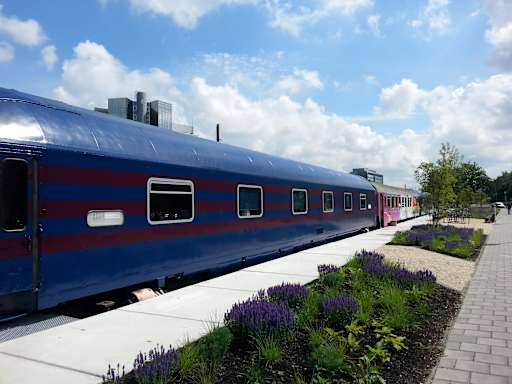 The Train Lodge is locataed right next to Amsterdam Sloterdijk Station. It's about 2 miles from the Anne Frank House and a little over 2 miles to Vondelpark. You can hop on a train and be in town in about 25 minutes.
This hostel is all about the experience it offers. The area itself doesn't really have a lot, but most guests rave about the unique opportunity to sleep in a night train.
Nearby Transportation
Being right next to Sloterdijk Station means that you have access to all kinds of transportation options. trains, the metro, trams, and buses all stop nearby and you can easily hop around the city to the best nightlife, tourist attractions, and festivals.
Amenities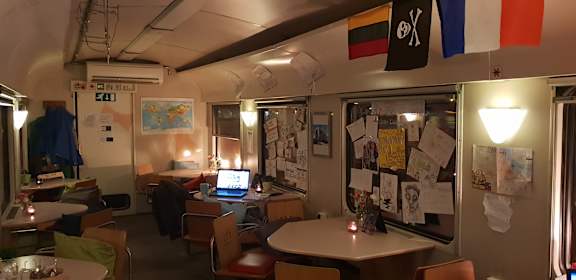 This unique hostel offers a few amenities for guests beyond the experience itself. There's Wi-Fi access, bike rental, air conditioning, and breakfast which you can purchase in the dining car.
Staff
The hostel staff are available 24 hours a day. They're really friendly and helpful. You have to ask a staff member to lock your compartment for you, which can become a bit of a hassle, but the staff are friendly and happy to do it.
Heads Up
This hostel is all about the experience of staying in a sleeper car. It's a bit outside of the city center and there's no kitchen that the guests can use. The bathrooms are a bit small and limited in number, but again, that's all part of the unique experience.
Train Lodge Amsterdam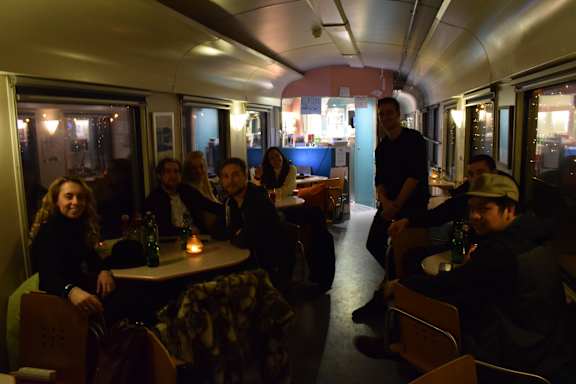 Do you have a favorite hostel that you would like to review? Let us know!