ClinkNoord is an excellent hostel, especially traveling solo. It has a great, close location that is very easy to travel to. It is extremely safe. It is also easy to meet other people there. They seem to have many events going on daily, many of which are geared to solo travelers like myself. The hostel is actually quite big, so if you are also just wanting a place to chill away from the craziness of the day, that is also easy to find there. I would definitely stay there again in the future. - Allison
What sets them apart?
This hostel is all about the activities. There are events scheduled day and night that are fun and perfect for meeting other travelers. The hostel's on-site bar and cafe are also fun and convenient.
Hostel Personality
Who's staying here?
This hostel is really great for solo travelers. With the daily events, many of which are geared toward solo travelers, you'll have no trouble meeting other guests. This is a large hostel, and it's really suitable for everyone. There are private rooms for couples or small groups and a bar if you're looking for a social and lively vibe.
Insider Tip
Make sure you have the right sized lock for the locker or you can buy one at the reception area.
ClinkNOORD
ClinkNOORD Hostel is the perfect place to solo travelers who want to meet other guests. They have daily events, many of which are geared specifically for solo travelers. This is a large hostel that often has larger groups staying here, but there's plenty of common space and an amazing community vibe. It's really easy to meet other travelers.
The hostel is just a short ten minute ferry ride from the city center. The ferry is free and many guests enjoy the experience. The dorm rooms are bit small, but comfortable and clean.
The Facilities
Dorms
This hostel is large with a very wide range of rooms sizes to choose from. There are dorms that sleep anywhere from four to fourteen people, with everything in between available as well. Female only and mixed rooms are both available. Most of the rooms have their own attached bathrooms and the bunks each have a USB socket, outlet, and security lockers for your valuables. The rooms are a bit small, but this is typical of any hostel in a European city.
Private Rooms
If you're traveling as a couple or simply want some space to yourself, you'll appreciate this hostel's range of private room options. Single, twin, double and quad rooms are available. The singles are perfect for solo travelers who want a hostel atmosphere without the shared room experience. Quads are great for groups of friends who want to stay together. Most rooms have their own private bathrooms.
Bathrooms
Most of the rooms have ensuite bathrooms. The bathrooms are very clean, the showers are great there's really nothing to complain about with the bathrooms.
Bar
ZincBAR is the perfect place to grab a slice of pizza and a cold drink. They occasionally have live music or a DJ, and there always seems to be something going on. If you're hoping to meet other travelers who want to party, then this is the place to go.
Restaurant
CatalystCAFE is a great option if you want to grab a casual bite to eat. They have decent food and good coffee at a reasonable price.
Common Areas
There's no shortage of common space at this hostel. There are game rooms with a pool table and foosball table, board games, and more. There's also a library and book exchange if you want a quiet space to yourself.
If you'd like to cook some meals for yourself, check out the shared kitchen. It's a bit small, but has everything you need.
Outdoor Space
If the weather's nice, head outdoors where there's comfortable seating and a few tables where you can gather with friends.
The Location
Amsterdam Noord
What's Nearby?
Located in the Amsterdam Noord neighborhood, this hostel is surrounded by art studios, beautiful architecture, and great restaurants and cafes. The hostel is just ten minutes from the city center, but is located in a chill and relaxed part of Amsterdam. You can reach Centraal Station in about a 10 minute ferry ride. Popular sights such as the Royal Palace and Dam Square are just under a mile away.
Nearby Transportation
You can reach Amsterdam's Centraal Station in just a ten minute ferry ride. The ferry is free and runs 24 hours a day. This is Amsterdam, so the best way to get around is by bike. Rent a bike and explore the city. You'll really feel like a local and enjoy soaking up this unique atmosphere.
Activities
This hostel hosts daily activities for guests so it's easy to meet other travelers. You can enjoy a cocktail making class or listen to live music or a DJ in the bar. During the day there are free walking tours of the city. There's also frequent pool or foosball tournaments, so brush up on your skills before you arrive.
Amenities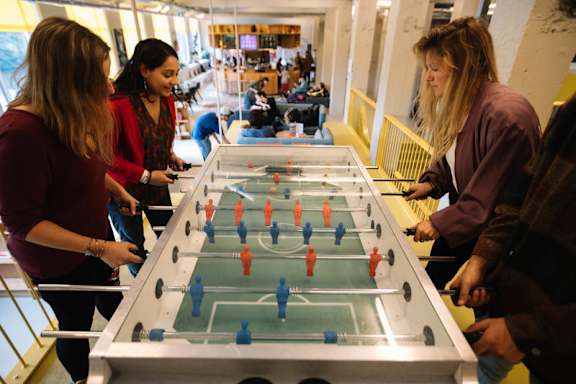 This is a large hostel with many great amenities for guests. In addition to the standard amenities found in most hostels, like Wi-Fi access, luggage storage, and security lockers. They also have laundry facilities which is great if you've been on the road awhile. There's also all kinds of activities and entertainment like a pool table, foosball, board games, and a book exchange. You can cook some meals in the hostel's shared kitchen or grab a snack in the vending machines. Breakfast is also available for a small price.
Staff
This is a large hostel with a large number of employees, so the personalities can be hit or miss. Many guests enjoyed chatting with the staff, but others found them to be a bit overwhelmed and not particularly friendly. They do really go out of their way to organize activities, and the experience is overall excellent.
Heads Up
This is a large and fun hostel that's a bit outside of the city center. Some guests complain that it feels more like a big corporation than a personal hostel, but other's rave about the amazing atmosphere.
ClinkNOORD
Do you have a favorite hostel that you would like to review? Let us know!