Kampong Cham On a Budget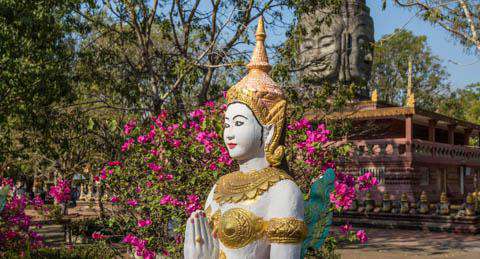 Kampong Cham is the sixth largest city in the country, located in the east of Cambodia. Just two and a half hours away from Phnom Penh is a surprisingly large province by the same name. Kampong Cham is the capital of this province, a quiet town on the west side of the Mekong River. While the town does not cater to tourists like other large cities such as Siem Reap and Phnom Penh, the charm of Kampong Cham lies in the beauty and simplicity of local life. Visitors will also get a glimpse into agricultural life on the plantations of rubber trees, tobacco and cashews.
The diverse architecture of Kampong Cham exposes the history of French colonization, Malay and Chinese population, not to mention the new Khmer style-architecture of the 1960's in Cambodia. While the government has invested in the maintenance and renovation of the city, most travelers who visit Kampong Cham are solely passing through on their way to Kratie or Sen Monorom, but if you need a short break between cities, Kampong Cham is a town worth a few days' rest.
Like the rest of Cambodia, it's best to visit Kampong Cham during the dry season, between December and May, unless you're prepared for flooding. Temperatures generally remain hot and humid throughout the year, even during wet season so pack light clothing.
Sights
Though Kampong Cham is a large city, most travelers spend their time around the two square kilometers near the bridge.
Ko Paen Bamboo Bridge is the longest bamboo bridge in the world. It is rebuilt every year after wet season when the Mekong washes it away. Though the bridge is built completely with bamboo poles, it is strong enough to support pedestrians, horse carts, and even trucks who need to cross over to Koh Pen.
Koh Pen is an island located in the bend of the Mekong River where you can view traditional stilted homes and get a glimpse of village life, not to mention relax at the beach of the Mekong.
Just a kilometer outside Kampong Cham is Wat Nokor, which dates back to the times of the King Jayavarman VII. The temple was built with sandstone and laterite and features Buddhist scenes. Within the temple is a modern pagoda, which features beautiful tiles and pillars.
About twenty-two kilometers north of Kampong Cham is Wat Han Chey, another temple. Note that the road on the north side of the hill is the safer way ascend. On the top of the hill is a monastery with several pagodas, a statue garden and Angkor ruins more than 1,500 years old.
A bit further from Wat Nokor is Phnom Srey (women's hill) and Phnom Pros (men's hill), two hills which face each other with pagodas on top. Phnom Srey is taller with 308 steps to ascend and temple ruins on top. Phnom Pros has the more beautiful pagodas and is more commonly frequented by locals because of its easy access. It is also overrun with monkeys who are not shy with visitors so beware if you're carrying fruit. If your Khmer language skills are decent and you fancy your fortune told, this is the place to visit a fortune teller.
There is also a library, a new temple and a Chinese cemetery between the two hills, not to mention it is the location of one of the many killing fields where bodies were dumped.
On the other side of the Mekong River is the French watchtower, which was used as a means to look out for threats such as bandits to the rubber plantations. Those with a fear of heights may be wary to climb the steep ladder-like steps up to the top of the tower but the view from the top will be worth facing your fear.
Wat Maha Leap is one of the few wooden pagodas left in Cambodia and is worth visiting, about 20 km on the other side of the Mekong, which would be difficult to find without a local guide or driver.
Cheung Kok invites visitors with their community ecotourism project. Amica, a French non-profit helped collaborate to create another means of income to sustain the small village. Visit the village to see artisans craft with silk, palm sugar, palm leaves and kramas. Hour-long tours are available as well as home stays for those who want to integrate into the village culture with an up-close experience.
Food and Dining
Smile Restaurant is run by a local non-profit which benefits youth through education, vocational training, health and social awareness. The restaurant serves both Khmer and western fare for budget prices.
Destiny Coffee House features the best coffees and cakes in town, as well as a wide variety of western fare such as pancakes, fajita wraps and fish and chips. Prices are higher than usual for locals, but they also offer free wifi and air conditioning if you need to disconnect from the heat.
Lazy Mekong Daze has offerings of pizza, vegetarian and Asian fare at reasonable prices. The location overlooking the river is perfect for people watching. The owner is also known to be very helpful with tourist information such as moto rentals and tours.
Srey Chen is an Asian cafe, serving comfort foods like Taiwanese popcorn chicken and shabu shabu as well as milkshakes and teas at low prices. Drop in for free yoga on Wednesday from 6-7 p.m. Moon River Restaurant offers a variety of fare, from spaghetti and meat sauce to Khmer curry rice to English breakfast. Staff speaks English fluently and prices are reasonable.
Popular with locals, Hao An Restaurant serves family style Chinese fare and seafood, featuring river lobster and shrimp. The staff is not known to speak English well, but the menus with photos will help anyone struggling to order. Menu prices are generally reasonable, but double-check fresh seafood prices.
Transportation
From Phnom Penh, it will take a little over 2 hours on National Highway 7, a well-paved and smooth road that is among the best in the country, eastward to Kampong Cham.
There are also several buses that go to and from Phnom Penh, such as Sorya Bus Company, Cambo Express, and the Hoh Wat Gentling Bus Company. Most buses have air conditioning and depart several times throughout the day. Book ahead online or head toward the Phnom Penh Bus Station at the Central Market.
Share taxis and minibuses may be crowded, but they also make the trip to and from Kampong Cham for what may cost less than a regular bus ticket. Don't forget to haggle.
If you're traveling along the Mekong River, take a 2-hour Bullet Boat ride from Phnom Penh to Kampong Cham for a different look at the land and water.
Once within the town, you can easily walk to the main attractions and sites, but if you need a ride out of town, hire a taxi. Because Kampong Cham doesn't see as many tourists, there are fewer tuk tuks here than the other larger cities. It may be convenient to hire a taxi for an entire day and plan out a route to see the attractions away from the town. Note that taxi drivers may make stops for souvenirs, so if you buy, be aware that the driver usually gets commission for bringing in customers.
You may also rent a moto for around $5, which may be worth it considering you can go as you please. Some hotels also rent out bicycles; while they may not be practical to ride out of town, they're a great way to see the capital city itself. Be sure to lock your bike or leave it with someone trustworthy.
Related:
Looking for a
hostel in Vietnam
or
Cambodia
? Find
party hostels in Vietnam
or
Siem Reap
or find the best place to stay if you're
traveling alone to Ho Chi Minh City
.