Sihanoukville On a Budget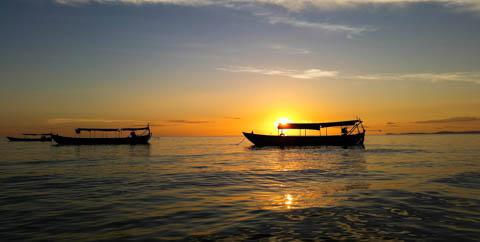 Sihanoukville, also known by locals as Kompong Som, was named after King Sihanouk. Also Cambodia's youngest city, construction started in 1955 to build Cambodia's first and only deep water port so that ships would no longer have to go through the Mekong Delta in order to trade with Cambodia. Today, many visit Sihanoukville as a hub to visit Cambodia's islands.
On the way into Sihanoukville from Route 4 from Phnom Penh, there is a shrine to Yay-Mao, the goddess believed to protect sailors and travelers on their journeys on land and at sea. Her name literally translates to "black lady" and she is believed to preside over Sihanoukville and the southern coastal region of Cambodia.
One legend has it that Ya-Mao's husband, the leader of Sihanoukville, left Yay-Mao to go on a long business trip. Yay-Mao was very lonesome for her husband, so she set sail to find him. Unfortunately, a terrible storm overtook the ship and she died at sea. Locals believe that Yay-Mao became a goddess and leave offerings of incense, bananas and other phallic-shaped objects to her in hopes that these offerings will satisfy Yay-Mao and ensure safety on their travels.
Ideal times to visit the town are from May to July, during dry season with lesser chances of rain. While Sihanoukville can be beautiful, it may not be as relaxing, as visitors are sure to encounter many peddlers, especially children, selling souvenirs and jewelry. In addition, Sihanoukville is also known as the capital of sex tourism, especially around Victory Hill. Visitors should avoid seedy bars and lounges in this area if they don't want to be solicited.
Sights
Sihanoukville calls out to the weary traveler, not with the same colonial architecture and ancient cultural sites as some other Cambodian towns, but as a stop to rest and relax at the beach. Most of the town's activities are situated near the many beaches, but there are also several cultural sites to see.
Ochheuteal Beach, also known as Serendipity Beach, is the most popular and thus, often crowded beach. With plenty of food stalls lining the waterfront, many visitors like to stroll down the sidewalks and purchase fresh barbecued squid, scallops and shrimp. Beware of persistent beggars and soliciting vendors. Independence Beach, just north of Ochheuteal Beach is a popular tourist destination for the busy Independence Hotel, though, like many parts of Sihanoukville, construction is ongoing and beachfront restaurants are not of the best quality. It is advised to travel in groups and be wary of drug dealers. Otres Beach, on the other hand, is a ways south from Ochheuteal, but can easily be reached by a short tuk tuk ride. The beach itself has white sands and clear waters and is much more relaxing and quieter, frequented by fewer tourists. Nearby in Otres Village, the Otres Market every Saturday night stays open less for the actual market, but attracts both expats and locals for the wonderful food, live music and drinks.
The Golden Lions monument, located in the center of a roundabout, are one of the main landmarks of Sihanoukville which are a popular photo op spot.
Take a tuk tuk up to see the pagoda at Wat Leu Temple, not to mention a panorama of Sihanoukville and sea. Beware of monkeys and bring small change to donate to the monks in this quiet cultural space. Wat Krom Temple is beautifully designed and better kept, featuring a reclining Buddha, zodiac signs, and paintings on every ceiling. However, beware of beggars if you would like to donate, put your money in a box rather than the hands of a solicitor.
Cool off at the Kbal Chhay Waterfall, where locals cook out, sunbathe and splash around with their families. Be sure to wrap a kroma or scarf around your nose and mouth if you take an open air vehicle up the 5 mile trail to the falls to keep the red dirt road out of your face.
Phsar Leu Market is grand central market of Sihanoukville, selling everything from housewares, produce, clothes, jewelry, souvenirs, and even services like haircuts. Wear sturdy shoes for walking as the aisles are not clean and be sure to bargain.
Try an absinthe mojito or one of the 5 different strains of absinthe, made from real wormwood at the Syn Absinthe Distillery. While the distillery itself is not known to be impressive, the owner, Yohan is a friendly and will share his has a wealth of knowledge of absinthe with visitors.
Activities
Nature lovers will enjoy the flora and fauna of Ream National Park. Observe the fishing villages near the river, hike through mangroves and the jungle. Local tour agencies can arrange a guided trek for around $25 including lunch.
Those craving an adrenaline rush can visit Woody's All-Terrain Ventures or Fun Buggy's to rent bikes, boats, and off-road tours on ATVs and quads. Scuba and snorkeling rental is also available at Scuba Nation and the Dive Shop Cambodia.
Victory Hill, originally the backpacker's hub in Sihanoukville, is now notorious as the red light district. Thought quiet in the daytime, this neighborhood is lined with bars and restaurants, hotels and cheap backpacker hostels and a casino, mostly geared toward the many foreign men who come searching for prostitutes, also known as "taxi girls." Visit if you wish, but be aware of your surroundings, solicitation and drug peddling.
For those interested in island hopping, Koh Ru is close enough to Sihanoukville that it can be visited in a day trip but there are also accommodations for those who wish to stay overnight. Divers and snorkelers will love Koh Tang, Koh Prins or Koh Rong Saloem. Koh Sdach is ideal for those who want a culturally-rich experience in a busy fishing village; snorkeling is also beautiful right off the shoreline.
Visitors who want a truly rough experience on a deserted island will find paradise two and a half hours away from Sihanoukville, in Koh Rong. There are no bungalows or hotels on this island, so be prepared with your own camping gear. Snorkeling tours and charter boats to all islands can be booked at agencies in Sihanoukville, such as Ana's Travel Agency or Dive Cambodia.
Another good place to visit nearby is Kampot, where you can visit Bokor Mountain along with a number of other interesting places in a less touristed area. See details about
visiting Kampot with tour options
here.
Food and Dining
McGuinness' Irish Dining is one of the top spots for a hearty and affordable Western meal. The cottage pie is a crowd favorite as well as the ribs, which are so tender that the meat falls right off the bone.
For local flavors, Sandan is your best bet for delicious food while supporting a worthy cause as the restaurant is run by a non-profit, M'Lop Tapang, that helps street kids learn professional skills in a vocational training program. Their most popular dishes are the seafood amok, scallops, skewers, and papaya salad. While prices may be higher than average, dining here benefits the greater good.
Olive & Olive serves Mediterranean fare at large portions and low prices. Begin your meal with a free starter of flatbread, olives, tzatziki and eggplant dip, then follow the crowd and enjoy their famous hefty $5 pizzas.
For healthy offerings, visit The Starfish Bakery and Restaurant, another restaurant run by an NGO which aids local disabled folks, children and environment. Their grilled chicken sandwiches and fajita wraps are a highlight of their menu, but they also have a variety of vegetarian options.
Swing by Ernie's Burgers, where you're sure to satisfy your craving with their build-your-own concept. Ernie's offers a plethora of toppings, such as chili, nacho cheese, guacamole, bleu cheese, and even beetroot, of which you can add up to 20 free of charge.
Transportation
Sihanoukville has its own domestic airport, which flies to and from Siem Reap and Phnom Penh once daily.
There are also several bus companies, such as Giant Ibis, Asian Win Alliance and Mekong Express, which are considered higher standard buses with amenities such as wifi and air conditioning and may cost a little more. Cheaper buses such as Phnom Penh Sorya Transport and Capitol Tours and Transport also offer air conditioning, but may be older and make more frequent stops.
From Phnom Penh, the drive to Sihanoukville takes about four hours in a regular car.
Within the town, tuk tuks or motodops are the common method of transport around town, but the tuk tuk mafia does run the game in Sihanoukville and you may be a victim of price gouging if you don't haggle effectively. Before agreeing to any tuk tuk or moto ride, agree on the price and ensure that the driver knows the location of your hotel or guesthouse. A common scam is one in which the driver will tell you that your requested accommodation is full, at which point he will suggest another hotel for you as many drivers are paid commission for bringing in guests.
You can also rent motorbikes, but beware that the rental agency may ask to hold your passport. Be aware that It is not uncommon for motos to be stolen at night, sometimes by the very agency that rents to you. Thida from Thida Coffee is known as a trustworthy and honest business, renting out motos at as low as $5 a day.
Related:
Looking for a
hostel in Vietnam
or
Cambodia
? Find
party hostels in Vietnam
or
Siem Reap
or find the best place to stay if you're
traveling alone to Ho Chi Minh City
.