Split On a Budget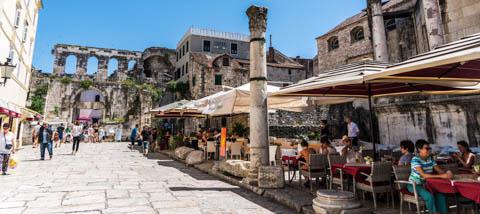 Spit is a historic city in Central Dalmatia with many opportunities to glimpse its fascinating past in its historic city center. Centuries ago the city grew up around a Diocletian palace that was used as refuge by the locals.
Today, as you wander around the historic center, you can see the remains of the Roman walls, temples, and squares. Despite it's appeal to tourists, Split is much more than just a tourist destination. It is larger than you might initially realize and it spreads well beyond the historic center. There is a population of about 300,000 in the larger area and it is an economic center for the region.
Split is also a must-visit on a trip through the country. It can easily fit in to a
one-week itinerary of Croatia
, or many other routes, as it's centrally located and very accessible.
Split has a beautiful climate with mild winters, countless sunny days, and a generally pleasant temperature. As such, there are many opportunities to enjoy yourself outdoors, whether by participating in sports or walking around the city's quaint streets. Winters in Split are also quite mild, but there may be one snowy day, on average, every year. This rare snowfall can cause a significant disruption in the flow of traffic.
Sights
There is really no shortage of sights in Split. You could easily fill a few days wandering through the historic sights and exploring the city's many museums and churches. Some of the most famous sites in the city include Saint Duje's Cathedral, Peristil Square, the
Archaeological Museum
,
Diocletian's Palace
, and Poljud Stadium.
Neighborhoods
Perhaps the two most notable neighborhoods in Split for tourists are Veli Varos and Radunica. They sit on opposite sides of the historic core and each is charming in its own way. These are considered the oldest suburbs of the city.
Veli Varos is found just above Trumbiceva Obala Street and to the west of Riva. There are many winding roads that lead into the neighborhood and once you're inside it's easy to get lost. The neighborhood has a lot of personality and is known for it's stone houses, narrow streets, and historic churches. It' has the feel of an island village because it was developed by fishermen and farmers who came to Split to escape the Ottoman invasion. Today the real estate market in the neighborhood has grown and there are many luxury apartments and homes.
Just to the east of the city is Radunica. It's across the street from the vegetable market and was originally settled by peasants from the Republic of Poljica about 500 years ago. Today Radunica is famous for it's street festival "Days of Radunica", which was first begun in 1994. It's held during the last week of June every year and is known for it's folk atmosphere with klapa performances, traditional bingo, poetry, and more.
Activities
Popular activities in Split include taking a swim on the beach at Bacvic, climbing the Campanile Bell Tower, going snorkeling, visiting the Green Market or taking a sailing trip. You can also take a tour of the Diocletian Palace. It lasts about an hour and half and is well worth the visit.
About an hour's walk from the Diocletian Palace is the St. Jeronimus caves and church. It sits on Marjan Hill and is a great place to visit with a beautiful view. It's worth the trip if you have time.
Food and Dining
Restaurants around town are generally delicious, and there are a handful of local specialties you should make a point of trying. Perhaps the most popular is Soparnik, which is a baked dough filled with vegetables. It's delicious and filling. There's also a lot of Italian influence on the cuisine and you will find some great risotto and pasta options around town. Gnocchi is another local specialty that is quite good.
Also make a point of trying the great wines that are available. There are plenty of bars around town, and generally the wine found in restaurants is a very high quality.
Transportation
With its wonderful climate, the best way to explore Split is really on foot. The city center, where you'll find most of the sights, is quite compact and walkable. If you want to venture to further destinations there is a good bus system you can use. There's also a frequent bus which connects the airport to the city center. Another fun option is to rent a bike for the day and explore the surrounding areas. Cycling in the area is quite pleasant and relaxing. If you do decide to rent a car, there are a few good rental companies around town that will offer you a good deal.
Related
Looking for a party in
Croatia
?
Traveling alone to
Split
or
Dubrovnik
?
Train and Bus Prices
The best prices for buses and trains in Croatia
can be found on Omio
(formerly
GoEuro
). They let you search across all train, bus, and plane routes throughout the region.