Croatia On a Budget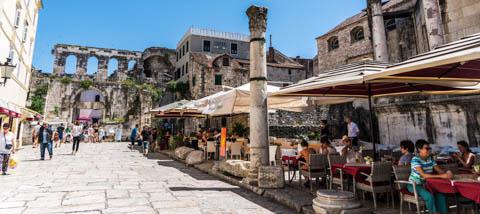 Croatia is a beautiful country that sits on the edge of the Adriatic Sea just to the east of Italy. It has a stunningly dramatic coast line that is blessed with a Mediterranean climate, historic cities and towns, and a welcoming hospitality that makes it a pleasure to visit. The beaches have more rocks than sand, but the traditional culture and deep rooted history is really why you visit Croatia. If you're looking to lounge away your days on a white sand beach, then Croatia is not the best destination. The beaches are more likely to have pebbles, and much of the coastline is rocky. Instead, if you're looking to step back in time to a place with old world traditions, quaint alleyways, and children playing soccer in the street, then this is the place for you.
In Croatia you will find beautiful scenery, lovely cities, and quaint old towns that are often built out of stone and are surrounded by an ancient wall. You can get wonderfully lost wandering through the streets that crisscross each other in a haphazard fashion. The history in Croatia is apparent in almost every town. The old churches still dot the skylines and the people cling to old traditions. Food in Croatia is also delicious. The cuisine is heavily influenced by the Mediterranean region, most notably that of Italy, but it makes more frequent use of seafood, particularly in cities along the coast line.
To truly experience the country you should try to stay with a local. Many residents wait at bus or train stations to offer you rooms for rent in their homes. This is usually a great option as the rooms are comfortable and well priced. This is a popular way to rent a room in the more touristy cities like Dubrovnik or Split. If you can find a place to stay in the old town, then you should take advantage of the opportunity. Many of the newer and more modern hotels are located well outside of the city's town center and you'll likely have to rely on public transportation more often.
At A Glance
If you're traveling to Croatia from elsewhere in Europe, you'll find some great discount flight options into cities like Dubrovnik. Check regional airlines to make sure you're getting the best deal. If you're traveling from a nearby country and are coming by land, then there's a great bus network that will take you to almost any city within the country. This is easily the cheapest way to travel and is generally smooth and reliable.


If you're hoping to do a little island hoping while you're in the area, then ferries are usually the cheapest and most convenient way to get around. They can move a little slow at times, but they offer excellent views of the coast line and can make for an enjoyable trip. Jadrolinija is the largest ferry company with the greatest number of connections, but there are also international routes that are available through Blue Line International.


Internet access is widely available throughout the country. In the larger cities there are plenty of internet cafes that offer cheap access to high speed internet. Many hotels also offer wireless internet access to their guests, sometimes for an additional fee. Inquire before you make a reservation or at the time of check in if this is something you're interested in.


Many people choose to spend all of their time in Croatia along the coast. It's easy to see why many people are drawn to these areas, but if you're hoping to experience more of the country then head inland to see some of the more diverse natural beauty that the country has to offer. Towns and cities that are not on the coast are often cheaper as well, so you'll find you can stretch your money a little farther if you decide to diversify.


Many people do a highlights tour of the country and visit little more than Dubrovnik and Split. If time allows, try to explore some of the less popular areas so you can get a true feel for what the country has to offer.
Related:
Looking for a party in
Croatia
?
Traveling alone to
Split
or
Dubrovnik
?
Find a
Contiki tour
to Europe.
Top Tourist Attractions
Dubrovnik:
Explore the streets of Dubrovnik's famous old town. It sits dramatically against the rocky coast line and offers a glimpse into the traditional lifestyles in the area. Don't forget to wander around the wall, which can be a great way to look out on both the ocean and the town.
Hvar Town:
This is a popular and beautiful town on the island of Hvar. You can wander through the hills and waterfront promenade and for a moment you might be reminded just a little of Venice. The town is located on the southern coast of the island just across from the towns of Stari Grad and Jelsa.
Korcula Town:
Visit this town on the eastern side of the island of Korcula. It's clay-topped houses are squeezed together on a narrow peninsula jutting into the sea. It's a very historic town that is well fortified and impressive to visit.
Popular Foods
Croatian cuisine is very diverse and regionally based. In the eastern parts of the country you will find good amount of sausage and stew, while along the coast you'll find much more seafood in the diet. Central Croatia is known for its cheese pastas which are filling and delicious as well. Each region has it's own local specialties, so as you're traveling around try to find restaurants that are known for specific local dishes.
Cobanac:
This is a type of shepherd's stew that is a mixture of several different kinds of meat with red spicy paprika. It is popular in the eastern parts of the country where the cuisine is hearty and meat based.
Strukli:
This local specialty is a unique traditional pasta that is filled with cheese. It's one of the more popular dishes in Central Croatia, where pasta is a common food option.
Purica s mlincima:
This is a typical Croatian dish made from baked turkey with pastry. It's a hearty meal that is prepared for special occasions and holidays.