Zagreb On a Budget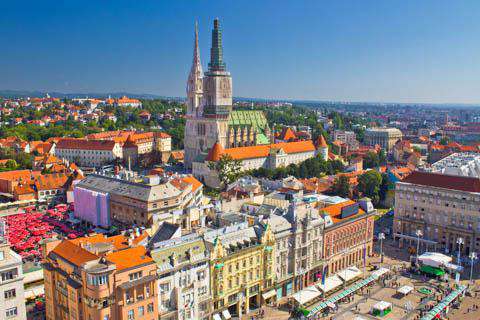 Zagreb, in central Croatia, is the country's capital. It has a wonderful old town that has cobblestone streets, historic buildings, and a great atmosphere. Many people travel to Croatia specifically for its beaches and coastal towns, but if you overlook this lovely capital city, you'll miss a large part of the culture and personality that is Croatia.
The city has a population of around 800,000 people and there are over 1 million in the greater metropolitan area. The climate is technically oceanic, with some similarities to a humid continental climate. There are four seasons in a year and the summers are generally warm and the winters are cold. It is not uncommon for it to snow in the winter months between December and March and the fall months are prone to fog.
Sights
Most of the city's sights are concentrated in Gornji grad (the Upper Town) and Donji grad (the Lower Town). These are the cultural, religious, and historical centers of the city. They are also where you'll find the majority of the city's restaurants, bars and attractions. The city's medival core is the Upper Town. It can be divided into Kaptol and Gradec, which were two towns that merged in the 1770s.
Popular sights in Zagreb include the Old Town Gate, Maksimir Park and Zagreb Zoo, Zrinjevac Park, King Tomislav Square, the Botanical Gardens and Mazuranic Square. There are also two popular lakes in Zagreb, Jarun Lake and Bundek. Popular museums include Mimara Museum, the Archaeological Museum, the Museum of Contemporary Art among many others.
Neighborhoods
Zagreb is divided into two main areas of interest to tourists, the Upper and Lower Towns. In the Upper Town (Gornji grad), you'll find the medieval core of the city, but you will also find much history in the Lower Town (Donji Grad). If time allows you should do a walking tour of each as both areas have their own unique personalities and atmospheres. Jelacic Square is the town center of Zagreb. It is marked by a statue of a past governor and is the center of much of the history and government of the area.
Activities
The Snow Queen Trophy is a popular event in Zagreb. This ski world cup is in January and it is the most expensive race on the women's world cup tour. It brings in a crowd of more than 25,000 people.
Popular activities while you're in town include going to the movies, taking a bike tour, or taking a walking tour. Movies are usually in English with subtitles.
Food and Dining
There are plenty of great restaurants around Zagreb, but if you're on a tight budget your best options may be take away sandwich joints or pizza restaurants, of which there are plenty. There are also plenty of fast food options. Most of the budget options are found in the city center near the main square and the nearby blocks. Popular discount food chains in the area include Daily Fresh, Mlinar, Pan Pek, Dubravica, and of course, McDonald's. Other options include kebab places and pancake-to-go shops.
If you're looking for a more authentic dining experience you can expect to pay a little more, but you will get a much higher quality of food, so it is generally worth the splurge. Some of the better mid range restaurants also have a live band performing so it can make for a fun way to spend the evening.
Coffee shops and pastry shops are common throughout the city. Sipping a cup of coffee and soaking up the atmosphere is a pleasant way to pass the time and get a real sense of the city.
Transportation
Zagreb Car Rental Prices
Compare prices across all major rental companies:
It's easy to travel around Zagreb with public transportation. The system includes trams, buses and trains and runs all day long, although it is at a higher frequency during peak daytime hours. It's not unusual for trams to be replaced with buses during the nighttime hours.
A great option for visitors to the city who are planning to stay for several days is the Zagreb Card. With the card you will have access to unlimited travel on the public transportation system, and major discounts for many of the city's museums, restaurants and popular tourist shops. You can pick up the card for 90 kuna at any of the city's Tourist Information Centers, and most of the tourist hotels. The card is good for 72 hours.
Related:
Looking for a party in
Croatia
?
Traveling alone to
Split
or
Dubrovnik
?
Train and Bus Prices
The best prices for buses and trains in Croatia
can be found on Omio
(formerly
GoEuro
). They let you search across all train, bus, and plane routes throughout Europe.