Brno On a Budget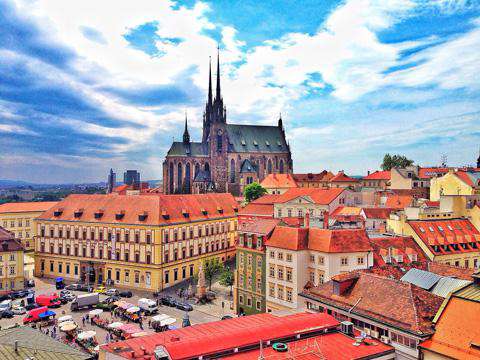 Brno is a city in the Czech Republic known for its modernist and baroque buildings, gardens, museums, and churches. There are many monuments and cultural features especially related to the city's Moravian history, like the Moravian Museum and Moravian Gallery. It is also uniquely located between a landscape of South Moravian Vineyards and northern Moravian Karst topography.
Sights
One of the most dominant landmarks on the Brno skyline is the Cathedral of St. Peter and Paul. It is also known as Petrov Cathedral, named for the hill upon which it stands. Å pilberk Castle is another important attraction, formerly the major royal residence in Moravia and dates to the thirteenth century. It was once home to Moravian rulers, as well as the seat of the King of the Holy Roman Empire, King Jobst of Moravia. It later became a fortress, then a prison, and today houses the city museum. Moravian history and culture is important to Brno and is exhibited all over the city in its institutions like the Moravian Gallery and Museum, both of which showcase important Moravian artifacts, art, and history. Also important to Brno's history is the Villa Tugendhat, an UNESCO World Heritage Site and the location of the meeting that decided to separate the Czech and Slovak republics in 1992. It is a classic example of Bauhaus architecture and is open to visitors by guided tours, which can be booked in advance.
Neighborhoods
The city center of Brno is very compact and full of historical buildings, old churches, theaters, fountains, sculptures, clubs, restaurants, and more. Freedom Square (or Nam?sti Svobody) is at the heart of central Brno, and is often a site for cultural events. Most of the city's attractions are located within a 10-minute walk from the square. Within the square itself is an astronomical clock and a seventeenth-century Baroque monastery known as the Capuchin Monastery (or Kapucinský klašter). Stretching from this historic area northward is a famous avenue known as Veveri Street (or Ulice Veve?i). It is host to a group of Art Nouveau buildings called Tivoli, a number of baroque and other beautiful historical buildings, and is nearby one of three botanical gardens in Brno. Not far from Freedom Square there is also Moravian Square, the largest square in the city, dominated by the Church of Saint Thomas.
Activities
Visitors can spend time in Brno sightseeing within the city, experiencing the flavors of local and international cuisine, admiring its unique collection of art and architecture, admiring its churches and squares, and learning about its Moravian roots and history. There are many parks and gardens also worth visiting, such as Denis Gardens and Lužanky Park, which are some of the oldest public parks in the country. Brno is additionally home to a zoo with hundreds of animals.
For activities just outside of the city, many visitors explore the vineyards of South Moravia or the Moravian Karst landscape to the north.
Food and Dining
Czech cuisine makes up the traditional fare of the general area. A Czech meal will typically consist of two or more main courses, with the first being soup and the second being the main dish. Thick soups and many kinds of sauces are especially popular. These are both based on stewed or cooked vegetables and meats, often with cream, as well as baked meats with natural gravies. A third course might sometimes consist of dessert or fruit compote. A mainstay of Czech side dishes is the dumpling-usually sliced, potato-based, filled with smoked meat, and served with spinach or sour cabbage. Other side dishes include noodles, boiled or risotto rice sometimes made into a kind of pudding, boiled potatoes, mashed potatoes, and French fries or croquettes. As far as the main course goes, pork is the most common meat though beef, veal, and chicken are also found. These can be cooked into stews, marinated, stuffed into dumplings, minced and baked, or smoked. In Brno, both international and Czech cuisine can be found at the city center as well as on the outskirts of the city.
Transportation
Brno-Tu?any Airport is located within city limits, though destinations are limited. Bratislava Milan Rastislav Å tefanik Airport is the largest airport in the Slovak Republic, while Prague Ruzyne Airport is also large and has more flight options. Other options include Pardubice Airport and Vienna International Airport. Brno can be reached from most airports by bus or train.
The city is an important stop on the Prague–Vienna and Prague–Bratislava–Budapest railway line. Two main railway companies operate within Brno: Czech Railways (?eske Drahy, the national railway company) and RegioJet (a private company). Brno is usually a terminal stop for trains coming from Prague.
Train and Bus Prices
The best prices for buses and trains in Czech Republic
can be found on Omio
(formerly
GoEuro
). They let you search across all train, bus, and plane routes throughout the region.