Karlovy Vary On a Budget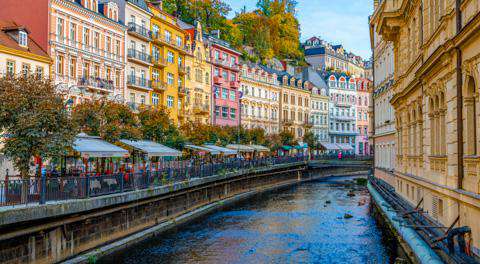 Founded in 1370, Karlovy Vary translates to "Charles' Bath" for its founder Charles IV, King of Bohemia and Holy Roman Emperor, as well as its famous hot springs. It is located in Bohemia in the western Czech Republic and is also known as Karlsbad (German) or Carlsbad (English). Another highlight is the International Film Festival in July with draws celebrities and other film enthusiasts worldwide.
Sights
Karlovy Vary is the largest and most famous spa town in the Czech Republic. Its many thermal springs have made it a popular resort since the 19th century where visitors come to experience natural spa treatments and drinking remedies from the mineral waters of the springs. This riverside spa district is also home to several colonnades with columned walkways. The more recent Hot Spring Colonnade, built in the lates 1960s, houses the Pramen Vridlo geyser which spouts up to 12 meters high, yielding an average of 2000 liters of mineral water per minute for the surrounding spas. Other colonnades include the Mill Colonnade which protects a number of hot springs including Rusalka Spring, the Park Colonnade which adorns Dvorak Park and dates from the year 1800, and the Market Colonnade which has been preserved and reconstructed for more than one hundred years.
The city is also home to a number of churches as well as sites of cultural and historical significance. Churches include the baroque Church of St. Mary Magdalene from 1757 which was built on the site of a former Gothic church, and the St. Peter and St. Paul Orthodox Church from 1898 which is richly decorated and modeled after a church near Moscow. Other important sites include the Elizabeth Spa (the largest in the Czech Republic), The Municipal Theatre which was designed by Viennese architects Fellner and Helmer, and the Diana Observation Tower which offers striking views of Karlovy Vary, the peaks of Krusne (Ore) Mountains, Doupovske Mountains, and the Slavkov Forest.
Neighborhoods
The Historicka ctvrt (Historic District) is the most scenic part of the city. Tall 19th-century houses, with decorative and often eccentric facades, painted in whimsical colors, line the spa's riverside streets. The area features a collection of colonnades, described above, which protect the many thermal springs for visitors.
Activities
Beyond spa treatments and other natural remedies, Karlovy Vary is also renowned for its International Film Festival held annually in the month of July. Each year, celebrities and film enthusiasts flock to the city to engage in a festival atmosphere of concerts, parties, ceremonies, press conferences, and more than 200 film showings from all over the world.
Aside from this one week in July, Karlovy Vary is a very peaceful escape. There are also a number of museums and galleries, as well as tours available to see nearby historic sites like Becov Castle and Chateau or the Jachymov Spa.
Food and Dining
Czech cuisine makes up the traditional fare of the general area. A Czech meal will typically consist of two or more main courses, with the first being soup and the second being the main dish. Thick soups and many kinds of sauces are especially popular. These are both based on stewed or cooked vegetables and meats, often with cream, as well as baked meats with natural gravies. A third course might sometimes consist of dessert or fruit compote. A mainstay of Czech side dishes is the dumpling - usually sliced, potato-based, filled with smoked meat, and served with spinach or sour cabbage. Other side dishes include noodles, boiled or risotto rice sometimes made into a kind of pudding, boiled potatoes, mashed potatoes, and French fries or croquettes. As far as the main course goes, pork is the most common meat though beef, veal, and chicken are also found. These can be cooked into stews, marinated, stuffed into dumplings, minced and baked, or smoked. One particular specialty of Karlovy Vary is the spa wafer, which is best served warm and comes in a variety of flavors. The wafers are sold at street stands in the city and in grocery stores all over the Czech Republic.
Transportation
By plane, the nearest major airport is in the Czech capital of Prague which offers international flights and serves as the hub for Czech Airlines. From Prague, Karlovy Vary can be reached by train or bus. By bus, routes run hourly to and from Prague's Florenc and Dejvicka stations between 5:00am and 8:00pm for a journey taking about 2 hours. By train, routes from Prague leave Prague Main Station every 2 hours and arrive at Horni nadrazi in Karlovy Vary just over 3 hours later.
Related:
Traveling alone to
Prague
or
Budapest
?
Looking for a party and need a
hostel in Prague
or
Budapest
?
Train and Bus Prices
The best prices for buses and trains in Czech Republic
can be found on Omio
(formerly
GoEuro
). They let you search across all train, bus, and plane routes throughout the region.