Telc On a Budget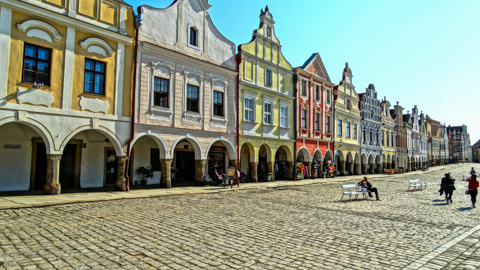 Telc is a small city located in the southern part of the Czech Republic. It is best known for its historical center, an UNESCO World Heritage Site, which consists of a unique cobbled square lined with colorful Renaissance architecture and surrounded by moats.
Sights
Originally created as a moated fortress, the center of town is uniquely surrounded by manmade bodies of water. The houses of the main square are especially charming, painted with detail in all different pastel colors and shaped with extravagant gables as a display of wealth when they were first constructed. This square is named Zacharias of Hradec after a nobleman of the 16th century who oversaw a refashioning of the main square and the rebuilding of the Gothic Telc Castle into a magnificent Renaissance chateau. Over the years, the chateau has been very well-preserved, showcasing intricately-carved wood ceilings and portraits of Zacharias' ancestors in the Golden Hall, and many more artifacts throughout the rest of the halls. On a tour of the chateau, visitors can also take a peek into the rooms of the last inhabitants of the chateau, the library, bathrooms, and dressing rooms with a collection of historical clothing and accessories. Aside from the chateau, also located in the square are the 18th-century Marian Column and St. James Church which features Gothic frescoes. Another popular attraction is the Highlands Museum which offers an interesting display of Telc's history, and whose highlights include a model of town from 1890 and a mechanical nativity scene.
Neighborhoods
The hub of Telc, the city's historical center where most of the sights and amenities for visitors are located, is the Inner City or Vnritrni Mesto. An UNESCO World Heritage Site, this part of town is centrally located with plenty of architecture reminiscent of the Renaissance and Gothic styles. Central to this area and the city as a whole, is the Zacharias of Hradec square - a lovely open, cobbled area which is bordered by traditional pastel buildings with gables, quaint shops, and a number of outdoor cafes. Also popular is the Old Town (or Stare Mesto) located just across Ulický pond to the southwest. Other neighborhoods include Stepnice to the northeast and Podoli to the southeast which are mostly residential.
Activities
The most popular activity in the little city of Telc is to admire the Renaissance architecture and learn about the historical significance of its features. The main sights are easy enough to explore on foot and are, for the most part, centrally located. In addition to its traditional architecture, the main Zacharias of Hradec square also has a nice selection of shops, art galleries, and cafes as well as a tourist information office. For something a little different, boats can also be hired to row on the moats surrounding the town center where there are a number of scenic views.
Food and Dining
Czech cuisine makes up the traditional fare of the general area. A Czech meal will typically consist of two or more main courses, with the first being soup and the second being the main dish. Thick soups and many kinds of sauces are especially popular. These are both based on stewed or cooked vegetables and meats, often with cream, as well as baked meats with natural gravies. A third course might sometimes consist of dessert or fruit compote. A mainstay of Czech side dishes is the dumpling - usually sliced, potato-based, filled with smoked meat, and served with spinach or sour cabbage. Other side dishes include noodles, boiled or risotto rice sometimes made into a kind of pudding, boiled potatoes, mashed potatoes, and French fries or croquettes. As far as the main course goes, pork is the most common meat though beef, veal, and chicken are also found. These can be cooked into stews, marinated, stuffed into dumplings, minced and baked, or smoked. In Telc, most dining opportunities are concentrated in the inner city (also called Vnritrni Mesto) which is the historical center.
Transportation
As far as international flights go, the airports nearest to Telc include Pardubice Airport (in Pardubice, Czech Republic, about 121 km from Telc), Brno-Turany Airport (in Brno, Czech Republic, about 127 km), Vienna International Airport (in Vienna, Austria about 171 km), and Prague Václav Havel Airport (in Prague, Czech Republic, about 179 km).
By bus, there are several direct connections from Prague, Brno, and Ceske Budejovice each day. The train is usually slow and takes a roundabout route.
Once within the city of Telc, most of the attractions are concentrated at the city center and can be reached easily on foot.
Related:
Traveling alone to
Prague
or
Budapest
?
Looking for a party and need a
hostel in Prague
or
Budapest
?