Galapagos Islands On a Budget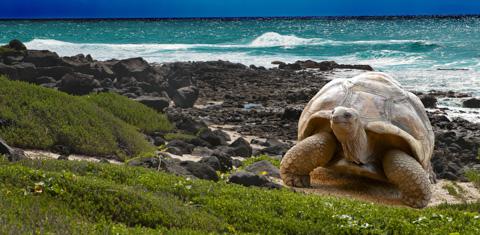 The Galapagos Islands are a small archipelago of islands belonging to Ecuador in the eastern Pacific Ocean. The Galapagos archipelago is world-renowned for its unique and fearless wildlife, much of which was inspiration for Charles Darwin's Theory of Natural Selection. Thanks to a lack of natural predators, friendly wildlife such as sea lions and gigantic sea tortoises let visitors get up close. This archipelago of about 19 islands and many smaller islets found over 620 miles off Ecuador's coast in the Pacific Ocean is a double World Heritage site, where both land and sea are protected. Each island boasts its own unique landscape, ranging from black, volcanic rocks to white sand beaches and gemstone-blue waters. There is no bad time to visit the Galapagos Islands but the busiest months for tourism tend to be June, July and August, as well as mid-December to mid-January. This is when prices are at their highest.
Sights
Located at the confluence of three ocean currents, the Galapagos are a melting pot of marine species. Amongst many other beautiful creatures, here are a few that you must see during your visit to the Galapagos. Head to the
Giant Tortoise Breeding Centers
to see these prehistoric-looking creatures. Most tours stop at Santa Cruz and San Cristobal Islands, and you can also see them at the Charles Darwin Research Center in Santa Cruz or the Galapagos Interpretation Center in San Cristobal. However, the less crowded and more interesting breeding center is in Puerto Villamil on Isabela. You will be able to hold a baby tortoise egg and learn about the distinct tortoise types that are linked to the different volcanic areas on the island. You'll find the biggest population of Galapagos penguins as well as about 35 percent of the archipelagos' giant tortoises, around Tagus Cove on Isabela, where you can also see The Wall of Tears, a stone wall from the old penal colony built by prisoners with no purpose other than to serve as punishment. Fernandina, the youngest and most volcanically active island, has the largest colony of marine iguanas in the archipelago, a big sea lion colony at the visitor spot Punta Suarez and flightless cormorants. Punta Espinosa in Espanola is the place to go to spot the largest seabird, the Albatross, especially from April through November, when almost the entire population nests on this island.
Activities
Visits to most of the islands aren't allowed without a guide licensed with the Galapagos National Park. You can book day trips to some of the islands from the main tourist hub of
Puerto Ayora
in Santa Cruz, but taking a cruise on a small boat is the best way to see the more remote islands and wildlife in the Galapagos. The national park restricts the size of boats to 100 passengers, but try to prioritize smaller boats with groups of 16 to 32 passengers. It is also best to book at least a few months in advance because boats often fill up, especially during high season. Wildlife watching is one of the main activities on the Galapagos Islands. Many species are unique to the Galapagos because of its isolation and remoteness. However other activities such as diving, snorkeling, or even hiking, kayaking and surfing are great ways to discover the Islands. The best dive spots are found on Wolf and Darwin Islands, where you might see hammerhead sharks, whale sharks, eagle rays, large schools of jack fish and much more. No matter which island you're snorkeling off of, you'll likely be swimming alongside sea lions and Pacific sea turtles. Isla Lobos and Kicker Rock off of San Cristobal are excellent spots. You can rent kayaks without a guide at Tortuga Bay in Santa Cruz and surfing boards in port towns such as those in Santa Cruz and San Cristobal. Trek over dried lava beds along the rim of one of the archipelago's active volcanoes or into the highlands to see a variety of vegetation. A good bet is hiking around Sierra Negra, the world's second largest crater, on Isabela, the biggest island which also boasts 6 volcanoes. The Galapagos Islands also offer a few volunteering options such as the opportunity to work on a farm or helping with habitat restoration in exchange of free accommodation and meals with a local family.
Food and Dining
In the heart of one of the most abundant marine ecosystems on the planet, it's no wonder that the majority of the dishes in the Galapagos are seafood based, including a diverse, flavorful mix of fish and shellfish including shrimp, oysters, lobster, squid, and octopus. The most popular dishes include Ceviche, which is one or more types of fish or seafood covered with thinly sliced tomatoes, onions and a lot of lime juice, Viche, a soup with a creamy peanut base with chopped vegetables and a white fish and Arroz marinero, a seafood rice, which is a favorite among travelers and locals alike. Sides frequently include a variation of plantains or yucca, locally grown vegetables and a soup, accompanied by freshly squeezed juices, cocktails, or organic coffee that is grown right in the highlands of Santa Cruz and San Cristobal.
Transportation
To reach the Galapagos Islands, you must get to mainland Ecuador by flying into either the capital city of Quito or Guayaquil. If you have the option, fly to Guayaquil to save time since the islands are nearer to Guayaquil and most flights from Quito have a stopover here on the way to the Galapagos. American Airlines, Continental/Copa and Delta all fly to Ecuador from the U.S. Visiting the Galapagos is not cheap, owing to travel restrictions and the remote nature of the archipelago. Most Galapagos flights are either early morning or evening, so you'll probably need an overnight stay on the mainland. Your best bet for getting to the Galapagos is to fly into Baltra Island before taking a bus and ferry ride to Puerto Ayora on Santa Cruz Island, the most popular tourist hub. Another option is to fly into the capital of Puerto Baquerizo Moreno on San Cristobal Island, but most cruises start in Santa Cruz. You can book through domestic airlines such as TAME, LAN, or Aerogal.
Private yachts can arrive into any of the 5 ports in Galapagos while in transit and remain at that port for a maximum of 21 days. Boats wishing to visit more than one site or cruise the islands may do so but only by special permit from the national park and by working with a licensed yacht agency.
A trip to the Galapagos Islands is pricey but it will be easier to craft a less expensive Galapagos experience if you choose to be land-based. There are many hotels and restaurants offering different price points on San Cristobal Island, Santa Cruz Island, and although to a much lesser extent, on Isabela and Floreana islands. Live-aboard boats come in a range of price points too; however, all still add up to more than a land-based vacation. If you choose a land-based vacation, you will spend a lot of your time in the Galapagos getting from your hotel, onto a day-trip boat, out to the day's destination, then back to your hotel. On the other hand, travelers on live-aboard boats sleep in cabins on the boat, which does most of the navigation during the night, meaning that passengers wake up in a new destination ready for a full day of exploration. Because land-based explorations are limited to the five islands that can be reached in one day, land-based travelers will never be able to visit the more distant islands that boat-based itineraries include. Opting for live-aboard boat trip means that you will waste less time running back and forth, and you will see more areas of the Galapagos Islands.