Cuenca On a Budget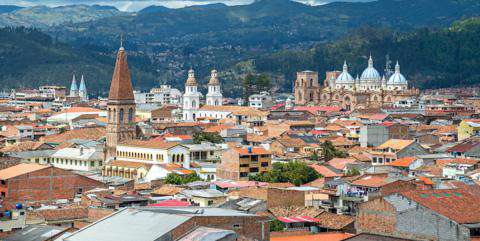 Cuenca is a vibrant colonial city in southern Ecuador, the third largest in the country, and the capital of Azuay Province. Cuenca is considered as Ecuador's most important and beautiful colonial city after Quito. Dating from the 16th century, Cuenca's historic center, a Unesco World Heritage Site with its trademark skyline of massive rotundas and soaring steeples, is a magical sight in which you will feel like you are moving back in time. Cuenca is the center of many craft traditions, including ceramics, metalwork and the internationally famous panama hat. The nearby villages also offer many other handicrafts. Tourists enjoy wandering the ancient streets discovering picturesque alleys and hidden corners, where nuns march along cobblestone streets and kids in Catholic-school uniforms skip past historic churches. Fascinating historic monuments and fabulous views are found at every turn. Cuenca also has outstanding art museums and festivals. For a rewarding cultural experience, visit during Easter to attend the Festival of Religious Music.
Sights
The prosperous and beautiful highland city of Cuenca has retained much of its colonial splendor and stunning sights that travelers can visit. Ask about the opening hours of the church Carmen de la Asuncion so that you can visit the beautiful interior of this Spanish baroque church, which keeps very irregular hours and may not be open when you pass by.
Head to the
Catedral Vieja
, also called El Sagrario, a lovely church, which was begun in 1557, the year the city was founded, and served as the headquarters of its archdiocese until a new cathedral on the opposite side of the park was completed in the 1960s. The whitewashed outside gleams after a complete restoration, while the inside serves as a museum of religious art. The new cathedral across the park is also worth a visit.
The Catedral de la Inmaculada, the city's immense Romanesque cathedral which took more than 80 years to be completed and can hold more than 9,000 worshippers. Locals refer to the building as the Catedral Nueva. The impressive pillars are Ecuadorian marble, and the choir chairs are hand-carved from native wood.
The Parque Abdon Calderon is dominated by the pale rose Catedral de la Inmaculada. Surrounded by beautiful colonial buildings, Cuenca's Parque Abdon Calderon is a gorgeous place to hang out.
Built in the 1920s, the Iglesia de San Francisco is famous for its soaring steeple and intricately carved, gold-drenched main altar, which contrasts nicely with its unassuming interior. The church keeps very limited hours so you should also get informed before planning your visit to Iglesia de San Francisco. Head to the noisy Plaza de San Francisco, filled with vendors selling a variety of bric-a-brac or go to the small village of Turi, up the mountain, for a fantastic view of Cuenca by night or day.
Stroll along Turi's main street past the mural-covered church, and you'll soon find yourself in rolling hills in the middle of cornfields and potato patches. Up there, you will also find a workshop of Eduardo Vega with his ceramics and paintings. A taxi is the best way to get here, but make sure to ask the driver to wait for you.
Activities
Though most of Cuenca's sites of interest are churches, parks and museums, outdoor enthusiasts come to Cuenca for
El Cajas National Park which offers fantastic hiking and trekking
opportunities. The bicycling around Cuenca, especially mountain biking is also a popular activity. Among the archaeological treasures found at Cuenca's
Museo Pumapungo
are ceramics and jewelry from the pre-Incan Canari culture. The museum also contains an impressive collection of colonial and postcolonial art. On the river behind the museum is a small archaeological site where Incan ruins are being excavated. The Museum of Modern Art, housed in a restored convent, features interesting rotating exhibitions of works by Ecuadoran and other Latin American artists. The Museo del Monasterio de la Concepcion is a must-see stop for an understanding of colonial art. Cuenca's wealthy Ordoñez family donated its spacious home to the Catholic Church in 1599, whereupon it became the cloistered convent of the Order of the Immaculate Conception. Four centuries later, part of this well-preserved edifice houses the Museum of the Monastery of the Conception, which contains an impressive collection of religious art from the 16th to the 19th centuries, mostly contributed by families whose daughters entered the convent.
Food and Dining
Cuenca's cuisine blends two different food cultures, Spanish and Native Ecuadorian. Some dishes, like figs cooked in spiced sugar syrup, are infused with Mediterranean flavors, while others rely on local ingredients prepared with European cooking techniques. Huge portions with chicken that falls off the bone or thinly sliced barbecue meat served with rice, potatoes, and mote are what you might get in a typical restaurant in Cuenca. Mote is corn that has been dried and then rehydrated in an alkaline solution, similar to hominy or Mexican posole. This type of grain grows in the highlands of Ecuador. Mote pillo is a popular side dish and snack food found throughout the Azuay and Loja provinces and includes scrambled eggs, milk, parsley, spring onion and garlic. If you're visiting this beautiful city, each of these traditional foods is definitely worth trying. Grilled beef, traditional Andean dishes and seafood are all readily available and surprisingly inexpensive. Full meals start at USD$2.00 and cost an average of USD$2.50 USD$5 each.
Transportation
Cuenca has no international airport but there are daily local flights from and to Quito and Guayaquil. Currently TAME, and Latam both offer daily service to Cuenca. Cuenca's Mariscal Lamar Airport is basic and small, with only a handful of gates and some basic services in the arrival/departure level on the ground floor. A taxi from the airport to the center should run about USD$3. All taxis in Cuenca have been required to have operating meters, so insist that the driver start the meter, or get out and find another cab if your driver tries to trick you with stories of broken meters or no need to use the meter. Although a short distance may register below $1.50, it is accepted practice to pay $1.50 as a minimum for any metered ride. The main bus terminal, Terminal Terrestre, is across the main road named Avenida Espana and 800 meters southwest, less than a 10 minutes walk. There's a USD$0.10 platform tax. Cuenca lies on the Pan-American highway high in the southern mountains of Ecuador. Dozens of bus companies connect Cuenca with the rest of the country and surrounding areas such as Alausi (4 hours), Riobamba (6 hours), Quito (8 hours) and Loja (4h30). There is also a service to Piura, Peru but you will need to change bus at either Machala or Huaquillas. Destinations in Peru also include Tumbes, Machala, Mancora and Chiclayo, which takes approximately 12 hours in addition to the border crossing, which can itself last between 1h30 to 2h30.