Banos On a Budget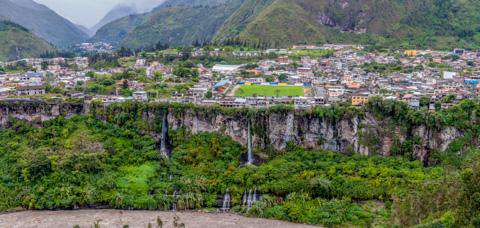 Banos (de Agua Santa) is a small city in the Andean highlands of Ecuador under volcano Tungurahua. Its name, which is Spanish for "Baths (of sacred water)," comes from the famous hydrothermal springs in the area. It's equally popular with foreigners as with Ecuadorians, and is known as the adventure capital of Ecuador. The streets are lined with hotels, restaurants, souvenir shops, and tour agencies. Although it is very touristy, lots of people love it, more for the activities and surroundings than for the city itself. It is an important hub for outdoor sports and jungle tours.
Sights
Visit La Iglesia Nuestra Senora del Agua Santa, a neo-Gothic style church named after the vision of the Virgin Mary seen near the appropriately named waterfalls, a place of pilgrimage for those who come to thank the Virgin for miracles and to ask for her blessing. It was built with many volcanic rocks and the inside is lined with paintings depicting the Virgin's miracles, including saving the church from multiple volcanic eruptions.
There are a few popular spots to get some scenic views on Tungurahua, and Banos from above. The first is the Antennas, which are literally the antennas perched atop mountains above Banos. This is the best spot for viewing Tungurahua from a distance, and a round trip taxi will only cost you USD$15. The other option is to take a taxi up to the Casa de Arbol (treehouse) which is perched on the edge of a valley that runs down the side of the volcano and will also cost USD15 for a roundtrip.
Activities
Banos is the adventure capital of South America, where you can do all kinds of activities from rafting to paragliding, through many well equipped and trustworthy tour agencies. There are dozens of travel agencies offering rafting, canyoning, paragliding, zip lining, biking tours, jungle tours, horseback riding, trekking tours, amongst other activities in Banos. There are two nearby bridges that offer visitors the opportunity to jump off, and swing like a pendulum. The higher bridge jump costs USD$20. Full and half day whitewater rafting trips are offered on the Pastaza River. The class of rapids available may vary based on water levels. Talk to tour operators to find out what you can expect. Half day trips run USD$30. Climbing the 5,023 meter active Tungurahua Volcano is normally done over the course of two days, with a night being spent at a Refuge at 3,400 meters. Alternatively, you can simply hike to the Refuge. You can also drive up Chimborazo, Ecuador's highest volcano, which goes up to 6,267 meters, and bike back down with mountain bikes. About an hour by bus from Banos, and 15 minutes further by taxi, you will find the Monkey Reservation in Puyo, where you can play with monkeys. Go canyoning and jump into Rio Blanco with an experienced guide for a series of 4 waterfall abseils in quick succession from 8 to 35 meters. The first two are more technical, while the third and fourth are vertical cliffs, and therefore easier to get down. Half day trips with lunch included cost USD$30.
Take a waterfall tour on the Ruta de las Cascadas. In addition to Banos' natural setting at the base of an active volcano, it's within easy walking, biking, or driving distance to a wide array of waterfalls and rivers. Within a 20-minute drive of Banos are dozens of waterfalls and some of the biggest are easily visible from the road. There are numerous ways to visit them, from bicycling at your own pace, to renting an ATV, to taking a double-decker chiva for just USD$6. Some of the waterfalls offer you the chance to take a ride across the canyon on a metal cable car for only USD$1. You can hike for USD$1 right up to the most impressive waterfall, Pailon de Diablo, and actually climb underneath them if you're willing to get wet. The Cascada de La Virgen is the main waterfall near the city center which empties near the thermal baths. The Manto de la novia, is a dynamic waterfall that sometimes features two distinct chutes and has a cable car ride available. For a more relaxing day, head to the Hot Springs (Termales), either at the base of Cascada de la Virgen, only a 5 minute walk from the center of town or at El Salado, newer hot springs located a few kilometers from central Banos. The first Hot Springs have an entrance fee of USD$2, offer towel rental for USD$1 and are open day and night, but can get very crowded, especially on weekends, due to its close proximity to the town. Regarding El Salado, it's worth a bicycle or taxi ride to get there. These pools are situated alongside a creek, and are only open during the day. Locals say the best time to visit is 17h when you will have them to yourself. There are also a number of spas in central Banos that offer a wide range of services, including regular massages for USD$20/hour, hot stone massages for USD$25/hour and manicures & pedicures for USD$10 each.
Food and Dining
Due to a steady influx of both domestic and foreign tourists, the modest town of Banos boasts a wide variety of great quality restaurants, from cheap local eats to elegant international cuisine. Stiff competition between venues ensures prices remain refreshingly low. Banos is an excellent place to dive into the cuisine of the Sierra regions of Ecuador, however it does require an adventurous stomach. Ecuadorians from all over the country enjoy eating cuy, which tastes like chicken, and is notoriously difficult to eat. Be prepared to eat with your hands and get a little messy, and expect a lot of work for very little reward. Popular dishes that are easier to eat include the Llapingachos, which consists of fried mashed potatoes called tortillas, chorizo, a fried egg, avocado, and salad or the Yaguarlocro, a tripe soup with avocado, onion, and dried blood.
Transportation
Ecuador is a small country, and getting around it is quite easy and inexpensive. The only way to get to Banos is by bus, but you can bus from multiple locations around Ecuador. The bus station in Banos is near the center of town and is at a walking distance from most hotels and hostels or a cheap USD$1 taxi ride. There are frequent connections to Banos from Quito (3.5 hours, USD$4.00), Riobamba (2 hours, USD$2) and Guayaquil (6.5 hours, USD$10.00). The closest large town is Ambato (1 hour, USD$1) on the Panamerican and there are very frequent buses between the two towns as well. Within the city, you can easily walk as you will never have to go further than a 15 minute walk and it is relatively flat in the city centre. There are plenty of taxis around should you need one.