Quito On a Budget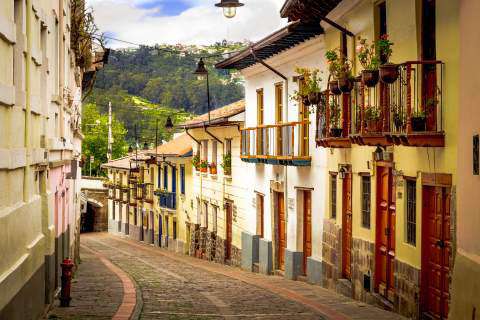 Nestled between two mountain ranges lies the world's highest capital city, Quito, Ecuador. For history lovers, Quito is a very desirable destination as it's home to the Quito Historic Center – one of the largest and best-preserved historic centers in the Americas.
Even though Quito is full of people – in fact, it's the second most populous city in the country – very few of its inhabitants speak English. Luckily, however, the citizens of Quito tend to speak a slower and more clear Spanish than surrounding areas. This is the perfect place to practice what you read in your Intro to Spanish book.
Before visiting Quito, there are a few things to keep in mind. First, give yourself a few days to grow accustomed to the elevation. Staying 9,350 feet above sea level takes some getting used to. Second, don't be fooled into thinking that just because you're visiting a town on the equator that you'll need all your summer clothes. Because of the city's elevation, the area keeps a relatively cool climate year round.
Sights
Quito is full of countless museums and cultural centers to immerse yourself in the local history and traditions. From gold works of art to galleries full of local art to re-enacted scenes of social history, Quito has enough museums to keep any traveler engaged for days.
Just outside of Quito is the spot where it was first discovered the world is round. The spot where the measurements were made are marked with a monument known as "Mitad del Mundi," or middle of the world.
At such a high elevation, you may already feel on top of the world, but the best view is from the top of the world's second-highest cable car. Travel up the 4,000 meters to see volcanoes and the entire city below.
Neighborhoods
The city is divided into four sections. The south is a mostly working class area with most of the city's population. Thins in the south tend to be cheaper, and the main train and bus stations are located down there. The north is the "modern Quito." This is where the rich come to play. With high rises and boutiques, there is also a sophisticated culture complete with museums, art galleries and world-class restaurants. The Old City is Quito's main attraction. With the colonial and independence architecture of forty churches and seventeen plazas. It's the perfect area for wandering. The surrounding valleys make up the fourth district. They're good for a weekend getaway, and even better for experiencing the real Ecuadorian cuisine.
Activities
For the more leisurely traveler, an afternoon wandering the old city is just the ticket. The mixture of colonial and independence era architecture is a gorgeous backdrop, and if you're there during Christmas or Easter you'll see a number of events and processions. Browse craft shops, cafes, and hotels for an afternoon of sightseeing,
If you're up for a bit more adventure, you may be interested in a mountain biking tour. There are several operations offering tours of volcanoes, lakes and valleys. Better yet, try some horseback riding. Local ranches have horses equipped for riders of all experience levels.
Food and Dining
This international destination caters to every taste bud out there. Restaurants in Quito offer every flavor, but you'll definitely want to sample the fresh seafood and fish. Order the potatoes, plantains and tropical fruits.
Transportation
Getting around Quito isn't too difficult with three different, independent public bus systems – El Trole, Metrobus and Ecovia. The ride is inexpensive and there is a stop located at many tourist hotspots.
Taxis are everywhere and relatively inexpensive compared to many other international cities. Most tourist destinations are fairly close together. In general, you should always stay with the yellow taxis, and be sure your driver turns the meter on so you don't get ripped off. Carry small denominations and have exact change because many drivers will claim to not have any change.
Renting your own car is an option, but not particularly recommended for getting around the city. With cheap taxis, the effort to rent a car is simply not worth it. If you don't speak Spanish, avoid this option altogether as it's an easy to swindle travelers out of more money.
Related:
Looking for a
party hostel in Rio
,
Sao Paulo
,
Lima
, or
Buenos Aires
?
Traveling alone through
Argentina
?