Helsinki On a Budget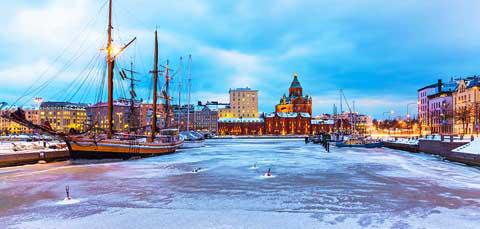 Helsinki is the capital of Finland and dates back to 1550. Helsinki is an international metropolis with a diverse population, but also a small town vibe. The city itself has a population of just over 600,000 but the metropolitan area, including Espoo and Vantaa, has a population of more than 1.3 million. There are many outdoor bars and cafes that take advantage of the warmer summer months. During this time there are long days, and the population floods into the street after a long and cold winter, so visiting during the summer is a fun and lively experience.
Helsinki is one of the world's most northern capitals, making its winters long, dark and cold. Winter weather can be expected from November all the way through March and temperatures average about 5 degrees Celsius. There's a bitter wind chill that makes it feel even colder and the occasional snowfall often melts into a gray slush. Summer is the time to visit Helsinki. It's short and really starts in early June and runs through late August. Maximum daily temperatures hover around 22 degrees Celsius but do occasional reach 27 degrees Celsius. Daylight hours are long during this time and there is almost no darkness from early June until mid July.
Sights
Helsinki has many interesting sights that range from eclectic churches to elaborate museusms. Some popular places to visit include Lutheran Cathedral, the Church in the Rock, Uspenski Cathedral, the
Design Museum
, Ateneum Art Museum, the
National Museum of Finland
and the Helsinki City Musesum. You can see many of these places by visiting
Helskinki in one day
, perhaps from Tallinn or on a longer trip through the rest of the country.
One summer sight worth visiting is Suomenlinna, which was once considered the greatest sea fortress in the Baltic. It dates back to the mid 1700s and today it has many old buildings, very few cars, and only a small number of residents. There are also some restaurants, cafes, theaters and museums. If you're in town during nice weather, pack a picnic.
Neighborhoods
Each of Helsinki's neighborhoods has its own vibe and character. The downtown area, called the center, is where you'll find lots of shops, department stores and offices. There are some beautiful squares and nice cathedrals as well. The Toolo neighborhood has old residential buildings that are designed with art deco. There are some cafes on Museokatu and a market square called Toolontori. Kruununhaka is an old district with many antique and design shops. Kallio is situated between Hakaniemi and Sornainen and is an interesting place to visit.
Helsinki is also bordered on three sides by the ocean. There are many small islands that are easy to reach by boat including
Korkeasaari which is the Zoo Island
, Seurasaari Open Air Museum Island, Suomenlinna Fortress Island and many more. There's a ferry that travels to some of the islands from the Market Place.
Activities
There are some interesting and fun activities that you can enjoy while you're in Helsinki. The Vintage tram ride is an interesting way to get around the city center. There are several amusement parks that some people enjoy visiting as well. Popular festivals include Lux Helsinki, Vappu, Helsinki-paiva, Juhannus among many others.
Food and Dining
Helsinki has many cosmopolitan and trendy restaurants that serve so much more than the typical meat and potato dishes. They are generally expensive though, so be prepared to pay for them. Lunch is a great time to try a new restaurant if you're on a tight budget because many places have lunch sets that are less than ten euros. These are usually served between 10:30am and 2pm. Other budget options include fast food and some smaller Finnish eateries. There are some good pizza and kebab places that are relatively cheap, and the Unicafe is a chain that is owned by the Helsinki University student union. It has several locations and offers full meals for less than ten euros.
Transportation
It's possible to walk around many parts of Helsinki, but taking
public transportation
will make your trip more efficient and comfortable. There are trams, buses and a metro that travel through the city. The trams are the easiest and most scenic way to get around. Lines 2 and 3 make a figure eight around the city and are popular with tourists. Trams operate mostly in the city center, and if you want to go further out, buses are a better option. The main bus stations are near the Central Railway Station and in the Kamppi Center near the Kamppi metro station. There's also a metro line that runs from the center of the city to the eastern part of town. There aren't many places along the line that interest tourists, but extension projects are underway.
Related
Traveling alone to
Moscow
,
St Petersburg
,
Stockholm
or
Riga
and need a hostel?
Looking for a
party in Copenhagen
or
Tallinn
?
Looking for
budget hostels in Scandinavia
?
And for more information, check out this
ultimate guide to Finland
.
Train and Bus Prices
The best prices for buses and trains in Finland
can be found on Omio
(formerly
GoEuro
). They let you search across all train, bus, and plane routes throughout the region.