Porvoo On a Budget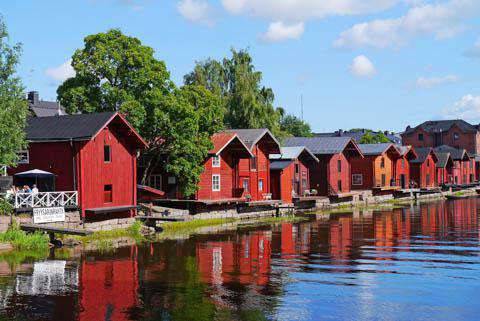 Porvoo is a city and a municipality situated on the southern coast of Finland approximately 50 kilometers east of Helsinki. Porvoo is one of the six medieval towns in Finland, first mentioned as a city in texts from 14th century. Even though Porvoo is not exactly a coastal town, it is connected to the Gulf of Finland via the Porvoo River. The river flows through the city, passing Porvoo's most well-known landmarks: the red shore houses. Historically, Porvoo has been an important center of trade. Founded nearly 800 years ago, Porvoo is the second oldest city in Finland and evidence of its long history can still be seen and felt as you walk its charming streets. For centuries, the city has served as both a home and a source of inspiration for many Finnish artists.
Sights
Porvoo's most well-known symbol and attraction are the lovely red shore houses. Originally, the shore houses were painted red in honor of the arrival of Gustav III, the king of Sweden. They were once used to store merchandise and exotic delicacies from distant lands.
Holm House is also a spectacular place to take in some local culture and sight as it hosts seasonal exhibitions and boasts a stunning flower garden in its yard.
Porvoo Cathedral, located at the heart of Old Porvoo, is one of the city's most well-known buildings. Built at the turn of the 14th century, the cathedral's remarkable history has seen it burn down five times, most recently in an arson attack in 2006. Following the devastation, the cathedral was renovated for two years, finally reopening to the public in 2008. In the foreground of the cathedral is an impressive bell tower.
Neighborhoods
Porvoo is famed for its Old Town, which is the main neighborhood of interest, a dense medieval street pattern with predominantly wooden houses. The Old Town came close to being demolished in the 19th century by a new urban plan for the city. The plan was cancelled due to a popular resistance headed by Count Louis Sparre.
The central point of the old town is the medieval, stone and brick Porvoo Cathedral. Old Porvoo is like one huge museum. It has retained its traditional shape right down to the cobblestone streets. Old Porvoo is also home to about 700 permanent residents. Old Porvoo is also home to many lovely restaurants, cafes, shops and museums.
Activities
Take an exciting ride on a vintage 1955 steam train excursion from the Porvoo Museum railway. You can also visit the unique Porvoo Doll and Toy museum, which has over one thousand dolls and hundreds of toys dating from 1800 to 1990. You can also visit the Porvoo museum. It is a History and art museum in the heart of the Old Town, housed in the former City Hall. The Diet of Porvoo was held here, and today it showcases artifacts from peasant life and a collection of old photographs.
Kayaking and canoeing on the Porvoo River and in the nearby island is a popular summer pastime. It's even possible to make your way down all the way from Lahti, 90 km away. The stream is gentle and it's quite suitable for beginners, but don't venture out into the sea unless you know what you're doing.
Food and Dining
When it comes to delicacies, Porvoo is definitely one of the best destinations in southern Finland. By the 19th century, people travelled all the way from Helsinki to visit Porvoo's cafes and restaurants. For a few restaurant ideas, try: Leipomo Virtanen, a great bakery with a large variety of food, Gabriel 1763, a nice restaurant with a couple of tables outside, and Wanha Laamanni, a classy restaurant in a building dating back to 1790, now serving up modern fare with a Finnish twist: try the deer carpaccio or tar-flavored salmon.
Transportation
The closest major airport to Porvoo, Finland is Helsinki-Vantaa Airport (HEL / EFHK). This airport is in Helsinki, Finland and is 50 km from the center of Porvoo, Finland. There is no regular passenger train service to Porvoo, but there are buses from Helsinki's Central Bus Station to Porvoo every 15-30 minutes. It is also possible during certain months to take a cruise boat from Helsinki to Porvoo. Porvoo is easily accessed by car via the E18 expressway east from Helsinki towards Kotka and the Russian border. Porvoo is best explored on foot: the Old Town is compact, many streets pedestrian only and with few cars otherwise, and all main attractions can be easily reached from the bus, ferry or train stations. Parents will, however, probably want to leave the baby carriage at home: the Old Town's streets are cobblestone and the old center is on a hill.
Related:
Traveling alone to
Moscow
,
St Petersburg
,
Stockholm
or
Riga
and need a hostel?
Looking for a
party in Copenhagen
or
Tallinn
?
Looking for
budget hostels in Scandinavia
?
Train and Bus Prices
The best prices for buses and trains in Finland
can be found on Omio
(formerly
GoEuro
). They let you search across all train, bus, and plane routes throughout the region.