Tampere On a Budget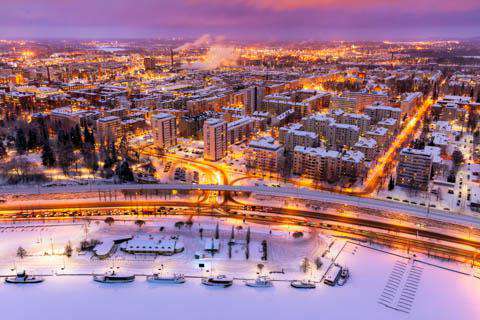 Tampere is a city in southern Finland. It sits between Nasijarvi Lake and Pyhajarvi Lake, with the Tammerkoski rapids in between. It is one of the larger Finnish cities, with more than 200,000 inhabitants, but Tampere has managed to keep the small town feel. The city center is compact in size, and the atmosphere is friendly and casual. The city is located on a scenic spot on a narrow isthmus. The Tammerkoski rapids and their riverbanks form the backdrop for the old industrial buildings, and ridges formed thousands of years ago by ancient seas and retreating ice offer fantastic views over the two lakes. Original architecture and innovative urban development blend together to please both viewers and users of the built environment. Enjoy the surrounding lakes on peaceful rowboat trips or on cruises on larger vessels, or concentrate on the urban sights from a sightseeing bus. Regenerated industrial buildings now house quirky museums, enticing shops, pubs, cinemas and cafes. Tampere has a down-to-earth vitality that makes it a favorite for many visitors.
Sights
Tampere Cathedral is known for its macabre frescoes. An iconic example of National Romantic architecture, Tampere's cathedral dates from 1907. Hugo Simberg created the frescoes and stained glass that were controversial. A procession of ghostly childlike apostles holds the 'garland of life', graves and plants are tended by skeletal figures, and a wounded angel is stretchered off by two children. Magnus Enckell's dreamlike Resurrection altarpiece is designed in similar style. The symbolist stonework and disturbing colors of the stained glass add to the haunting ambiance.
Kaleva Church is also interesting, with its striking concrete architecture, it is designed to look like a fish from above.
The Vapriikki Museum Center houses several museums, including the Natural History Museum and an exhibition about the 1918 civil war. A bright, modern glass-and-steel exhibition space in the renovated Tampella textile mill. As well as regularly changing exhibitions on anything from bicycles to Buddhism, there's a permanent display on Tampere's history, a beautiful mineral museum, a natural history museum and a small but cluttered ice-hockey museum, with memorabilia of star players and teams from Finland's sporting passion. There's also a museum of shoes - Tampere was known for its footwear industry - and a pleasant cafe.
Neighborhoods
The city center is compact and easy to get to: hundreds of restaurants and special shops, large department stores, hotels, music venues, concert halls, theatres and cinemas are all within walking distance. More than just a commercial center, the heart of Tampere is also home to tens of thousands of people, while several beautiful parks, restored old factory areas, the banks of the rapids and the many bridges crossing it join together to form a beautiful place. One of the biggest tourist attractions, Sarkanniemi fun park with its 168-metre high Nasinneula observation tower, is also located right on the side of the city center.
In the heart of the old town, massive red brick factory buildings rise directly from the foaming rapids on both sides of Tammerkoski. The renovated Finlayson textiles factory today houses various restaurants, cinemas, businesses and the editorial department of a local newspaper. New blocks of flats complement the area. On the eastern bank of the river, the large Tampella factory area has been converted to create a modern and extremely popular residential area with central boulevards, new blocks of flats and loft flats within renovated factory buildings.
Activities
A visit to Sarkanniemi is enough to keep anyone busy for a while. This promontory-set amusement park complex offers dozens of rides, an observation tower, art gallery, aquarium, farm zoo and planetarium. Among the best rides are the Tornado roller coaster, super-fast High Voltage, speedboat rides on the lake and an Angry Birds area for younger kids. Indoor attractions stay open year-round. The aquarium is mediocre, with Finnish fish more interesting than the hobby-tank favorites. The planetarium is in the same complex, above which soars 168m Nasinneula Observation Tower, the tallest in these northern lands. It gives spectacular city and lake views. There's a revolving restaurant. Sara Hildenin Taidemuseo has a collection of international and Finnish modern art and sculpture; the space is normally devoted to excellent exhibitions showcasing particular artists.
There is also plenty of outdoor activities in Tampere that vary by season. During the summer there is plenty of exciting water activities on the two lakes, and in the winter there is skiing, sledding, and ice skating available.
Food and Dining
Many award-winning restaurants attract people to Tampere from near and far. Tampere also has a vibrant nightlife, plenty of bars, pubs and nightclubs to choose from. Tampere has something for everyone whether you prefer fine dining, an atmospheric gastropub, cosy cafes or maybe some all-Tamperean black sausage in a market place cafe. In Tampere, the flavors from the region come first. Tammelantori and Laukontori market places are two of the local's favorite places to eat.
Transportation
Tampere is serviced by Tampere-Pirkkala airport, which lies 17 km from the city. Finnair has several connections to Helsinki every day. SAS has direct flights to Stockholm. More importantly for the budget traveler, Tampere is Ryanair's main Finnish destination. However, Ryanair has cut down direct flight destinations from Tampere to only Budapest and Bremen and does not operate at winter time. Tampere is an important railroad hub in Finland and there are direct railroad connections to, for example, Helsinki, Turku and Turku Harbor, Oulu, Jyvaskyla, and Pori. The Tampere railway station is located in the city center. There are also frequent bus connections to destinations around Finland. The public transport network within Tampere currently consists exclusively of a bus network.
Related:
Traveling alone to
Moscow
,
St Petersburg
,
Stockholm
or
Riga
and need a hostel?
Looking for a
party in Copenhagen
or
Tallinn
?
Looking for
budget hostels in Scandinavia
?
Train and Bus Prices
The best prices for buses and trains in Finland
can be found on Omio
(formerly
GoEuro
). They let you search across all train, bus, and plane routes throughout the region.