Finland On a Budget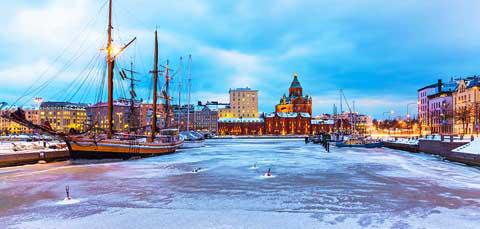 Located in Northern Europe, Finland is a modern welfare state with pleasant small towns and impressive cities. There is also no shortage of outdoor opportunities for visitors, as Finland has countless lakes and islands. Finns enjoy spending there summers in cottages where they can swim, fish and barbecue. If you're visiting in the winter, head north to see the Northern Lights or the midnight sun in the summer.
Finland's geography is generally flat plains with some rolling hills and plenty of lakes. The mountains that do exist are in the extreme north and Finland's highest point is Mount Halti, which is just 1,328 meters above sea level. The country has been called the "Land of a Thousand Lakes" because of its 187,888 lakes.
Because Finland is not located on the Scandinavian peninsula, despite the many cultural and historical similarites, it is not technically part of Scandinavia. It is still commonly included when people speak of the region and the capital city of Helsinki shares many Scandinavian features including the architecture and an official language of Swedish (along with Finnish).
At A Glance
Finland is officially a bilingual country, with just over 5% of its population speaking Swedish. Most maps show names for cities in both Swedish and Finnish. Roads may also have two names, so it is important to read your maps closely as you are navigating the country. This is particularly true in the Swedish speaking areas along the southern and western coasts.


One of the best ways to arrive in Finland is by boat. You can take large ferries from either Estonia or Sweden that have all kinds of amenities including department stores, restaurants and more. It's a beautiful view coming into Helsinki by boat.


Finland takes advantage of its summer months by playing host to some great music festivals. Some of the most popular include Provinssirock, which is one of the biggest rock festivals in the country, Tangomarkkinat, a tango festival, and Vauhtiajot, a motorsport and rock festival. Most of these festivals last several days and some feature big name bands. Each of these festivals offer a great atmosphere to meet new people and experience a different side of the country.


Many visitors head to Finland in the winter months to see the Northern Lights. To truly see the lights you have to head to the northern parts of the country, where you still only have slightly over a 50% chance of seeing them at about 22:30. The sky must be clear and the conditions right, but if luck is on your side, they are truly spectacular.


Souvenir shopping in Finland can be quite expensive, but if you want to pick up something during your time there, traditional Finnish puukko knives are popular. Other traditional items include handwoven ryijy rugs, and various products made from reindeer. If you're hoping to buy a Lappish handicraft, make sure it has the "Sami Duodji" label to ensure its authenticity.
Related:
Traveling alone to
Moscow
,
St Petersburg
,
Stockholm
or
Riga
and need a hostel?
Looking for a
party in Copenhagen
or
Tallinn
?
Looking for
budget hostels in Scandinavia
?
Find a
Contiki tour
to Europe.
Top Tourist Attractions
Porvoo:
Porvoo is Finland's second oldest town. It's is just 50 kilometers east of Helsinki and is a popular day trip from the city. There are picturesque wooden houses that give the town a traditional feel. It's been proposed as a UNESCO World Heritage Site.
Turku:
This city is believed to date back to the 13th century, which would make it the oldest city in Finland. It's located on the Southwest coast at the mouth of the Aura River. There are many interesting sights around the city that highlight its cultural and historical significance.
Olavinlinna Castle:
Located in Savonlinna, this is one of Finland's most impressive castles. If possible, try to visit it during the yearly Opera Festival.
Popular Foods
Gravlax:
This is a traditional appetizer that is made with raw, salted salmon, sugar, and dill. The salmon is thinly sauce and often served with a dill and mustard sauce. Bread or boiled potatoes may also be provided.
Karelian stew:
This hearty stew is made from beef and pork, but occasionally it includes lamb. The most common vegetables are carrots, onions, and potatoes, which help make the dish heavy and filling.
Loop Sausage:
This is a large but mildly flavored sausage that is usually grilled and topped with sweet Finnish mustard. It's best when it's served with beer.