Rovaniemi On a Budget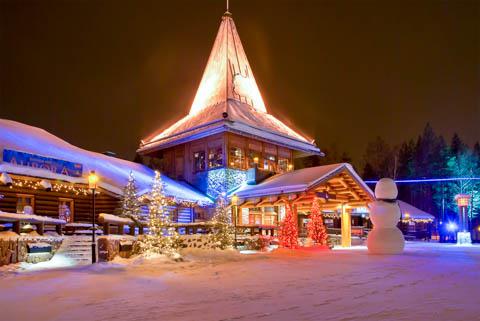 Rovaniemi is the capital of Lapland, in northern Finland. Almost totally destroyed during World War II, today it's a modern city known for being the "official" home town of Santa Claus, and for viewing the Northern Lights. It's home to Arktikum, a museum and science center exploring the Arctic region and the history of Finnish Lapland. The Science Centre Pilke features interactive exhibits on northern forests.
Sights
The Rovaniemi church is a popular sight in the city. It was completed in 1950 and was designed by the architect Bertil Liljequist. The interior of the church is dominated by a huge fresco behind the altar. It's called the Source of Life and it was realized by Professor Lennart Segerstråle in 1951. The church seats 850 people and it features a 45-key organ from the Christensen Organ Factory.
One of Finland's most magnificent waterfalls in peaceful Taiga forest an hour from Rovaniemi. The drive along the beautiful River Kemijoki takes less than an hour to the magnificent Auttikongas day-trip destination. The Auttikongas nature trail runs across one of Finland's most spectacular waterfalls, through peaceful old-growth forest to a hilltop with views over Taiga forests. Auttikongas is enjoyable all year. In winter, go snowshoeing, in summer, enjoy a break in a cozy cottage cafe. Rovaniemi tourism operators rent snowshoes. In autumn, admire glowing autumn foliage from the observation tower and in spring, enjoy birdsong. Auttikongas even presents old-time log floating culture: an old flume still remains by the waterfall and the building next to the cottage cafe houses a small-scale exhibition about log floating.
Lampivaara Amethyst Mine, located in Pyha-Luosto national park, is a fascinating travel destination all year round. The amethyst of Lampivaara fell was born 2,000 million years ago in the bowels of the ancient mountains. There is now a gem mine on the top of the hill that will sustain for hundreds of years. Guided mine tour include the stories of geology, history and nature. Also you will hear about the properties of the gems and the uses of amethyst. There are positive beliefs and fascinating stories about amethyst in many cultures. Leonardo da Vinci always had an amethyst stone on his working desk. He believed that Amethyst chased away evil thoughts and sped up thinking.
Neighborhoods
Rovaniemi City Center is the most popular destination for tourists. Most of the interesting attractions around town are found here including Cinema, Erasetti Safaris, Safartica. An undeniably popular travel destination, Rovaniemi City Center offers a memorable escape with its famous sites and fine dining.
With its much-desired location, Sahanpera is the place to be while in Rovaniemi. With a wide number of attractions to discover, this sought-after part of town will not cease to amaze you. Sahanpera is blessed with lively surroundings, fine restaurants, shopping areas and stunning attractions.
Romakkaniemi is another one of Rovaniemi's many neighborhoods travelers like to visit. With a wide number of attractions to discover, this sought-after part of town will not cease to amaze you.
Activities
Meet Santa! You can meet Santa Claus and cross the magical Arctic Circle every day at the Santa Claus Village in Rovaniemi. Especially popular if travelling with children, Santa Claus Office is the official place to meet Santa in the Santa Claus Village on the Arctic Circle. Santa receives guests in his chamber every day of the year. Naturally you can meet Santa in person, but you will only catch a glimpse of the elves, if you look carefully. The magic of the Arctic Circle makes children particularly observant. Santa Claus Office is the only place on the planet where people can see who Santa Claus really is. On the trail you follow to meet Santa, you will experience tales, secrets and objects that tell about Santa's work, hobbies and way of life. A fascinating place somewhere between fairytale and reality beckons you to experience its wonder. Open every day of the year. To continue the adventure, visit Santapark, an underground Santa-themed amusement park reachable by a short walk from the Santa Claus village.
Explore the local culture at the culture house. The core of Korundi House of Culture comprises two nationally significant and internationally interesting art institutions: the Chamber Orchestra of Lapland and the Rovaniemi Art Museum. The Rovaniemi Art museum's collection represents Finnish modern art from 1940 onwards. The Rovaniemi Art Museum also exhibits international pieces of work, and introduces the public to different areas of fine art. Korundi's concert hall is a high-classic music hall with 340 seats. The concert hall is a multi-purpose hall, where you can arrange various events from concerts to conferences.
For something a little different try the Adventure Park. Arctic Adventure Park Huima is located in Ounasvaara and it has ten different courses of varying difficulty, up to seven meters above ground. In these courses adventurers move between living trees using ropes, beams, bridges and nets that are spanned from tree to tree. It is also possible to rent fatbikes and pedal cars from the adventure park or play mini-golf, drive around the pedal car park Vauhti or test your skills at Pump Track.
Food and Dining
Traditional Lappish food tastes delicious both in fine dining restaurants and by a campfire out in the wilderness. Rovaniemi has many great options for local culinary excursions, here are just a few to give you some ideas. Arctic Snow Hotel Ice Restaurant: As a venue, the Ice Restaurant itself is a unique experience. The delicious meals are prepared from local ingredients. Dinner in Ice Restaurant is a lifetime experience you will never forget. The Arctic Boulevard: serves only fresh, locally sourced ingredients, so the menu changes by season. The restaurant offers different dining areas which can easily be arranged to accommodate various kinds of events. You can choose from 3 different atmospheres: Arctic Boulevard, Arctic Winter garden and Chef's table. The Christmas House Restaurant and Coffee Bar: located in Santa's village, it is a popular luncheon restaurant and a pleasant cafeteria and evening venue for the whole family.
Transportation
From outside the country, Rovaniemi is easiest to get to by plane via Helsinki. Inside Finland, Rovaniemi can be reached by plane, train, coach or car. In the winter - the Christmas season in particular - charter flights with hotel packages are offered from many countries. Rovaniemi is easy to reach by rail from many Finnish towns, with several trains running to and from Helsinki every day. Trains run year round, despite harsh weather at times. The bus services cover a great deal of Finland's road network. They're not only an option for reaching Rovaniemi from the south, but also the only means of public transport that connect the town with the northern parts of Lapland. Rovaniemi is easy to get to by car from all directions. If you plan on travelling around Lapland by car, be sure to allocate enough time for the long distances and changing weather conditions, particularly in the winter. Rovaniemi is a relatively small town with short distances. In the city center, everything is close to everything else and walking is the way to get around. For getting out of town there is a good bus system as well as taxi services.
Related:
Traveling alone to
Moscow
,
St Petersburg
,
Stockholm
or
Riga
and need a hostel?
Looking for a
party in Copenhagen
or
Tallinn
?
Looking for
budget hostels in Scandinavia
?
Train and Bus Prices
The best prices for buses and trains in Finland
can be found on Omio
(formerly
GoEuro
). They let you search across all train, bus, and plane routes throughout the region.