Galway On a Budget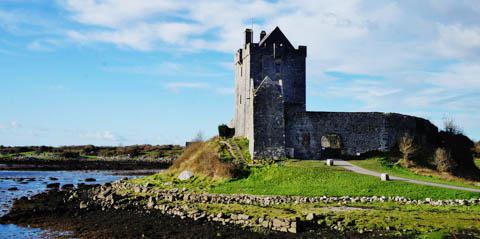 Galway is Ireland's fifth largest city with a population of over 70,000. Located in the province of Connacht, it is typically the first stop for travelers headed into western Ireland. It serves as a gateway for this scenic part of the country, but it truly is a destination in and of itself. The city is pleasantly quaint, and is crisscrossed by lovely pedestrian only streets that are lined with shopping and restaurants. There are also countless museums and galleries to explore. Churches and cathedrals dot the town and are fun to drop by if you're fascinated with architecture.
The climate in Galway is usually damp and temperate. Temperatures range from just above freezing during the winter months to the mid 20's (Celsius) in the summer months. Rain is common year around but snow is quite rare. The city is relatively humid throughout the year as well. Be prepared for sudden temperature changes and always be prepared for a sudden, unexpected shower.
Sights
Many people use Galway as a base for exploring West Ireland. The city itself is also worth a visit although there are not as many traditional sightseeing spots as other cities. A visit to Galway is more about enjoying the atmosphere and culture of the area. The sights in the area do include Lynch's Castle on Shop Street, the Spanish Arch, the Galway City Museum, The Cathedral of Our Lady Assumed into Heaven and St Nicholas, the Church of Ireland St. Nicholas' Collegiate Church, the Hall of the Red Earl, the Eglinton Canal, and the pedestrian shopping area near Eyre Square.
Neighborhoods
Although Galway is quite small, it has some interesting and diverse areas. Most tourists spend the majority of their time in the city center, where you'll find the oldest buildings and the best nightlife. In the Docklands area you'll find some trendy shops and high end apartments. Claddagh is on the other side of the River Corrib. Salthill is on the coast and has a few beaches, resorts, and a large amusement park called Leisureland.
There are also some sprawling suburbs to Galway. On the west side Knocknacarra spreads into the Gaeltacht region and on the east Doughiska and Roscam have begun to develop as recently as the early 2000s. Galway continues to experience significant growth and nearby towns are also feeling the effects.
Activities
There are many activities and events that go on around Galway throughout the year. The Town Hall Theatre shows many different plays and musicals. It's also used during the many festivals that Galway hosts. The Galway Atlantaquaria on the Seapoint Promenade is an interesting place to learn more about ocean life. It focuses on the marine life found around the Irish coasts.
Other activities around town include guided cruises of the River and Lough Corrib. These are offered by Corrib Princess on a modern luxury river cruiser. They leave from Woodquay, which is in the middle of the city.
The Galway Arts Festival is one of the most impressive cultural events of the year. It is held for two weeks in July and has many features including music, theatre and exhibitions.
Food and Dining
Restaurants are great in Galway, but if you're on a budget it's best to pick up some food at a market. One good option is the supermarket in Eyre Square Center. There's also a Tesco on Headford Road and on weekends there's a great outdoor market that's in Church Lane near the St. Nicholas Church. It's a great place to pick up some local produce and dairy or bread products. You can easily make a lunch out of the cheap crepes and curries available there as well.
Like many Irish cities, Galway also has a vibrant nightlife with many pubs, bars and clubs. Check out the Galway City Pub Guide for recommendations.
Transportation
You can easily walk around central Galway and hit most of the tourist sights. Pick up a map before you head out and it will save you some hassle. If you get tired of walking you can easily pick up a taxi, but keep in mind that they are often very expensive. Also, avoid bringing your car into the city center because parking can be a true challenge. Local bus networks are operated by Bus Eireann and CityDirect.
There are some interesting parts of the town that are enjoyable to explore on foot. Salthill, which is a popular area, is about a half hours walk from the city center. The Promenade is enjoyable to walk down and begins at the Claddagh and goes to Blackrock. It's a great place to people watch and soak up the local culture as you'll see families walking around and people rollerblading.
Related:
Traveling alone to
Dublin
or
London
?
Looking for a party and need a
hostel in London
or
Amsterdam
?
Train and Bus Prices
The best prices for buses and trains in Ireland
can be found on Omio
(formerly
GoEuro
). They let you search across all train, bus, and plane routes throughout the region.