Kilkenny On a Budget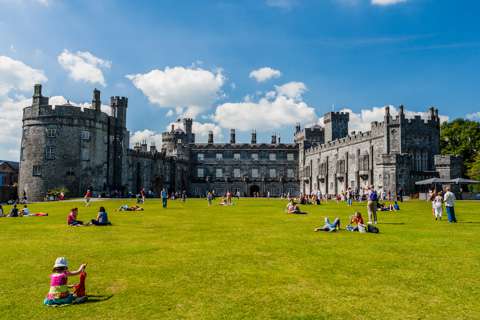 Kilkenny is a city in the southeast of Ireland with a history dating back to the medieval era. It has a long-established religious heritage with many historic buildings including castles, cathedrals, abbeys, and churches. Kilkenny is also a popular tourist destination due to its rich history as well as its current culture which is very active in the arts.
In addition to art galleries, historic buildings, craft and design workshops, theatre, comedy, public gardens and museums, Kilkenny is also a popular home base for exploring the surrounding countryside of Ireland.
Sights
The most prominent feature of the town is, by far, Kilkenny Castle. Built in 1195, the stone structure existed as a great defense of the town and symbol of Norman occupation. Since then, it has gone through many facelifts, resulting in a blend of architectural styles. For almost 600 years the castle was the residence of the powerful Butler family, but it is now open to the public year-round with extensive grounds and a charming rose garden.
St. Canice's Cathedral and Round Tower is another sight that stands today as one of Ireland's most popular visitor and heritage sites. The present building dates back to the 13th century and is the second longest cathedral in Ireland. The accompanying 9th Century Round Toweris is one of only two such medieval round towers in Ireland, and can be climbed to the top for spectacular views of Kilkenny from 100 feet up.
Another major tourist draw to Kilkenny is the Tudor Rothe House, a restored 1594 merchant's house built around two courtyards. Today, the historic building acts as the headquarters for the Kilkenny Archaeological Society, with their library and museum. The house consists of museum exhibits including a well-worn Viking sword, a period costume collection, a genealogical study center as well as a quaint walled garden modeled after that of the early 17th century.
Other historic attractions of the city include St. Mary's Cathedral, Kells Priory, Kilkenny Town Hall, Black Abbey, and Jerpoint Abbey.
Neighborhoods
The center of activity in the city of Kilkenny lies just to the west of Kilkenny Castle along Parliament Street, High Street, Patrick Street, and St. Kieran Street. The stretch is dotted with pubs, bars, cafes, coffee stops, book shops, antique stores, toy stores, jewelry and accessories, guest houses, and inns all quaintly squeezed together behind cobbled sidewalks. There are also a number of historic buildings in the midst of the bustle as well as a bridge dubbed John's Bridge since the Middle Ages that stretches from the center of town across the River Nore.
Activities
From festivals in music and art to historic structures and outdoor adventures, Kilkenny has become one of Ireland's most visited towns, and makes a great stop on
a 7-day Ireland itinerary
.
Kilkenny is well known for its culture in the arts with craft and design workshops, the Watergate Theatre, public gardens, and museums. Kilkenny Design, located in the former stables of Kilkenny Castle, showcases the best of contemporary Irish craft including textiles, knitwear, pottery, and jewelry, amongst others. The National Craft Gallery is also located close by and has become Ireland's foremost center for contemporary craft and design. The Gallery features Irish and cutting-edge international designers, artists, and artisans across a variety of disciplines, and hosts an eclectic range of exhibitions. The Kilkenny Arts Festival is a major event of Kilkenny culture, celebrating theatre, dance, the visual arts and crafts, as well as all forms of music and literature. Other popular events include the Cat Laughs Comedy Festival, as well as the Rhythm and Roots and Source Festivals for music.
Beyond the culture, Kilkenny is a popular base from which to explore the surrounding towns, villages and countryside. Castlecomer Discover Park offers one such outdoor getaway, featuring an 80-acre activity park with walking trails, kids' play areas, fishing lakes, and a canopy walkway. Another worthwhile attraction, located just 15 minutes outside of town is Dunmore Cave. Consisting of a series of chambers formed over millions of years, this ancient cave contains some of the finest calcite formations found in Ireland-one of the most impressive being a stalagmite more than six-meters high, known as the Market Cross. The Visitor Centre contains excavated items such as bones, coins, and simple tools, many of which date from the 10th century.
Food and Dining
What is an Irish town without a few good pubs? Some of Kilkenny's best includes places like Matt The Millers Bar & Restaurant with traditional fare and live Irish music, the medieval Kyteler's Inn which was once the home of Dame Alice Kyteler tried for witchcraft, as well as Tynan's Bridge House Bar which comes to life at night with foot stomping tunes and Irish hospitality. For those of you who don't know, traditional Irish cuisine ranges from things like beef & Guinness stew and shepherd's pie to bangers and mash and fish and chips. As far as dessert goes, traditional favorites include Apple Tarts and Sherry Trifle, and don't forget to sample a native brew of Smithwicks, Guinness, or Harp.
Transportation
The Kilkenny railway station is called McDonagh Station with trains running on the Dublin-Waterford line, providing connections in Waterford to Clonmel and stations to Limerick Junction. At Kildare connecting trains provide links to Ballina, Westport, Galway, Ennis, Ballybrophy, Nenagh, Limerick, Killarney, Tralee and Cork.
The nearest airport with scheduled services is Waterford Airport, which is about 60 km away. A more substantial range of destinations is available from Dublin Airport and Cork Airport, which are both in the region of 150 km away.
Bus services are provided locally by Bus Eireann, from Dublin by JJ Kavanagh and Sons Service, as well as by Dublin Coach Waterford Kilkenny Dublin Bus Service (provides connection to Dublin Airport).
Related
Traveling alone to
Dublin
or
London
?
Looking for a party and need a
hostel in London
or
Amsterdam
?