Limerick On a Budget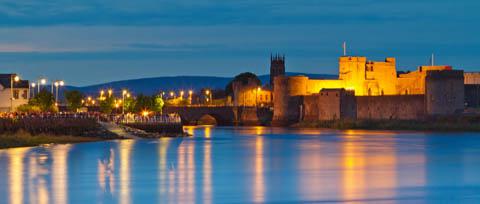 Limerick is a city located in the Mid-West Region of Ireland on the River Shannon just before it widens and opens into the Atlantic Ocean. The historic core of the city is located on King's Island, bounded by the Shannon and the Abbey River. Historical structures of the city include places like King John's Castle, St. Mary's Cathedral, and the Treaty Stone, amongst others. Having been named Ireland's inaugural National City of Culture, Limerick also attracts visitors due to its wide variety of artistic and cultural events occurring throughout the year.
Sights
One of the most photographed sights of Limerick is arguably King John's Castle, one of the
best castles to visit in Ireland
. It has been standing since the 13th Century next to Thomond Bridge overlooking the River Shannon. The pentagonal fortress has been restored to display reconstructed scenes in various exhibition rooms with information about the excavation of Viking houses, defensive works, and siege tunnels.
St. Mary's Cathedral is yet another historic attraction with evidence of architecture ranging from medieval ages to the present day. The vaulted roof, Gothic stained glass windows, medieval floor tiles, and elaborately carved 17th-century choir stalls and marble tombs exist in a place of worship that has stood the test of tumultuous times.
Other architectural gems of the city can be found in St. John's Square, where ten fine stone-faced Georgian townhouses still stand, dating back to around 1750. The early-Gothic St. John's Cathedral also stands in the square, boasting the highest church spire in Ireland.
A few other notable sights of Limerick include the University of Limerick as well as many museums and galleries like the
Hunt Museum
and the
Limerick City Gallery of Art
.
Neighborhoods
The Limerick City Center is the hub of activity in the area for shopping, dining, and daily activity. O'Connell Street acts as the main route running through the downtown area with a grid of streets lined with shops and entertainment. From retail and designer stores to market stalls and independent boutiques, downtown Limerick caters to all kinds of shoppers. If you are interested in a taste of local culture, the Limerick Milk Market provides the very best of fresh, natural produce from great farmhouse cheeses and chutneys, fresh fish and artisan meats, organic fruit & vegetables, to delicious healthy breads and fresh pressed juices. The area is also a hub for pubs and hotels.
Activities
In addition to the sights and museums mentioned earlier, the city of Limerick has access to the greener side of life as well. Once you've explored the collections of the Limerick City Art Museum, for example, you may want to enjoy the adjacent People's Park. Dating back to 1877, People's Park is a tranquil oasis in the midst of the city, full of trees, seasonal flowers, two gazebos, a 19th century bandstand, and an ornate drinking fountain.
If that is not enough, you can venture further amongst the surrounding villages of County Limerick. The charming village of Adare, for example, is said to be one of Ireland's prettiest with thatched cottages and medieval buildings. It is also home to the ruins of 13th Century Desmond Castle as well as the neo-Gothic Adare Mansion, now a luxury hotel with beautiful gardens and terraces.
Another outdoor adventure just south of the city is the Lough Gur prehistoric site. Notable features include a wedge-shaped passage grave, stone forts, a Neolithic burial site, a burial mound with a circle of standing stones, a fine double stone circle, a crannog (an artificial islet now linked to the shore), as well as a cult site with an impressive entrance. While the grounds are green and beautiful with a glimmering lake to match, the Heritage Site has more to offer with interactive displays covering more than 6,000 years of archaeology and history.
The Bunratty Castle is another such historic location on Limerick's borders, serving the most complete and best-preserved medieval fortress in Ireland. It was restored in 1954 to its former glory and now contains 15th and 16th century furnishings, tapestries, and works of art instilling a mood of distant medieval times. The adjoining Folk Park is another highlight of the region, acting as a 26-acre living village with farmhouses, village shops, and streets that are recreated and furnished as they would have appeared back in the day.
From shopping, dining, and sight-seeing in the main city, to village hopping and exploring countryside ruins, the city of Limerick is a destination with many points of interest.
Food and Dining
Being one of the larger cities in Ireland, Limerick is full of choice when it comes to food. From hearty pub grub and home-grown Irish cooking to lively ethnic food, restaurants, cafes, and bistros, the variety of cuisine in the city cannot be beat. Some of the top picks on TripAdvisor include Freddy's Bistro, The Curragower Bar & Restaurant, The Cornstone, The Locke, AZUR Restaurant, and the Glen Tavern. Being in Ireland, one shouldn't miss the nightlife opportunity for foot-stomping traditional music, which can be found at just about any pub. As far as Irish cuisine goes, some popular favorites include beef & Guinness stew, bangers and mash, shepherd's pie, and fish and chips.
Transportation
The closest airport is Shannon Airport, located 20km west in County Clare. It is one of Ireland's main airports and is easily accessible from Limerick via N18 and from other regions via the Limerick Tunnel. It has scheduled flights to European and North American destinations. Airlines include Ryanair, Aer Lingus, United Airlines, US Airways, Aer Lingus Regional and Delta Air Lines.
Local public transport is provided by Bus Éireann, Ireland's national bus operator. Buses run to towns and villages in the county and to Shannon Airport. There are also a number of Intercity and international buses from Bus Éireann's bus terminal adjoining Limerick Colbert railway station. These include hourly services to Dublin, Cork, and Galway.
By train, Iarnrod Eireann's Limerick Colbert station is the railway hub for the city and the Mid-West Region with a number of intercity and commuter rail services.
Since Limerick is central located in Ireland's Mid-West Region, transportation by car to surrounding areas is fairly easy. The M7 (Dublin), N/M18 (Galway, Ennis, Shannon), N/M20 (Cork), N21 (Tralee) and N24 (Waterford) routes all start/terminate in or near the city.
Related:
Traveling alone to
Dublin
or
London
?
Looking for a party and need a
hostel in London
or
Amsterdam
?