Luang Prabang On a Budget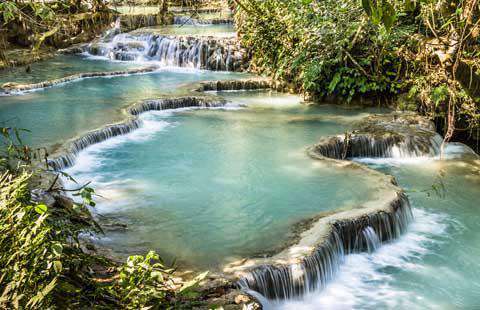 Southeast Asia is a region full of mystical wonders and cultural charm, but nowhere is as charming as the city of Luang Prabang. As the former capital of Laos, Luang Prabang was reopened to tourism in 1989. With that move the city experienced an upswing in revenue and was able to restore and rebuild the beautiful colonial mansions to serve as guesthouses and hotels for the new swarm of tourists.
Even though Luang Prabang is a small city it has a huge personality - be prepared to be swept up by its charm and shocked by its cleanliness. Nestled at the intersection of two rivers and just beneath a sparkling temple on a hill, it's easy to see how this vibrant city became an UNESCO World Heritage city.
Sights
A simple stroll down the street could be all you need to see the many sights offered in Luang Prabang. With temples and shops lining everywhere you look just meandering the streets is sure to have you reaching for your camera.
The most famous monastery in the city is Wat Xieng Thong. It's definitely worth the trip for a chance to witness awe-inspiring Buddhist traditions and a taste of classic Laos design.
But if you only have the time for one temple in Luang Prabang, you have to make it the What Chomsi. Sitting atop Mount Phousi - a 100m tall hill above the city - the view is indescribable. Head up the 300 (yes, 300) stairs for a sunset one night and watch the city light up below.
If you're dying to dive into local culture head first, you'll want to proceed to the Haw Kham. This former royal palace turned national museum offers everything you need to know about the local culture, history and traditions. Be sure to check for drama or dance performances in the adjacent theater.
For a healthy dose of Mother Nature, visit the Kuang Si waterfalls. While you're taking in the sights of the majestic waterfalls, have a stroll around the Kuang Si Butterfly Park. This area has always attracted swarms of butterflies. So walk through, be still and maybe a lovely little butterfly will land on your shoulder.
Activities
Why just watch all the fun when you get right in on the action? Many hotels offer services that allow tourists to get involved with local artisans and take part in activities like silk weaving, wood carving, paper stenciling, playing traditional musical instruments, cooking classes or you can eve make your own knife and crossbow.
These calming activities are not always enough for some adventurous spirits. If you just can't resist the chance to explore hidden treasures, check out the Pak Ou caves.
If you're the "go big, or go home" type, you might enjoy a day washing, riding and learning to train an elephant at The Elephant Village.
If biking, hiking or kayaking are more your thing, there are plenty of vendors to accommodate in Luang Prabang. Green Discovery Loas and Action Max Laos can set you up with the perfect ride and start you off on your next adventure.
You can also teach English in Luang Prabang at the Big Brother Little Mouse school. More information about that can be
found here
.
Food and Dining
Many of the dishes in Luang Prabang are very reminiscent of their former French control. You can easily find French baguettes and pastries all over the city.
If that's not your style however, Sisavangvong Road covers every type of food for every type of price. Stroll along this section of town to find just the dish you're looking for.
Traditional dishes to cross off your bucket list include the Lao version of fried spring roll, local watercress, dried seaweed with sesame seeds dipped in chili sauce, buffalo steaks and sausage or Luang Prabang Khao Soi – spicy clear mince and noodle soup.
Transportation
Your safest bet on getting around Luang Prabang is to have it set up through your hotel. Recently, there have been multiple documented scams of tourists. Some vendors have reportedly been renting scooters to tourists and then "stealing" them when they're in the city. A word of warning: never leave your passport with a vendor as a deposit. In fact, when traveling abroad, never give your passport to anyone outside your travel party.
The roads are crowded and a little rugged, but not impossible to walk or bike through. The influx of tourists have made the sidewalks a tad crowded, but again, not tough to navigate.
Related
Looking for a
hostel in Vietnam
or
Cambodia
? Find
party hostels in Vietnam
or
Siem Reap
or find the best place to stay if you're
traveling alone to Ho Chi Minh City
.