Vang Vieng On a Budget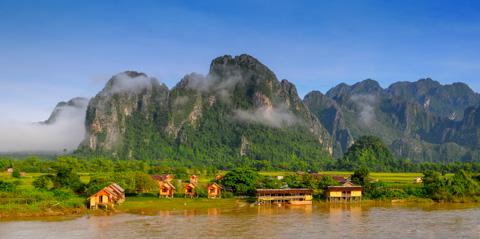 Vang Vieng is a town in the Vientiane province of Laos that sits along the banks of the Nam Song River. With its beautifully carved karst topography cliffs towering over the winding river, the area has become very tourist-oriented for those seeking to explore the outdoor wonders. People from all over come to engage in the unique landscape-mountain biking, trekking, kayaking, caving, swimming, and rock climbing, amongst others.
Sights
As far as sights go, the Tham Phu Kham Cave and Blue Lagoon is one of the most popular. Located about 7 km west of town, you will find a shimmering spring-fed lagoon located below "The Golden Cave." The lagoon is crowded on most days with visitors swimming and jumping from the rope swing into the waters where a few hundred carp make their home. Just above, you can climb a makeshift bamboo ladder into the cave where you can see the Sleeping Golden Buddha and glimmering stalactites. If you plan on exploring deep into the cave, be sure to bring a flashlight or headlamp.
The backdrop of limestone mountains and cliffs overlooking the river make caves and rock dwellings some of the most interesting sights in the Vang Vieng area. Padeng cave and Ring cave can be found by following signs over a footbridge across the river and halfway up the mountain, while Xang Cave is located on the south end of the main road and is well lit with stairs good for a self-guided tour. Nang Oua Kham Cave is located on the way to Blue Lagoon, though it is much more secluded giving visitors a greater sense of adventure. Be aware that many of the caves do have an entrance fee.
Neighborhoods
The main street is the center of the town of Vang Vieng. It is lined with guest houses, bars, restaurants, internet cafes, and tourist agencies that cater to foreign visitors. Most tourists tend to be backpackers or hikers looking to enjoy Vang Vieng's unique landscape of cliffs along the winding Nam Song River. Just a short walk from the town center, visitors can also experience some of the surrounding culture at a few of the ethnic Lao, Kmou, and Hmong villages. There is also a market about 5 kilometers north of town that sells Lao textiles, household items, and foodstuffs.
Activities
There are endless opportunities for mountain biking, trekking, kayaking, caving, swimming, and rock climbing, and the area of Vang Vieng and its proximity to the Nam Song River is very popular for tubing. There is an office on the main street of Vang Vieng that now monopolizes all tube rentals. They will rent you the tube and organize transportation up the river a few miles. Along the journey, visitors might experience a few thrilling rapids, take in the magnificent mountain scenery, and maybe even catch sight of some local wildlife.
While in Vang Vieng you might also want to experience a Lao-style steam sauna, small but infused with the smell of lemon grass herbs, play amongst the high swings and slide over the river, see the countryside from a hot air balloon, or go ziplining at Tham Nam Cave.
Food and Dining
Though Vang Vieng has its own unique dining hub, there are a few dishes typical to Laos that are worth mention. The staple food of the Lao is steamed sticky rice, which is usually eaten by hand. Some of the main ingredients include galangal, lemongrass, and padaek (fermented fish sauce). Another famous dish of the region is larb (sometimes laap), a spicy mixture of marinated meat or fish that is sometimes raw with a combination of herbs, greens, and spices. While the cuisine of Laos does have regional variations, rice and noodles, vegetables, herbs, spices, pastes, sauces, meats, and fruits all remain common ingredients.
In Vang Vieng, the main street is the place for bars, internet cafes, and restaurants. Jungle Bar serves good food like fruit shakes, pizza, and Pad Thai, Kangaroo Sunset Bar is a mix of Western and Lao with the famous Beerlao Burger, and the Bamboo Tree Bar & Restaurant offers a large and varied menu plus free Wi-Fi. Other good stops include Organic Farm Cafe, Peeping Som's Bar and Restaurant, Pan's Place Guesthouse, and The Meeting Place.
Transportation
The nearest international airport is Wattay Airport, located about 66 miles (106.3 km) from Vang Vieng. It is just 3km outside of the city center of the capital, Vientiane, and is served by AirAsia, Bangkok Airways, Cambodia Angkor Air, China Eastern Airlines, Jin Air, Korean Air, Lao Skyway, Lao Airlines, Sky Wings Asia Airlines, T'way Airlines, Thai AirAsia, Thai Airways, and Vietnam Airlines.
By bus, the ride is about 6-8 hrs from Luang Prabang and 3-4 hrs from Vientiane.
Taxis directly from the Vientiane airport to Vang Vieng cost about $90. Rental cars are also available from AVIS at many locations in Vientiane.
Once inside Vang Vieng, nearly everything is reachable by foot or on bicycle.
Related:
Looking for a
hostel in Vietnam
or
Cambodia
? Find
party hostels in Vietnam
or
Siem Reap
or find the best place to stay if you're
traveling alone to Ho Chi Minh City
.