Vientiane On a Budget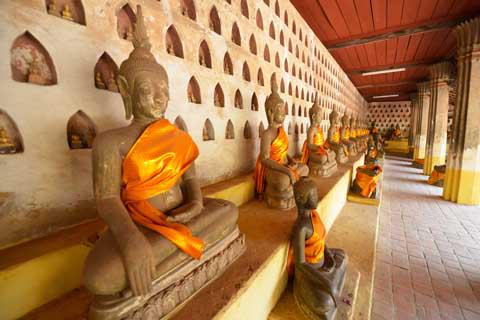 You wouldn't expect the capital city to have such a relaxing environment, but in Vientiane, Laos you can sit back and take in the beautiful scenery without feeling pressure to see every little thing. With Vientiane, what you see is what you get.
While picturesque temples and markets line the streets, the city is still experiencing a successful building boom. Even the Presidential Palace has undergone some hefty renovations.
Sights
It's easy to be swept up in the beauty of Vientiane. It's all right out in the open for you to fall in love with – tour the temples, stroll the river, sip on a relaxing, adult beverage and completely unwind.
If you do feel the need to cross some things off the sightseeing list, you can pop inside any of the gorgeous temples this city has to offer. The Pha That Luang is a nice place to start since it's the national symbol of Laos and is the most important religious monument in the country.
It's the most important, but not the only one worth visiting. The Wat Si Saket has hundreds of nooks and crannies holding Buddhist images of all sizes and materials. The many interpretations of Buddha can have you browsing all afternoon.
If you're more interested in local history and culture you can always spend a day strolling the exhibits in the Lao National Museum, but if the world of folklore is more your style take a trip to the Black Stupa. As the mythical home to the seven headed dragon protector of Vientiane, it's full of magic and mysticism.
For a stunning view of central Vientiane, climb the seven stories to the top of the Patuxia – the Lao version of the Acr de Triomphe. It is embellished with art of the Buddha and is home to a famous musical fountain and a World Peace gong from Indonesia.
Neighborhoods
Chanthabuli is the central area which is home to the government buildings, wats, plus many hotels and restaurants. Most visitors tend to stay in this general area, as it contains all needed amenities.
Activities
So kicking back and taking in temples is just too low-key for you. That's great. There's plenty of adventures to be had in Vientiane. Pop in to the Green Discovery Laos to start any and all journeys from motorcycling, bicycling, kayaking, cave expeditions and even zip-lining. Not only will they set you up with reputable and safe vendors, but Green Discovery Laos is completely committed to ensuring all locals benefit from the booming tourism industry.
If you can't sit still, but are not up for major adventures, a picnic along the Shore of Nam Ngum is right up your alley. The entire shore is lined with floating restaurants serving fresh fish straight from the lake. It's sure to be a dinner experience that you've never had before.
Food and Dining
Vientiane covers the wants and needs of just about every tourist and traveler – including the morning food market's samples of cricket and other creepy-crawler treats.
While you can find anything from Chinese to Tex-Mex in Vientiane, for authentic Lao cuisine, you'll want to find a noodle shop serving rice noodle soups. Many of them also have fried rice and other noodle- based meals.
Transportation
While getting around Vientiane is easer than most other Southeast Asian cities, there still aren't many street signs. Plus, the few that do exist are in Lao or French.
Bicycling is probably the easiest way to get around the city. It's relatively safe given that traffic is often quite slow, and most rental services are available straight through your hotel.
The city center is walkable, but not if you plan on leaving the city center – that's quite a trek. Also, be cautious when crossing streets. While "pedestrian crossing signs are posted, many drivers don't pay attention to them. And before you go strolling the sidewalks, keep in mind that rainwater drainage system of the city (including water for laundry, baths and dishes) flows along the sidewalks beneath concrete slabs that are typically not very secure. So watch your step so you don't get ankle-deep in someone's bath water!
Taxis are available in the city, but you better be prepared to bring out your best haggling game. The prices of taxis are negotiated, and many will claim they are giving you a better rate than a tuk-tuk even though they probably aren't.
A tuk-tuk in Vientiane is not the same as in Bangkok. Here they are considered public transportation so don't be surprised if you negotiate a fare and the driver picks up more riders along the way to your destination. If you have a big group that will fill a tuk-tuk it may be a reasonably priced way to get around – but don't try to use one on your own.
There is also a bus system running throughout the city, but none of the signs are in English and are rarely displayed on the front of the bus.
Related:
Looking for a
hostel in Vietnam
or
Cambodia
? Find
party hostels in Vietnam
or
Siem Reap
or find the best place to stay if you're
traveling alone to Ho Chi Minh City
.