The place is excellent. Spacious room with individual lamps and outlets. Great lobby for relaxing/doing work. A guest kitchen to cook if you're up for that. Wonderful staff as well. - Jack
What sets them apart?
This is a nice hostel in a decent location in Lyon. The rooms are large and there's a bar next door that's part of the hostel. It's a nice place to spend a few days.
Hostel Personality
Who's staying here?
This hostel brings in a diverse crowd of people that are different ages and nationalities. If you want to meet people, head to the bar, but in general there's a mellow and laid back atmosphere.
Insider Tip
Try some pastries in the coffee shop. They're delicious!
Away Hostel & Coffee Shop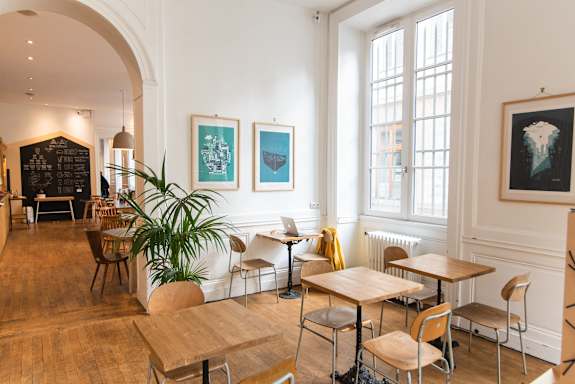 This hostel is comfortable and reliable. The staff are friendly and most are from Lyon so they can give you an insider's perspective on the city. There is a small kitchen and some common space where you can hang out with other guests. There's also a bar next door that's part of the hostel and a fun place to go in the evening.
The hostel is near the metro which can take you most places in the city. This is a reliable place to stay if you want affordability in Lyon.
The Facilities
Dorms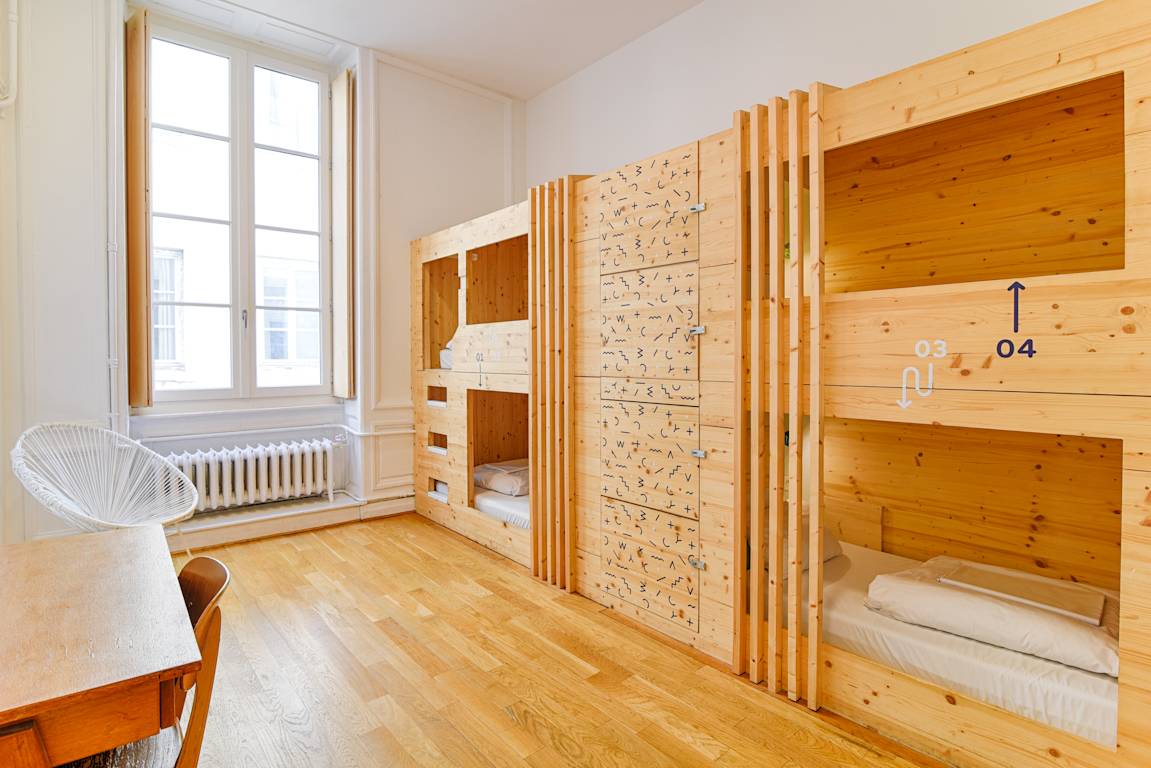 The hostel has dorms that sleep four, six, or ten people. The rooms are basic with simple furnishings, but there's enough space to feel comfortable. The beds are "pod" style, so there are little barriers that provide privacy and block out a little bit of the light. Each bed has a reading light and a plug as well.
Private Rooms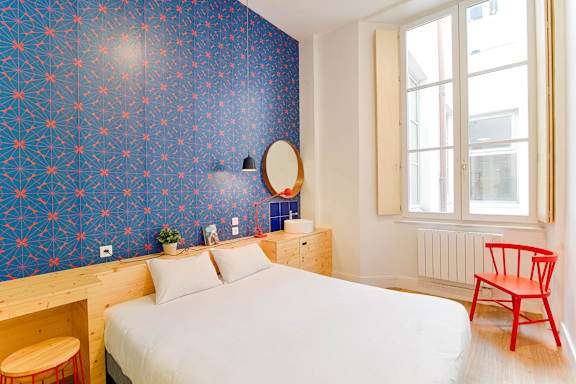 If you want some privacy, there are a few double beds or you may reserve an entire four bed dormitory for your group. There are both en-suite and shared bathroom options available for the double rooms. Each room has its own unique style, a coffee machine, and basic toiletries like soap and shampoo. Guests in the private rooms also are given a bath towel and hair dryer. If possible, ask for a room that looks out over the park.
Bathrooms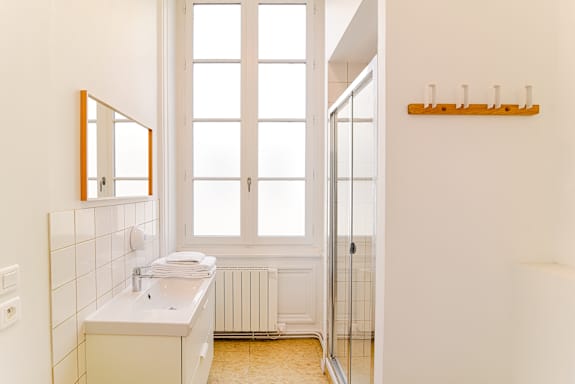 The private rooms have both en-suite and shared bathrooms available. The dorms use shared bathrooms down the hall. Depending on where your room is located, you may have a bit of a walk to get to the bathroom.
Bathrooms are split by gender and provide hairdryers, soap, and shampoo. Like any hostel, the staff may get a bit overwhelmed, so let them know if the cleanliness slips a little.
Common Areas
This hostel has a few nice places to hang out and meet other guests. During the day there's the coffee shop where you can grab a snack or order food to take with you. There's also a lounge are with a foosball table and some tables. You can prepare a meal for yourself in the small shared kitchen, but do know that there's not a lot of space in the kitchen given the number of guests it serves.
Perhaps the most popular place to hang out and meet guests is the bar next door. It comes to life during the evenings, particularly on weekends when many guests head over to listen to music, grab a drink, or just hang out.
The Location
1st Arr.
What's Nearby?
Away Hostel is located in a 19th century building in Lyon. It's about a five to ten minute walk from Place des Terreaux and just next to a metro station. Old Lyon is about a fifteen to twenty minute walk away and Bellecour (the city center) is about twenty to twenty five minutes away on foot. Alternatively, you can take the metro, which is right next to the hostel.
Nearby Transportation
The hostel is also very conveniently near public transportation. The closest metro station, Croix-Paquet, is right next to the hostel. It's on Line C which has five stations, including Croix-Paquet. From Croix-Paquet, you'll need to head south to the next station, Hotel de Ville Louis Pradel, which connects Line C to Line A.
If you've flown into Lyon, the closest airport is Lyon - Saint Exupery Airport which is 17 miles away.
Activities
On occasion the hostel may organize and activity for guests like a local walking tour. The bar is the place to go for parties, too. If there's nothing going on while you're in town, ask the staff, as they're all local and can quickly connect you to any interesting activities, festivals, or parties around town. They can also put you in touch with various tour companies if you'd like to do a tour while you're in the city.
Amenities
Away Hostel offers guests wi-fi access, bed linens, adapters, and an ironing board. It's a secure building with security lockers and keycard access for guests. There's bike rental and bike parking available as well. In the morning there's a simple breakfast available which includes juice, coffee, and baguettes.
Staff
The staff here are available 24 hours a day. Most of the employees are local from Lyon, so you can enjoy an insider's perspective about the city, what's going on, and where to eat. Lyon is known for it's incredible food, so don't hesitate to ask what restaurants you should try and what to order when you're there.
Heads Up
This is an affordable hostel with basic rooms. Some guests feel it could be cleaner and others complain about the noise. On occasion there have been breaches of security, but the staff is very responsive to any problems that occur.
Away Hostel & Coffee Shop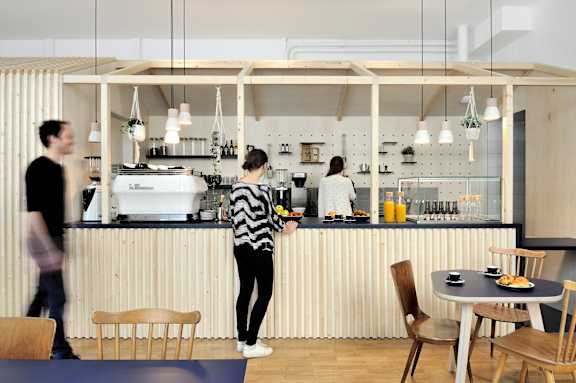 Do you have a favorite hostel that you would like to review? Let us know!