Great experience, very helpful staff, nice get a good breakfast (pancakes were delicious!) - Cat
What sets them apart?
This is a modern, friendly, hostel that has a chill atmosphere. It's located a bit out of the city center, but still close enough to be accessible. The staff here are great, the rooms are nice, and the common areas, including the outside courtyard, offer the perfect place to hang out and meet other travelers.
Hostel Personality
Who's staying here?
This is an affordable hostel with a relaxed vibe that appeals to backpackers in their 20's and 30's. It has a fun but relaxed atmosphere where you can meet other travelers, have interesting conversations, and swap travel stories.
Insider Tip
Hang out in the garden if you want to meet other guests.
SLO Living Hostel
SLO Living Hostel is modern and spacious. It has several great places for guests to hang out, including an outdoor courtyard area. The dorm rooms are large with security lockers, and the staff is all local, so they know the city well. The hostel is a bit removed from the city center, but it's close to public transportation and accessible to most places you'd want to see.
The Facilities
Dorms
This hostel has dorms that sleep either four, six, or eight people. There are also 6 bed female only rooms. The rooms are very basic with bunk beds and limited furnishings. There are also basic security lockers where you can store your luggage.
The rooms open out to a courtyard area that also serves as a gathering place for guests at night. Since the rooms aren't air conditioned, you'll often need to open windows to get provide circulation and cool of the room. Bring some ear plugs, because some guests like to hang out in the courtyard until late in the night.
Private Rooms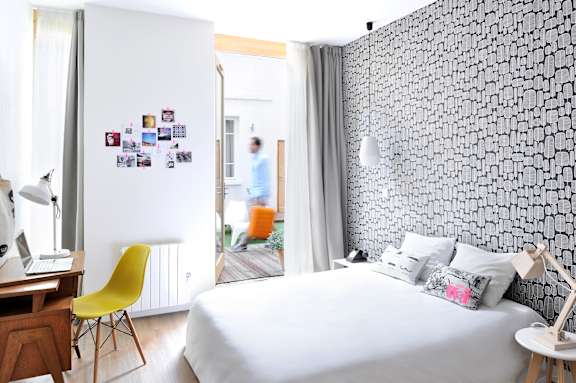 The hostel also offers twin, double, and family style private rooms. The twin room has bunk beds and a shared bathroom. There are two double rooms, one that uses the shared bathroom, one with en-suite. And the family rooms are basically dorms that you can pay for in their entirety.
Bathrooms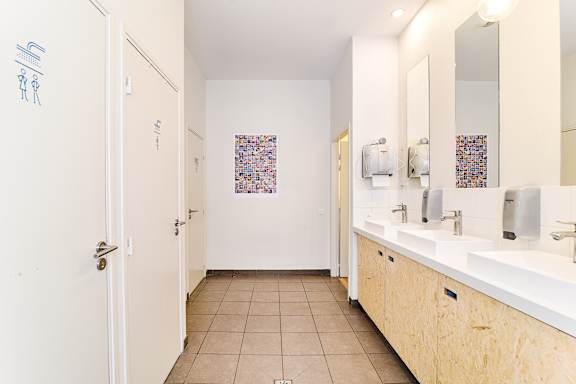 The dorms use shared bathrooms as do most of the private rooms with the exception of one double private room which has an en-suite bathroom. The bathrooms are kept relatively clean. They get a bit busy in the morning or at night, but for the most part this is not a problem.
Common Areas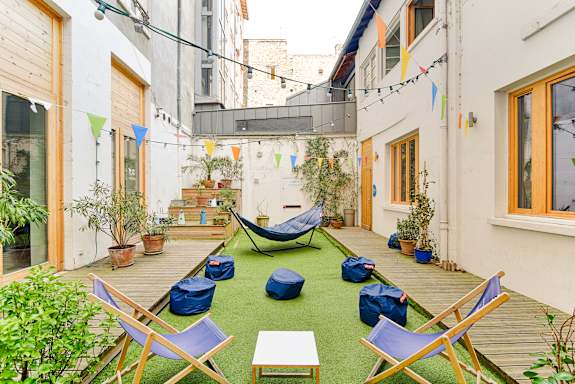 This hostel has a good amount of common space, and many guests enjoy hanging out and getting to know each other. There's a small kitchen available to guests who want to cook a meal, but it is pretty cozy in size so a limited number of people can use it. There's also a nice lounge area with sofas and chairs. You can purchase a beer or wine for a relatively cheap price and chat with other guests. Or you can head out to the courtyard. This is where many guests enjoy hanging out in the evening as they chat and swap travel stories.
The Location
La Guillotiere
What's Nearby?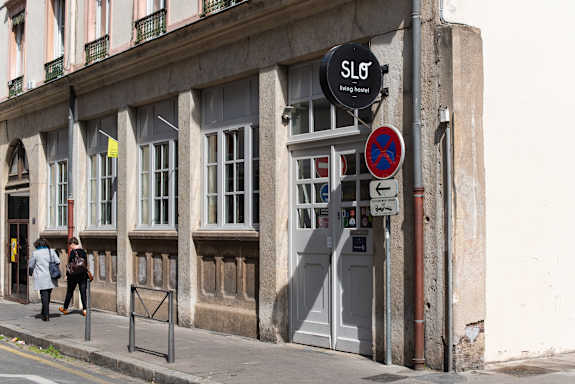 This hostel is a bit outside of the city center and main attractions, but it is near public transportation. Place Bellecour, which is Lyon's city center, is about a ten minute walk away and the Old Town is about a 20 minute walk away. Near the hostel you'll find some restaurants, cafes, and a few shops. There are also other affordable hostels and hotels in the area.
Nearby Transportation
This hostel is conveniently close to public transportation. The closest metro stop is La Guillotiere, which is just a couple of minutes away. Part Dieu train station is about a fifteen minute walk away (about a mile) and if you fly into Lyon the closest airport is Lyon - Saint Exupery Airport, which is about 12 miles away.
Amenities
This hostel has the standard amenities available to guests including Wi-Fi access, luggage storage, and bed linens. There's a book exchange available and board games you can play. There's also bicycle rental available, which is a fun way to explore the city. There's a small kitchen available to guests, but the limited space means only one or two people can cook at the same time. The building is very secure with keycard access as well.
Staff
All of the staff at this hostel are local so you can enjoy an insider's perspective on what to see and do. They're friendly, helpful, and knowledgeable on the city. They're also available 24 hours a day as the reception area is open day or night.
Heads Up
This is a friendly hostel with a lot to offer, but some guests think the rooms can be too loud at night because the encircle the courtyard where people hang out. This is particularly annoying on hotter nights when you need to open the windows for ventilation. The location of the hostel is also a bit removed from the main sights, but most things are still accessible.
SLO Living Hostel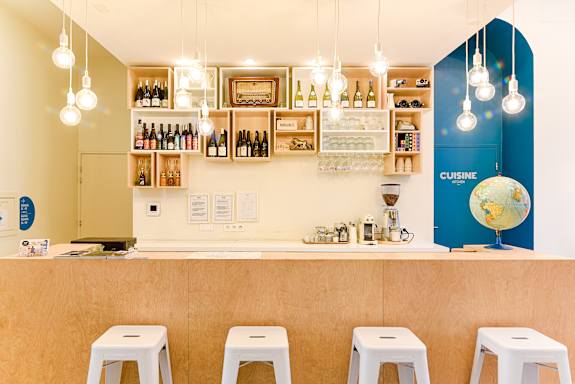 Do you have a favorite hostel that you would like to review? Let us know!