If your idea of a dream holiday involves the pleasurable ache of muscles after bagging a summit, or the addictive rush of adrenaline pumping in your chest after scaling a ridgeline, then you need to get yourself and your hiking boots to
New Zealand
ASAP. With thousands of kilometres of track weaving its way across the North and South Islands, it really is the ultimate hiking destination! All hikers know that seasonal conditions play a big role in deciding when to visit a country. As locals and avid hikers here at New Zealand Trails, we're on hand to tell you what we believe is the best time for hiking in New Zealand.
The most important thing to know before coming hiking here is that we enjoy a temperate maritime climate, which means we rarely experience extreme weather conditions. Up north, it's sub-tropical whereas in the south it's temperate and cool. Like mainland Europe, we have four seasons, with most regions getting between 600-1,600mm of rainfall spread throughout the year.
This means that New Zealand is pretty much an idyllic spot to come hiking all year round. Our
National Parks
and hiking trails are open to walkers year-round but the time of year you visit will make a difference to your experience. Basically, it boils down to individual preferences on which season suits you best. Here, we've broken it down season by season so as to give you a good insight into what to expect.
Spring in New Zealand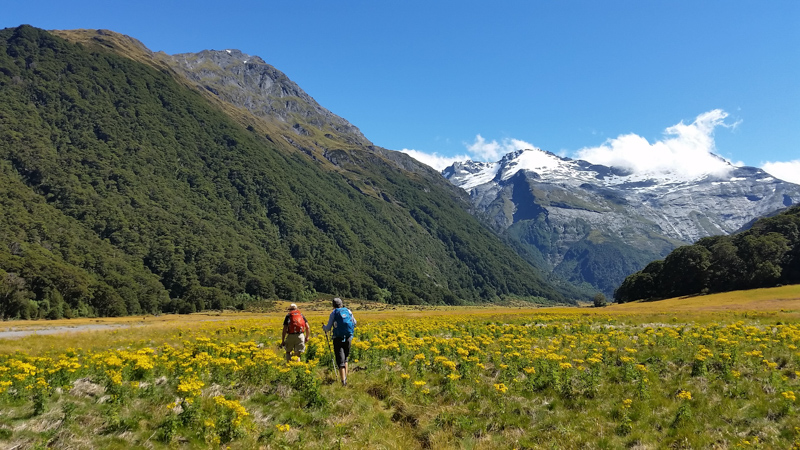 September, October and November make up New Zealand's spring. It is one of our favourite times of year here. Temperatures are mild and perfect for hiking as it never gets too hot or too cold. It can get quite fresh early in the morning and again late at night so pack an extra layer that you can take off once the sun starts to warm things up during the day.
The coolest month is September with an average temperature of 13°C (55°F). By November, you'll really start to feel the warmth in the air with temperatures rising to 17-21°C (63 - 70°F). The days are longer, the temperatures are warmer and for that reason, we have deemed November as the best month in spring for hiking.
Spring hike recommendation
Key Summit on the Routeburn Track | 3.4km (2.1 miles) one way
This half-day hike is a dream and spring is one of the best times to be out on the track. You'll find it in the beautiful
Fiordland National Park
. It is part of the famous Routeburn Track, which is one of the Great Walks. Get ready to enjoy incredible views across the
Humboldt
and Darran mountain ranges.
Summer in New Zealand
Kicking off in December and lasting through until February, summer is an idyllic time of year in New Zealand. Long, bright days stretch out before you, while the sun beams down on the faces of relaxed holiday-makers.
You are eased into summer with average temperatures ranging between 18-22°C (65-72°F). Be warned, with New Zealand weather you should always expect the unexpected - in the past we've been known to get snow on Christmas Day one year and temperatures exceeding 30°C (86°C) the next!
January and February are usually the warmest months of the year, with temperatures hovering between 23-28°C (73 - 82°F). This still makes for very comfortable hiking weather as our climate is quite dry and there's often a fresh breeze blowing. Plus, if you do feel yourself heating up out on the trail, there's often a crystal-clear stream or mountain lake nearby to dive into.
At the height of summer, the sun rises at 5.30am and sets at 10pm. That's an awesome 16.5 hours of sunlight to do with what you will - perfect for the sauntering stroller or those intent on an epic mission.
Summer hike recommendation
Hollyford Track, Fiordland National Park | 56km (34.8 miles) one way
For an adventure that is a little off the beaten path, this 4-5-day hike offers a fantastic taste of Fiordland National Park. The big appeal of it is that it's a little less busy than many of New Zealand's other tracks during the peak season.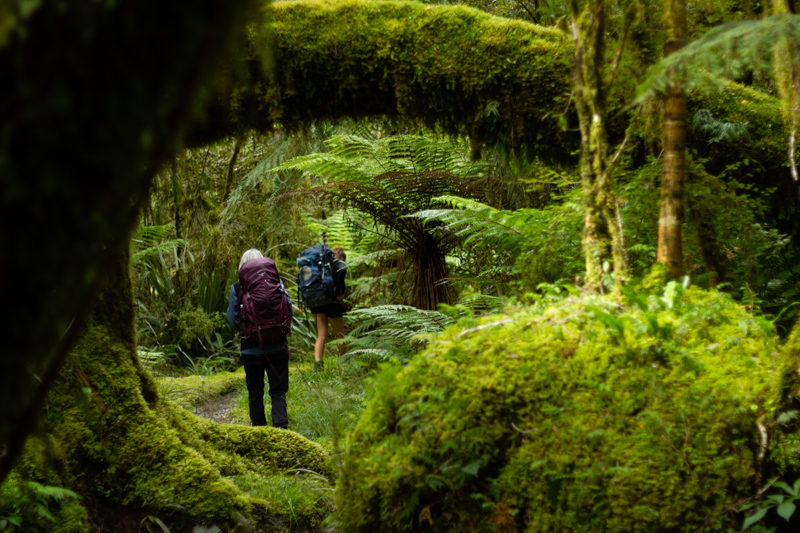 Autumn in New Zealand
Autumn runs from March through to May in New Zealand. If you're a photographer, this is the perfect season for you to come. The dazzling autumn colours, bright sunny days and quieter trails make it a winner. Plus, there is the potential to score a good deal on flights! As far as temperatures go, March's average daytime temperatures range between 18-23°C (64 - 73°C).
The clocks go back in April, which means there's an hour less of daylight. However, the sunsets at that time of year are particularly mesmerizing, so it's worth it. May is when you will start to feel winter creeping in, you might even get the odd frost on the ground in the South Island. Temperatures can drop to below 10°C (50°F) in the day.
Autumn hike recommendation
Milford Track, Fiordland National Park | 53.5km (33.2 miles) one way
The Milford Track is ranked as one of New Zealand's best hikes. It attracts visitors from around the globe to experience the majestic Fiordland National Park and the impressive peaks of Milford Sound. It is guaranteed to make your jaw drop.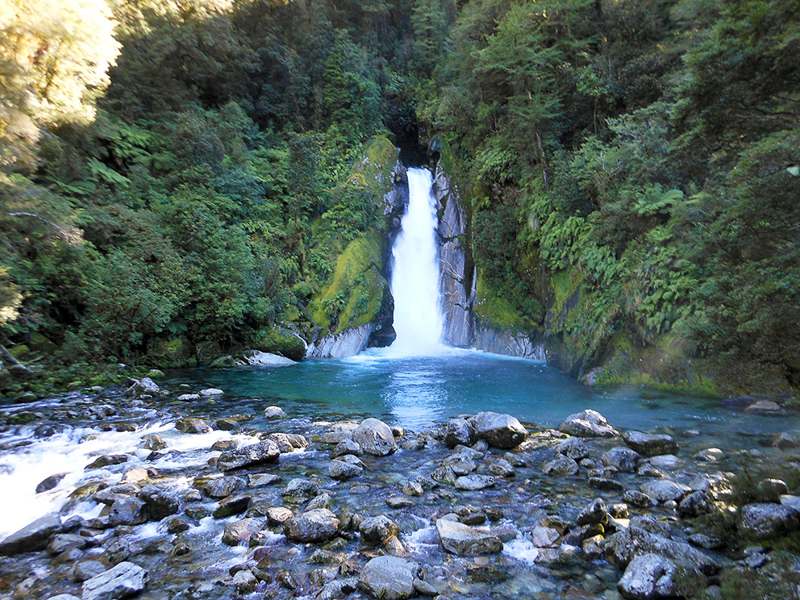 Winter in New Zealand
For some, the mere mention of winter sends them scurrying into hibernation and while we've got nothing against relaxation, we know that winter in New Zealand still has lots to offer travellers and experienced hikers. The New Zealand winter season lasts from June through to August and that is when we experience our cold spell.
In the North Island, daytime temperatures range from 10-16°C (50 - 61°F). Expect the odd frost inland and colder overnight temperatures. In contrast, the South Island experiences more extremes with daytime temperatures struggling to get above 10°C (50°F). Around the alpine regions, there are regular flurries on the mountaintops. So come prepared! Gear wise, you'll need to pack a warm jacket, sturdy boots, a hat and gloves. But if you are willing to embrace the cold, we promise you'll have an incredible frosted adventure.
If you want a more detailed breakdown of the best time for hiking in New Zealand,
find out more at New Zealand Trails
. Happy Travels!