Taupo On a Budget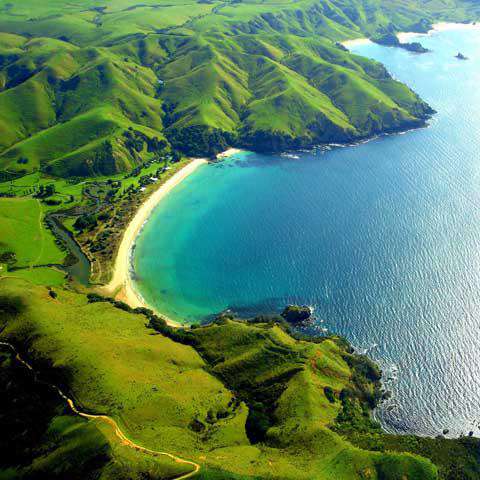 Taupo is a town located in the center of the North Island, situated on the shores of Lake Taupo, which is New Zealand's largest lake. It is also the caldera of the Taupo Volcano. It has a population of 23,700 people and is visited by many people interested in fishing, boating, and other water activities. There are many hiking and biking trails that take you around the water as well.
Sights
There are too many scenic spots in Taupo to name, but here are a few of the main sights to see while visiting. The Huka Falls are absolutely incredible; they are about a kilometer from Taupo and can be reached by bus. The falls transport water from Lake Taupo into the Waikato River (New Zealand's longest river). There is a bridge above the falls for close up viewing of the powerful water plummeting down into a pool that is 11 meters below.
In Mine Bay of Lake Taupo, there are rock carvings of the indigenous people of New Zealand, the Maori's. The carvings can only be reached by kayak or boat, which makes it all the more exciting to see.
There are quite a few geothermal pools throughout New Zealand, but one of the most impressive is just outside Taupo, called Craters of the Moon.
Neighborhoods
The Tongariro River is nearby Taupo, and should definitely be visited on your trip in New Zealand. You can raft, fish, hike, and much more. The famous Tongariro Crossing track is well worth hiking, read on for more information on this track.
Turangi is a town on the west bank of the river and is known to the Kiwi's (New Zealander's call themselves Kiwi's FYI) as the trout fishing capital of the world.
Activities
The Tongariro Alpine Crossing is a fraction of one of New Zealand's Great Walks called the Tongariro Northern Circuit. This day hike takes you over the terrain of Mount Tongariro, which is an active volcano with many craters. The hike is about 12 miles round trip and is worth every step for what you will find at the summit. Once at the summit, you will be able to look out to a number of crystal blue lakes, which have the unique color due to minerals from surrounding rock.
Immerse yourself in New Zealand culture by visiting a replica Maori village. It is called Wairakei Terraces and is just north of Taupo. You will witness and even be a part of a traditional Maori introduction ceremony where your host will evaluate the nature of your visit. You may find it slightly frightening at times as a warrior approaches you with his most threatening facial features and primal cries. There are also natural hot thermal pools here that you might want to visit after the thrilling cultural experience in the Maori village.
Jet boats are a huge attraction in Taupo, and in many other parts of New Zealand. The jet boat in Taupo takes you along rivers lined with lush forests and eventually takes you right up to the base of the Huka Falls that were mentioned above. This is a thrilling high-speed activity with 360-degree spins incorporated as well.
The Spa Park Hot Pools are free to the public to soak in. There is a walking path in the park, and the pools get hotter and hotter the further up you go. Just remember to respect this natural beauty and bring everything out that you brought in.
Food and Dining
Taupo, and its surrounding towns have a reputation for great fishing. In fact, Turangi, a town south of Taupo, has distinguished itself as the trout capital of the world. Hence, seafood is a must while visiting Taupo. The Lazy Trout cafe is a known favorite that serves freshly prepared seafood and has a stunning view of the lake. It is located on the first floor of the Wellesley Hotel.
Make sure you try some Taupo Beef, which is in very high demand throughout Taupo. The farmers have won awards for their grass-fed, free-range beef as well as their efforts to protect the water quality of Lake Taupo. The beef is all over local restaurants and hotels in the area.
Try some of New Zealand's famous Manuka Honey for free! The Huka Honey Hive offers free tastings of honey as well as liqueurs and fruit wines.
Transportation
Getting to Taupo is relatively easy using public transportation, or even in a rental car. The bus system in New Zealand is called InterCity and there are connections to Taupo from Auckland, Hamilton, Rotorua, Palmerston North, New Plymouth, Gisborne, Napier, and Wellington. Once in Taupo, the Taupo Connector can get you all around the town. Renting a car is an option worth considering if you plan on visiting many places on your trip. There are also a few backpackers tour buses that you can sign up for, like Kiwi Experience or Contiki.
Related:
Looking for a party in
Auckland
or somewhere else in
New Zealand
?
Traveling
alone or with a group
?