Wellington On a Budget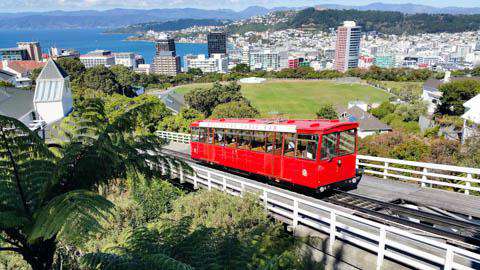 Wellington is the capital and second largest city in New Zealand. It sits on the southwestern edge of the North Island between Cook Strait and the Rimutaka Range. It's a beautiful setting that is encircled by mountains giving it a beautiful backdrop. There are also many cultural sights and attractions around town. Wellington really is the perfect mix of New Zealand's natural beauty and a vibrant urban core. The film industry is also prevelant in the city. The city's production centers have helped create Lord of the Rings, The Hobbit trilogies, Avatar, Tin Tin, and District 9.
Wellington's climate is temperate marine. The temperatures remain moderate year around and the highs rarely climb above 77 degrees Fahrenheit and the lows rarely drop below 40 degrees Fahrenheit. Despite the mild winters, the wind can make it feel surprisingly cold. June and July are the wettest months.
Sights
Wellington has a large number of cultural sights and attractions around town. If you're interested in musuems, then popular places to visit include the City Gallery, Te Papa (the national museum), The Museum of Wellington City & Sea, the National Library, and Carter Observatory. Impressive architecture around town includes Futuna Chapel, Plimmer's Ark, and Turnbull House. A great park to visit is Frank Kitts Park and Karori Cemetary is a nice place to have a picnic. If you're looking for the best views around town head to Mount Victoria, Mount Kaukau, Wrights Hill, the Brooklyn Wind Turbine, or Massey Memorial.
Neighborhoods
Wellington's city center is compact and active. The area is very linear with the most commericialized area being the Golden Mile. This area is between the Railway Station down Lambton Quay to Willis Street and on to Courtenay Place. Manners Mall is a pedestrianized area with many shops. The Waterfront is from Kumutoto in the north, past Queen's Wharf to Frank Kitts Park and then on to the Lagoon and City-to-Sea Bridge and Waitangi Park. Oriental Bay has a nice beach and promenade as well.
Wellington's suburbs include Lower Hutt, Upper Hutt and Porirua.
Activities
If you want to do a day trip, Wellington has many options as it is surrounded by a ruggedly beautiful coastline and rolling hills. There is also a beautiful harbour. You can easily venture out of town and you'll find some wonderful hiking trails and vineyards that offer some of New Zealand's wonderful scenery right at your doorstep. If you're not sure where to begin you can head over to the Wellington Visitor Information Centre in Civic Square at the intersection of Corner Victoria and Wakefield Streets. They can give you some great ideas as far as sights within Wellington and great day trips to the surrounding areas.
If you end up in Wellington at the right time of year, you visit one of the city's many festivals. Some great options include the Festival of the Arts in February and Beck's Incredible Film Festival which highlights some strange but interesting very low budget films. The quality is questionable, but it's an entertaining way to pass some time.
Food and Dining
There are a variety of wonderful food options in Wellington. You'll find some traditional restaurants as well as countless cafes around town, but you'll also find international restaurants ranging from Malaysian to Indian or Chinese. If you're traveling on a budget and looking for the best deal, fish and chips is the best way to go and you'll usually find the best options out in the suburbs.
Transportation
Wellington is a compact city that is easy to enjoy on foot. You can easily reach the many restaurants, museums and activities around town by walking, but if you're not interested in a stroll or the weather isn't ideal, then your best alternative is to take a bus. There is an elaborate network of buses that also include electric trolley buses. The area between the Railway Station and Courtenay Place has the highest concentration of routes.
The Kelburn cable car is a quintessential part of Wellington. There is service between Lambton Quay and Kelburn and it runs every ten minutes.
There is also ferry service between Queens Wharf and Days Bay in Eastbourne. The ferry stops at Somes Island as well. There is also less frequent service to Seatoun and Petone.
There are trains that travel between the central city and Johnsonville, Hutt Valley, Porirua and the Kapiti Coast.
Related:
Looking for a party in
Auckland
or somewhere else in
New Zealand
?
Traveling
alone or with a group
?