Granada On a Budget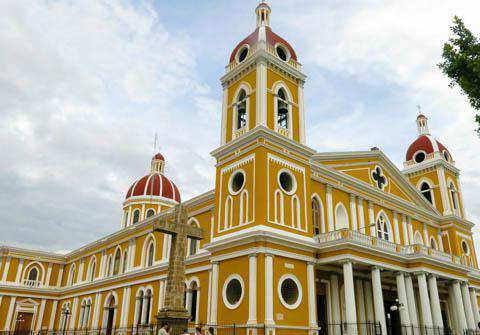 Granada is Nicaragua's oldest colonial city, and arguably, the most beautiful city in the country. It sits on the northern edge of Lake Nicaragua (Lago Cocibolca) and has many beautifully colored buildings and nice churches. The city's beauty and colonial architecture, along with its relative safety and accessibility, make it one of Nicaragua's top tourist destinations. The city has long been a center for commerce, but today its economy depends heavily on tourism. The city is the sixth largest in Nicaragua and a real estate boom in the early 2000's brought a large number of expats to the town.
Granada's climate is relatively consistent year around. High temperatures range from 32 degrees Celsius in March to 27 degrees Celsius in the late summer and fall. Low temperatures are in the low 20s Celsius year around. Rainfall is most frequent from late spring through the fall months and September is the wettest month of the year.
Sights
There are some great sights around town, many of which are rooted in the city's beautiful colonial architecture and its historic past. There are six beautiful churches around town, each with its own unique architecture and story. They are also in varying stages of disrepair. These churches include the Cathedral, La Merced, Guadalupe, Xalteva, San Francisco and Maria Auxiliadora. Also make sure you visit the historic fort built in the 18th century, Fuerte La Polvora. It has some interesting exhibits on its main level. Lake Nicaragua may not be the most beautiful lake, but if you head to the waterfront during the day you'll see many Nicaraguan families enjoying a picnic or relaxing in the sunshine. Also make sure you walk through the town's local market, which is a fascinating experience in and of itself. Here you'll find anything from local fruit and produce, to freshly slaughtered meat, or children's clothing and shoes. It offers you a chaotic glimpse into the everyday life in Granada.
If you're looking for an interesting way to get out on the lake, there are boat tours. The boats leave from Puerto Asese and you'll have a guide who can tell you all about the nearby islands.
Neighborhoods
Granada is located on the edge of Lake Nicaragua, which ranks twentieth in size world wide. The streets are narrow and charming, making the city fun to explore. The Central Park has the Cathedral and many colonial houses surrounding it. It's in the middle of town and you'll find many shops with handicrafts or snacks nearby. The local market is also an interesting area worth a visit. There are shops and stalls that sell anything and everything.
Activities
There are many tours and activities that you can enjoy while you're in Granada. Boat tours of Lake Nicaragua can be a fun way to get on the water and meet the local people on the islands. It's also possible to go horseback riding, hiking, or take a canopy tour on the side of Mombacho Volcano.
Food and Dining
Granada has an excellent reputation as a culinary city. For budget travelers, there are many street vendors that offer tamales, carne asada, gallo pinto, fried plaintains, and many other local dishes. On local specialty is Vigoron, which is made with cabbage, tomatoes, onions, and fried pork rind, all served on mashed yucca.
As Granada's economy has become increasingly dependent on tourism, it's restaurant selection has grown and diversified. There are high end restaurants that offer everything from organic international dishes to seafood, tapas, or Asian fusion. You can also enjoy local fish platters at Asese, which sits on the edge of Lake Nicaragua.
Transportation
Granada is a small city and it's possible to walk most places around town. There are also buses and minibuses that travel many places. Large, outdated American and Canadian school buses frequently travel routes and will stop to pick you up if you glance in their direction. Minibuses run on a somewhat set schedule but are slightly more expensive.
Aside from walking, taxis are generally the easiest way to make your way around the city. It's possible to hire a taxi for an entire day to show you the whole area, but it is best to get a recommendation ahead of time. If you arrange everything in advance, you can even have them pick you up at the airport. Basic local taxis have set prices and if you're taking a trip within town you can expect to pay about 7 to 10 cordobas during the day and 15-20 cordobas at night.
A slightly more glamorous way to see the city is by horse-drawn carriage. Called coches, these carriages travel from the cemetery in the southwest to the converted Rail Station in the north and the water from to the east. The tour is about an hour and a half and costs about US$30.
Boat tours also leave from Puerto Asese to Granada's islets.
Related:
Looking for a
party hostel in Costa Rica
or
Cancun
? Looking for a
budget hostel in Mexico
or
Costa Rica
?