Managua On a Budget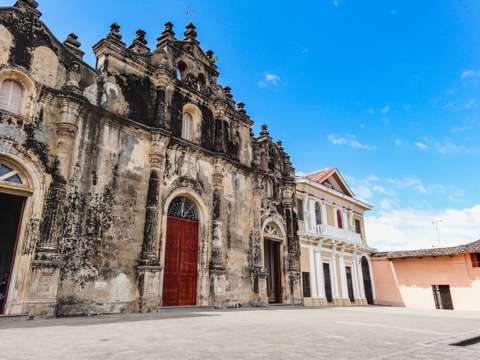 Managua is the capital, and largest city in Nicaragua. The economy is generally centered around the trade of coffee, cotton, and other types of agriculture. It also is a textile capital for the area. Managua is also a very reasonably priced destination in Central America. Restaurants and hotels are quite affordable and you'll find all kinds of international cuisine around the city. Transportation is also incredibly affordable and you'll find yourself pleasantly surprised at the cost of intercity bus rides.
While Managua has a reputation for being a dangerous city, it has actually made a great effort to get this problem under control. Today you will see a heavy police presence throughout the entire city. Crime is now relatively low, but common sense is still important. Stay alert when you're traveling around the city, particular at night. Travel in groups when you can and it is best to have someone with you who speaks Spanish. Also make sure you understand which neighborhoods you will be wandering through so you know what risks you may be taking.
Managua has a tropical climate. The temperatures are relatively constant throughout the year, averaging between 82 and 90 degrees Fahrenheit. There is a dry season that is between November and April and a wet season from May to October. Temperatures are warmest in March and April.
Sights
There are some fascinating sights around Managua, many of which highlight the colonial architecture around the city. Make sure you head to the Catedral de Managua, which is now in ruins after the 1972 earthquake. Today the Palacio Nacional is a museum with a multitude of exhibits you can visit. Visit the Rotonda Ruben Dario at night when the fountain is lit up and quite pleasant to see. A fun place to see is Tiscapa Lagoon which is a freshwater lagoon and volcano crater lake. It has ziplines nearby which can be fun. There's also a New Cathedral worth visiting and Parque de la Paz, also worth a visit.
Neighborhoods
Managua has a population of about 1,800,000, making it the second largest city in Central America after Guatemala City. Following the 1972 earthquake, many residential and business areas grew in the outskirts of the city. Barrio Martha Quezada and Barrio Jorge Dimitrove are both quiet, but less safe parts of the city. If you find yourself in these areas, it's best not to wander around after dark. The TicaBus Station is located in Barrio Jorge Dimitrov and there are many budget hotels nearby, so if you arrive in this area, it's best not to travel alone and make sure you take taxis at night.
If you're looking for bars and restaurants, then you'll find many in the area south of the big BAC building downtown. Zona Rosa is a growing area with bars and restaurants in a predominantly residential neighborhood. Zona Viva also has several options.
Activities
It can be fun to shop for handicrafts in Managua. Mercado Huembes has everything from local souvenirs to hammocks or art work. Galeria Codice is a great place to buy art. They have high quality work from all over Nicaragua.
Managua has many casinos throughout the city. Casinos range in size from small to large and several have poker games, while most of them have slot machines.
Food and Dining
There are plenty a delicious and reasonably priced restaurants and bars around town. The typical breakfast in Managua is Leche Agria, which is a homemade yogurt based drink. You can pick one up at any number of places, and many people enjoy it with a tortilla. Pupusas, fruit juices, roast chicken, and steakhouses are all available as well. There are some good international restaurants as well, including a popular French restaurant, Le Cafe de Paris. This high price restaurant has a good wine selection, foie gras, and pepper steak, among other French favorites.
Transportation
Although there is a local bus system that is well organized, you are required to purchase a smart card to use a bus. This is very difficult for visitors, and bus drivers will not accept cash.
There are several car rental agencies in the city but driving can be difficult and confusing. There is not a traditional street address system and directions are usually given with landmarks. This can prove difficult for those not familiar with the city.
Related:
Looking for a
party hostel in Costa Rica
or
Cancun
? Looking for a
budget hostel in Mexico
or
Costa Rica
?