Leon On a Budget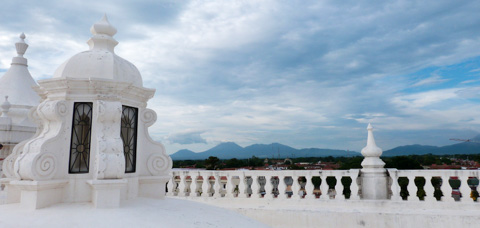 Leon is one of the oldest city's in Nicaragua and you can see hints of its colonial past in the architecture around town. Tourism is not a major part of the economy in Leon, but the city is gaining popularity with budget travelers and backpackers and more recently tour groups are including Leon in their itinerary.
With a population of just over 200,000, Leon is the second largest city in Nicaragua, after Managua. During the university season the population grows dramatically as there is a heavy presence of students in Leon. It is a popular university town, and this young population gives the city plenty of energy and entertainment.
Sights
There are thirteen colonial churches around town, each of which has it's own feel and is worth visiting for different reasons. Leon Cathedral is the largest cathedral in Central America and is definitely a must see if you're in Leon. Iglesia de San Juan Bautista de Subtiava is one of the oldest colonial churches and has an interesting rustic wooden interior. Fundacion Ortiz has some great Latin American art on display, and Centro de Arte Fundacion Ortiz Gurdian is one of the best museums in Nicaragua.
Neighborhoods
Leon's city center is where you will find the majority of the sights and attractions. There are many beautiful churches and interesting architecture throughout this area. It is most convenient to stay within the city center, as prices are quite cheap and it is helpful to be able to walk to most destinations.
Activities
Leon has many activities that visitors can enjoy. There are many good beaches nearby that can be reached with a 20 or 30 minutes taxi ride. Las Penitas is a convenient option with a mellow vibe and good surfing. Also close by is Oneloya.
There are many organizations that offer volcano treks to the nearby Maribios volcanic chain. SONATI is an environmental education nonprofit group that organizes volcano boarding trips to Cerro Negro. They also offer tours to the mangrove forest and between September and February they offer trips to see the turtles that are nesting and hatching.
You can take Spanish, yoga, or salsa lessons through La Isla Foundation. This is a nonprofit organization that supports sugarcane workers that are affected by chronic kidney disease. It's a fun and unique experience that supports a cause that is prolific in the area.
Food and Dining
There are some good restaurant options around town for all budgets. You should definitely make a point of trying the oldest restaurant in town, "El Sesteo", which is in the heart of the city. The restaurant has a diverse menu with plenty of local food as well as fast food and refreshing drinks.
If you're on a particularly tight budget you can pick up some good food at the market and enjoy making your own meals. The local market is located behind the main cathedral and there is a large food court that has everything including prepared food, beans, eggs, rice, and fried cheese. There are also cheap, fresh juices available.
There are also some decent mid range restaurants if you're looking for a good sit down meal. Burgers, seafood tapas, and even Polish and Sri Lankan food is available.
For a fancy meal, you can try the fillet mignon or churrasco at Montezerino. The meal won't set you back much more than US$10.
Transportation
Managua is about an hour and a half drive from Leon, and it has the nearest commercial airport to the city. There is a private van service that offers direct transportation from the airport to Leon.
Leon's chicken bus terminal is found about one and half kilometers northeast of Parque Central on 6 Calle Norte. It can be reached on foot in twenty minutes and taxis are readily available through most hotels and hostels.
The easiest way to make your way around Leon is to walk, although the heat, particularly in the summer, may force you into a taxi or bus. Most of the city's residents travel by bicycle which is another fun way to explore. If you're planning to head outside of town to a nearby beach or sight, it's better to have access to a car or take a taxi. Ruletos are trucks that act as local buses and offer rides around town for about 3 cordobas.
Related:
Looking for a
party hostel in Costa Rica
or
Cancun
? Looking for a
budget hostel in Mexico
or
Costa Rica
?