San Juan del Sur On a Budget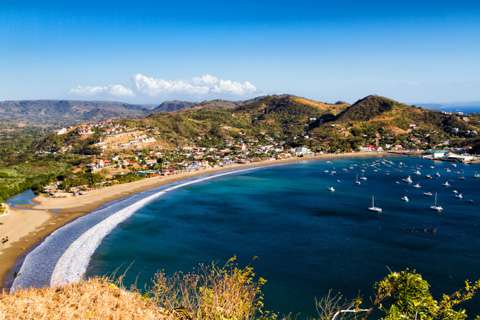 San Juan del Sur is a popular port destination on the Pacific coast of southwest Nicaragua. The town was once a quaint fishing village but has grown into a tourist town with activities for visitors that include surfing, fishing, and, of course, partying. The town has a population of just over 15,000, most of whom are either fishermen or involved in the tourism industry. There is also a large expat community from the United States, Canada, and Europe.
Weekends can be a particularly crowded time to visit as many Nicaraguans head to the area. If you're going to be in town during a weekend or holiday, reservations may be necessary.
San Juan del Sur has a tropical savanna climate with a consistent average temperature of about 64 degrees Fahrenheit throughout the year. There is a distinct dry season between the months of January and April.
Sights
While most people come to San Juan del Sur for the beaches and the world class surfing, the town itself has a handful of sights worth visiting. Many of the houses are brightly colored and the waterfront has many small boats that are anchored there, making for a very picturesque scene. You can do a twenty minute hike to the cross that overlooks the harbor and you'll be rewarded with views of the area. From there you can also pick up a zipline and canopy tour through the treetops where you'll see spider monkeys and other wildlife that is native to the area. Also make sure you head out of town to the more remote and isolated beaches, which can be quite beautiful and dramatic.
Neighborhoods
San Juan del Sur is a small town. If you're staying in town then you can easily walk to most destinations, but there are beautiful beaches that are worth visiting to both the north and south of the town.
Activities
San Juan del Sur is known for its laid back atmosphere. Surfing is the most obvious activity and there are many places where you can enjoy excellent waves. Other activities in the area include horseback riding, zip-line canopy tours, cycling, yoga retreats, and even paintball. There are also several Spanish schools where you can learn or improve your Spanish skills.
If you're looking for a book to read while you relax on the beach, there are several small bookstores and a library in the town as well.
San Juan del Sur also has a great nightlife with a decent number of bars for a town of its size. Make sure you try Flor De Cana.
Food and Dining
Perhaps the best place to enjoy a good meal in San Juan del Sur is along the waterfront where you'll find a series of cafes and restaurants. Many of these restaurants serve fresh seafood, which is highly recommended. You can also head to the market to pick up a quick and cheap breakfast that will save you a few dollars.
Transportation
There are a variety of bus and shuttle services that travel to San Juan del Sur from Rivas. It's easy to catch a ride to Rivas from most towns in the area. There is also a direct bus to San Juan del Sur from Managua. Another option is to take a taxi from Rivas. It'll take you about an hour and you can catch a colectivo taxi for about 50 cordobas per person. It is likely the driver will wait until the vehicle is full before leaving, so if you see an almost full car, go for that one. The most popular place to pick up a colectivo is at the bus terminal in Rivas.
Once you're in San Juan del Sur, the best way to make your way around town is to walk. Although there are no shortage of taxis that will eagerly offer you their service, walking is possible to most destinations. If you want to head to a more distant beach, inquire at your hotel, as many hotels offer a shuttle service. Another option is to rent an ATV or motorcycle, which can be fun, but do realize that most of the nearby roads are dirt and in poor condition.
Related:
Looking for a
party hostel in Costa Rica
or
Cancun
? Looking for a
budget hostel in Mexico
or
Costa Rica
?