Isla de Ometepe On a Budget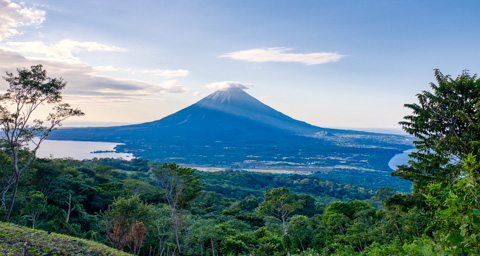 Ometepe is a dramatically beautiful island in Lake Nicaragua in the country of Nicaragua. The island is the largest in the lake and is formed by two dramatic twin volcanoes that climb high from the water's surface. The two volcanoes are Concepcion and Maderas, and they are joined by an isthmus to make one island with an area of 276 square kilometers. The island is 31 kilometers long and between 5 and 10 kilometers wide. There are several small settlements on the island as well as a few coffee plantations. It is also one of the top sights in the country and makes for a unique travel destination.
Sights
Ometepe is a beautiful island with stunning natural scenery. There is some interesting wildlife on the island including a large population of the white-faced Capuchin monkey. There are also populations of the mantled howler monkey and smaller populations of spider monkeys.
There are interesting petroglyphs found on the island that were noted during the Ometepe Petroglyph Project, which ran between 1995 and 1999. Of the 73 sites surveyed during the project, petroglyphs were recorded on all but one.
Neighborhoods
The main town on the island is Moyogalpa, which is the harbor village, and your likely point of arrival if you travel to Ometepe by ferry. There are a handful of hotels and restaurants around town, and this town can serve as a good base during your visit to the island.
Altagracia is the second largest town on the island and is located on the eastern side. The town has a cathedral that was built in 1924 as well as the Museum of Ometepe that has a collection of archaeological and ethnographic items.
On the southeastern coast you'll find the town of Merida, while the town of Balgue is on the southwestern coast. Santo Domingo is just past the isthmus on the Maderas side. This town has a few affordable hotels and restaurants, as well as a black sand beach. Santa Cruz is about an hour by taxi from Moyogalpa on the Maderas side. This is a small village that has gained popularity with backpackers and has a few hostels.
Activities
There are some wonderful hikes all over the island, some of which are highly recommended. These include the challenging hike to the top of Volcan Concepcion and the slightly less difficult hike to the top of Volcan Maderas. At the top of Volcan Maderas you'll find a crater lake. There's also a waterfall in route that you can visit as well. Other options around the island include horseback riding, kayaking, fishing, bicycling, and swimming. It's easy to keep yourself entertained exploring the island for at least a few days.
Food and Dining
Food options are somewhat limited on the island, but you will find a handful of restaurants that cater specifically to tourists. Most restaurants offer some form of grilled or fried fish, as well as tacos and fresh fruit. Spaghetti is also commonplace around the island, although the quality is highly variable. Pizza is also relatively easy to find. Vegetarian dishes are available at a handful of restaurants as well. Comida Corriente is the most budget friendly option. This traditional dish usually includes rice, beans, and some form of meat.
Transportation
The most practical way to get to Ometepe is to take a ferry from the town of San Jorge, which is near Rivas. The boat takes you to the island's main port in Moyogalpa and the trip will cost you between 2 and 3 dollars. You will likely have to pay a 10 cordoba tax on departure as well. Conveniently, a ferry also leaves from Granada on Mondays and Thursdays. It's about a six hour ride but is reasonably priced and will drop you off in the town of Altagracia.
Once you're on the island you can catch a bus that travels to most towns. It's incredibly slow and circles the island. There are slightly more frequent buses that make the trip between Moyogalpa and Altagracia. Alternatively, you can take a taxi, but prices can be quite expensive. If you are less concerned about money, another fun option is to rent a motorcycle to explore the island. This will give you more freedom and flexibility.
Related:
Looking for a
party hostel in Costa Rica
or
Cancun
? Looking for a
budget hostel in Mexico
or
Costa Rica
?