Boracay On a Budget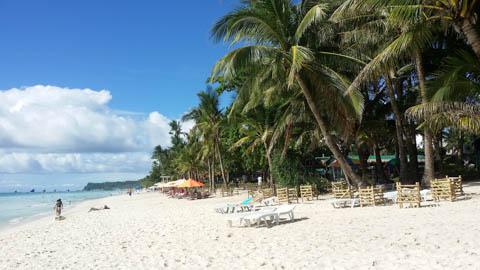 A small island in the Philippines known for its resorts and beaches, Boracay is a little escape. Each beach has its own unique character, each with new treasures waiting to be discovered.
Sights
Most people flock to Boracay each year to experience the hub at White Beach - not only a stretch of powdery white sands and blue waters, but also the island's commercial center. The length of the beach is divided into three sections: Section 1 on the northern end with the widest beachfront as well as the prime hotels and resorts, Section 2 at the center with plenty to offer in shopping, dining, and drinking, and Section 3 to the south with the least developed beachfront and lowest priced amenities.
While White Beach runs along the island's western shore, Yapak or Puka Beach offers another quieter option running along the northern tip. The waters are a little rougher and there are fewer amenities than White Beach, but it is a nice escape from the bustle of the tourism hub. This beach gets its name from the puka shells which many locals collect her to make some of the jewelry that is sold on the island. Another peaceful beach good for swimming, snorkeling, and relaxing is Baling Hai Beach, while a location like Bulabog Beach is characterized by winds perfect for kitesurfing.
Other popular attractions include a number of lookout points, a few other beaches, and several unique caves like the Bat Cave on the western end of the island.
Neighborhoods
As mentioned earlier, White Beach is the island's main commercial center. Along the beach path, there is a wide variety of souvenir gift shops and charming boutiques. In addition to the bustling market stalls, there are also a number of high-end stores which sell clothing, art, and household items. Some places will permit people to haggle (likely the crowded stalls), while others (high-end stores) have a fixed pricing system with price tags. In addition to shopping, the White Beach area is a prime location for dining and nightlife. Other beach areas on Boracay are fairly quiet without the crowds and bustle of nearby amenities. Each has its own unique charm and a sense of escape right by the sparkling waters of the Western Pacific Ocean.
Activities
The beaches are the main draw to the island of Boracay. This being said, most vacations consist of sunbathing, swimming, relaxing, and other seaside activities. Snorkeling and scuba diving are fairly common, as is kitesurfing especially at Bulabog Beach which is known as one of the best kitesurf destinations in Asia. For all of these reasons, Boracay is on the list of must-see places in
a 6-day itinerary of the Philippines
.
Another great way to see the island is to board a boat tour and hop from beach to beach. Other activities include things like a massage and spa, skimboarding, parasailing, cliff diving, motor biking, horseback riding, and local cooking lessons.
Food and Dining
As an international destination, Boracay has a diverse array of dining options for all tastes and budgets. It is especially noted for its bakeries and some of the best mangos in the world.
Transportation
The main airport serving Boracay is Caticlan or Godofredo P. Ramos Airport. Airlines with flights to and from the airport include Cebu Pacific Air from Manila and Cebu, as well as Philippine Airlines and SkyJet from Manila only. Once arrived, visitors can either take a motorized tricycle (the island's taxi) or walk to Caticlan Jetty Port where outrigger boats or "bancas" provide transportation to the island of Boracay.
Another option is to fly into Kalibo International Airport, which is able to land larger planes but is further away from the Jetty Port (about 80 minutes). Cebu Pacific Air, Air Asia, and Philippine Airlines connect Kalibo to Manila, Taipei, Shanghai, and Seoul. Philippines AirAsia connects from Clark/Angeles City in central Luzon to Kalibo with daily return flights, and Tigerair Philippines connects Kalibo to Clark, Manila, and Singapore.
Accommodation
In late 2018 until early 2019, the entire island was closed by the government. The reasons given were extreme tourism numbers, overpopulation, and environmental damage. The government then made sure that the island and the economic situation were cleaned up before re-opening the island to visitors. Now, businesses must have licences to operate, and this includes hotels. They are asking all tourists to only stay at official hotels. The full
list of accredited Boracay hotels can be found here
. Also, our
recommended best party hostels in Boracay can be found here
.
Related:
Partying in
Chiang Mai
or other parts of
Thailand
?
Going to the
Full Moon Party in Koh Phangan
?
Hitting the beach in
Koh Samui
?