El Nido On a Budget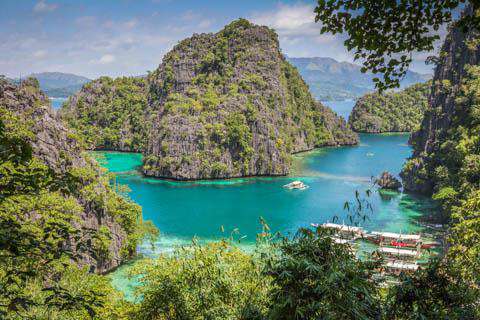 El Nido is a coastal destination on the Philippine island of Palawan. It consists of about 45 islands and islets all with beautiful beachfront scenery and plenty of opportunities for experiencing nature above and below the water. Some of the island's best features include limestone karst cliffs, coral reefs, lagoons, coves, and waterfalls.
Sights
The coastal town and its surrounding islands are characterized by stunning waters, beaches, coral reefs, and lagoons with a diverse array of marine life. The Bacuit Bay is home to these islands and their wildlife which include species like dugongs (a kind of marine mammal), turtles, manta rays, fish, reefs, and sometimes whale sharks. Each island is a kaleidoscope of flora and fauna with colorful reefs and paths lined with native flowers. Miniloc Island is famed for the clear waters of its Small and Big lagoons. Small Lagoon shimmers with tranquil turquoise-green waters, while Big Lagoon rests amidst impressive karst limestone cliffs. Nearby Shimizu Island has fish-filled waters great for snorkeling, while Seven Commandos Beach offers a long sandy stretch lined with palm trees. Each island and each beach has its own unique treasures waiting to be discovered.
Neighborhoods
The main town, or Poblacion, of El Nido sits near the northern tip of the Philippine island Palawan. It is nestled in a sheltered bay with a pier at one end of a crescent beach flanked by the area's famous limestone cliffs on the eastern side and hills to the west. The center of town is laid out with tree-lined streets and plenty of opportunities for shopping and dining with restaurants and beachside bars as well as souvenir shops. Out of El Nido's islands, Cadlao is the largest and closest to a town proper. It is characterized by white sand beaches and steep forested peaks with a number of nature trails, one of which leads to the saltwater Makaamo Lagoon. Other islands amidst the Bacuit Bay of El Nido include Dilumacad Island (nicknamed Helicopter Island due to the shape of its limestone cliffs), Pangulasian Island (with powder white sands next to waters lined with reefs good for diving and snorkeling), Vigan Island (nicknamed Snake Island for its s-shaped sandbar), Cudugnon Point (an anthropological site which yielded artifacts dating back to the Song Dynasty), Matinloc Island (known for its hidden Secret Beach), and Pinasil Island (featuring a cathedral-like cavern accessible by kayak).
Activities
The best way to see the archipelago of El Nido in the Bacui Bay is to schedule an island-hopping boat. Most routes allow passengers to visit four or five islands in a day. Overnight island-hopping tours are also available where visitors take a few days to see more of the archipelago and camp overnight on one or two of the islands. The waters of these islands also offer great opportunities for swimming, snorkeling, and scuba diving, while the white sand beaches are prime locations for relaxing and sunbathing. There are also a number of nature trails great for hiking and perhaps experiencing some of the local wildlife. Other activities include mountain biking, rock climbing, and kayaking or cultural lessons in fishing, boating, cooking, and crafts.
Food and Dining
The food found in El Nido consists of a mix of European, American, and Filipino cuisines. A few of the more authentic dishes native to the Philippines include items like:
lechon
- whole roasted pig
longganisa
- Philippine sausage
tapa
- cured beef
torta
- omelet
adobo
- chicken and/or pork braised in garlic, vinegar, oil and soy sauce, or cooked until dry
kaldereta
- meat in tomato sauce stew
mechado
- larded beef in soy and tomato sauce
puchero
- beef in bananas and tomato sauce
afritada
- chicken and/or pork simmered in tomato sauce with vegetables
kare-kare
- oxtail and vegetables cooked in peanut sauce
pinakbet
- kabocha squash, eggplant, beans, okra, and tomato stew flavored with shrimp paste
crispy pata
- deep-fried pig's leg
hamonado
- pork sweetened in pineapple sauce
sinigang
- meat or seafood in a sour broth
pancit
- noodles
lumpia
- fresh or fried spring rolls
Transportation
By plane, the nearest major airport is Puerto Princesa International Airport (Palwan's primary gateway). Philippine Airlines, Cebu Pacific, Airphilexpress, Seair, and Zest Air fly from Manila, Davao, Busuanga, Cebu, and Clark to the airport. Upon arrival, buses and private or public vans are available from Puerto Princesa to El Nido. El Nido Airport is another, smaller option, offering four flights daily to and from Manila as well as one flight daily to and from Cebu. Flights here are operated by Air Swift.
Related:
Partying in
Chiang Mai
or other parts of
Thailand
?
Going to the
Full Moon Party in Koh Phangan
?
Hitting the beach in
Koh Samui
?