Palawan On a Budget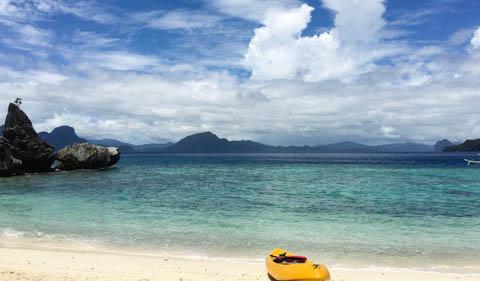 Palawan is an archipelagic province of the Philippines, named for its largest island which measures about 450 kilometers (or 280 miles) long. The island is known as an ecological frontier with plenty of beaches and resorts as well as opportunities to see a diverse array of wildlife and their habitats on land and sea.
Sights
Palawan is home to two UNESCO World Heritage Sites: Puerto-Princesa Subterranean River National Park which features a large limestone karst landscape with an underground river leading into the sea, and Tubbataha Reef Marine Park which consists of reefs, lagoons, and coral islands that serve as homes and nesting sites for many marine species. Natural sites like these are great destinations for ecotourism as well as activities like snorkeling and scuba diving.
Miniloc Island, of El Nido on the northern end of the island, is famed for the clear waters of its Small and Big lagoons. Small Lagoon shimmers with tranquil turquoise-green waters, while Big Lagoon rests amidst impressive karst limestone cliffs. Other popular attractions include the Calauit Game Preserve and Wildlife Sanctuary, the diving sites to Japanese shipwrecks in Coron, El Nido Marine Reserve Park, the Malampaya Sound Land and Seascape Protected Area, Ursula Island (game refuge and bird sanctuary), and Rasa Island Wildlife Sanctuary which is inhabited by rare bird species like the Philippine cockatoo as well as marine turtles. Most of these sights are dedicated to ecological protection and offer great opportunities to see wildlife in their natural habitats. The island is famous for its gorgeous scenery, beaches, wildlife, and natural areas. And it's also full of fun activities. These are just a few of the reasons why it's one of the
best honeymoon spots in Asia
for sure.
Also make sure you check out the
Port Barton
area. This relatively untouched beach and island part of Palawan makes a nice place to enjoy the atmosphere and is host to plenty of activities.
Regions
Puerto Princesa is the island's administrative capital as well as a popular home base for the area's many beaches and wildlife preserves. It is considered to be the cleanest and greenest city of the Philippines and is perhaps best known for its underground river (an UNESCO World Heritage Site). Quezon is another populated area, featuring an extensive cave complex known as the Tabon Caves. Coron is famed for its wreck diving, Sabang marks the entry point to the Puerto Princesa underground river, Brooke's Point is a farming and fishing municipality with beautiful scenery, and Port Barton is a quiet town with a nice beach. There is also El Nido, on the island's northern end, a major tourist destination with plenty of entertainment, limestone cliffs, lagoons, and beautiful beaches.
Activities
As the Philippines' last ecological frontier, Palawan is a place to get lost in nature. The waters along the shore and surroundings islands offer great opportunities for swimming, snorkeling, and scuba diving, while the white sand beaches are prime locations for relaxing and sunbathing. There are also a number of nature trails great for hiking and perhaps experiencing some of the local wildlife. Any of the reserves mentioned earlier will have an abundance of species and habitats to explore. Other activities on Palawan include things like mountain biking, rock climbing, and kayaking or even cultural lessons in fishing, boating, cooking, and crafts.
Food and Dining
The food found on Palawan consists of a mix of European, American, and Filipino cuisines. Local delicacies include things like tamilok (a kind of wood worm that tastes similar to oysters), lato (sea grapes), danggit lamayo (dried rabbitfish), and bandi (cashews encrusted with a kind of brown sugar-cashews are a major export of the island).
Transportation
The main gateway to the island of Palawan is Puerto Princesa International Airport, offering both domestic and international flights. Serving this airport are Philippine Airlines, Air Philippines, Cebu Pacific, and AirAsia Zest with flights to and from Manila and Cebu, as well as PAL Express (Air Philippines) which has flights to and from Busuanga.
El Nido Airport is another, smaller option, offering four flights daily to and from Manila as well as one flight daily to and from Cebu. Flights here are operated by Air Swift.
Related:
Partying in
Chiang Mai
or other parts of
Thailand
?
Going to the
Full Moon Party in Koh Phangan
?
Hitting the beach in
Koh Samui
?