I really enjoyed my stay here! It's about a 5 minute walk to Termini Station where I was able to catch the metro to take to any of the major sights in the city. It was nice and quiet, clean, and easy to get to from the airport (again because of its proximity to Termini). They even let me store my bags at the front desk while I was exploring the city before I was actually able to check in. - Claire
What sets them apart?
This hostel's location near the Termini Train Station, it's fun happy hour, and the friendliness of the other guests make this a nice, cheap, place to crash for a few nights.
Who's staying here?
This hostel offers affordability in a central location so, like many hostels, it appeals to young budget travelers and backpackers.
Insider Tip
Bring cash because that's all they accept when you check in and it's hard to find an ATM nearby.
Legends
This hostel offers decent facilities in a central part of Rome. The dorms are split between several buildings, so you may end up staying in a different building from where you check in. Many guests actually enjoy this, because it creates a sense of community with the other guests.
The most popular activity here is the nightly happy hour where you can enjoy wine and chips while you meet interesting people from around the world. If you're looking to meet other guests, definitely check out the nightly happy hour.
The Facilities
Dorms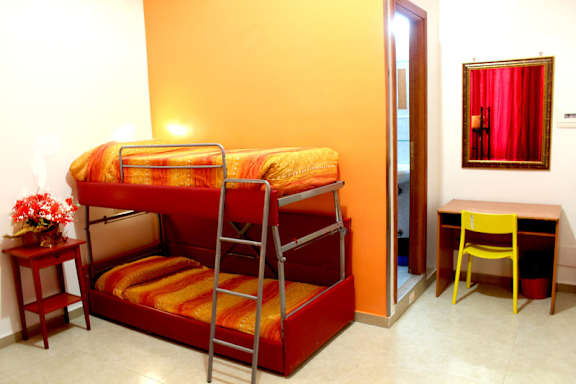 The dorm rooms at this hostel are basic and affordable. They sleep anywhere from three to seven people, depending on what you choose. The rooms themselves are a bit small, so you might feel a little cramped, but the rooms are air conditioned and most have ensuite bathrooms.
The dorms are split between buildings so you might have to walk to a different building from the reception area.
Private Rooms
If you want a little more privacy, there are single and twin private rooms available. Most use shared bathrooms but rooms with ensuites are also available. The rooms are like basic hotel rooms with simple furnishings.
Bathrooms
Each dorm has it's own ensuite bathroom which is really convenient. They're cleaned daily and they have the basic fixtures. Lights are on a timer, which some guests find annoying, but it helps save energy and ensures the lights aren't left on at night.
Common Areas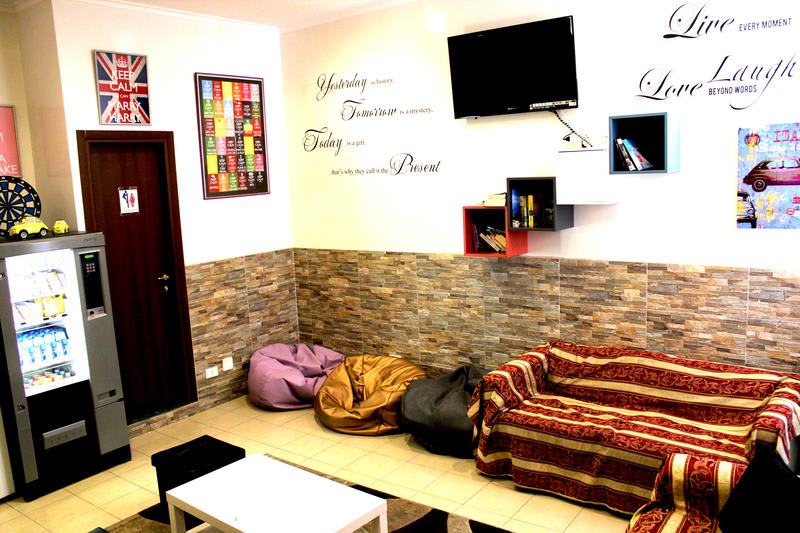 This hostel has a common area with computers, bean bag chairs, and sofas that guests can use. There's a nightly happy hour every day where you can enjoy wine and potato chips. There are also vending machines where you can grab a drink or a snack.
The Location
Termini Central Station
What's Nearby?
Like many hostels in Rome, this hostel is about a five minute walk from the Termini Train Station. It's about twenty to thirty minutes by foot from most tourist attractions including the Colosseum, the Spanish Steps, and the Trevi Fountain. In the surrounding area there are many restaurants, cafes, and other hostels and hotels. There's also a supermarket very close by.
Nearby Transportation
This hostel's proximity to the Termini Train Station means it's easy to arrive and depart. It's just a five minute walk to the train station and nearby you'll find almost every type of transportation include the metro and bus stops.
Activities
The time to meet people is during the nightly happy hours when you can enjoy free wine and potato chips. Many guests come out to chat and hang out during this time, so if you're traveling alone, this is the perfect opportunity to make some new friends.
Amenities
This hostel offers the standard amenities. There's a free breakfast served every morning, but it's really just pastries and coffee. Luggage storage is available to guests, there are kitchen facilities and a microwave. You can also grab a quick snack or drink out of the vending machines. Guests are given maps of the city when they arrive and movies are available to watch in the common area.
Staff
The reception area is in a different building from many of the dorm rooms, but the staff are very receptive if you have any questions or concerns. Many are multi-lingual, but some of the staff members don't speak English, which presents a challenge for some guests.
Heads Up
The common area in this hostel isn't great, so if you're traveling alone it can be harder to meet people. The dorms are also a bit small, but the price is good for what you get.
Legends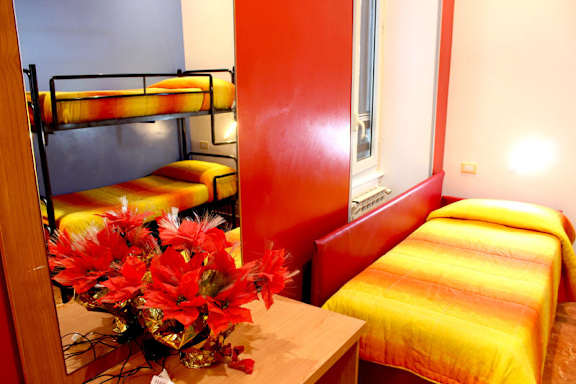 Do you have a favorite hostel that you would like to review? Let us know!