Great hostel for the price. Good location (very close to termini station and main attractions are very walkable) and very friendly staff. - Alex
What sets them apart?
This is a popular hostel that is clean and reliable. Even though the rooms are spread across two buildings, the staff host a happy hour every night with wine and snacks. This is a great way to meet other guests.
Hostel Personality
Who's staying here?
This hostel attracts all kinds of travelers of different ages and personalities. It's possible to meet others at the happy hour every night, or it's easy to keep to yourself if that's more your style.
Insider Tip
This is a good place to stay if you have a late flight out as they have no problem letting you hang out in the lobby after you check out.
Legend R.G
This hostel has rooms that are split between two buildings. Each floor has a kitchen and the atmosphere feels a bit like a college dorm. The evening happy hours with wine and snacks are a great way to meet other travelers, but there's no pressure to hang out if you're more interested in sticking to yourself.
The hostel is also conveniently close to the train station, but in a great area with small, affordable restaurants. If the breakfast of coffee and a pastry isn't enough, there are plenty of places to grab a quick bite before you head out to explore the city.
The Facilities
Dorms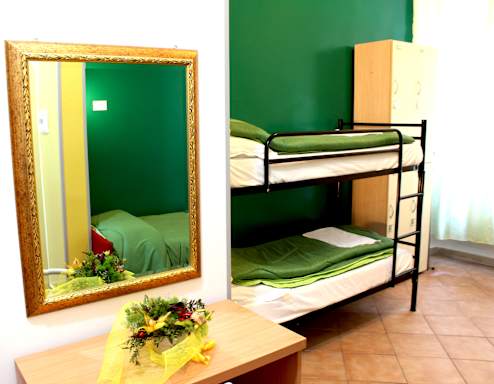 This hostel has four, five, and six bed dorms that are either co-ed or female only. The rooms was basic but clean. The beds are bunk beds, which are a bit wobbly, but the rooms themselves are large and comfortable. They also have en-suite bathrooms.
Private Rooms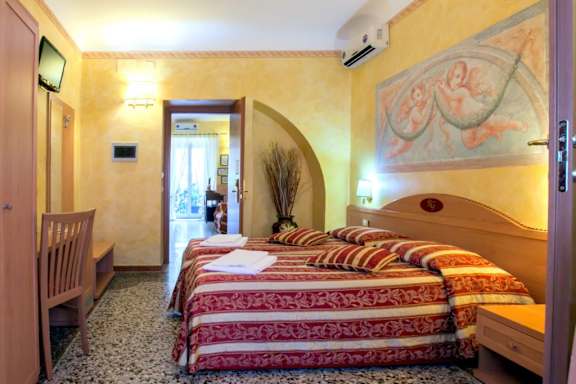 The hostel also has twin and double private rooms available. These rooms have nice furnishings and comfortable beds. They're a great option for any travelers who want the amenities of a hostel (kitchen, common areas) but still want their own private space and a little more comfort.
Bathrooms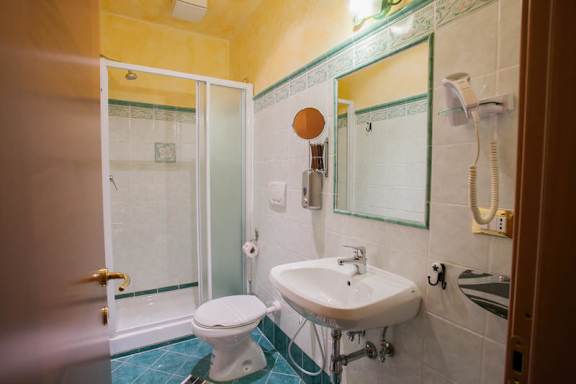 The bathrooms are cleaned daily. They have modern fixtures and are a decent size, but the hot water could be stronger. The convenience of having an en-suite bathroom is nice and there is rarely a wait for the shower.
Common Areas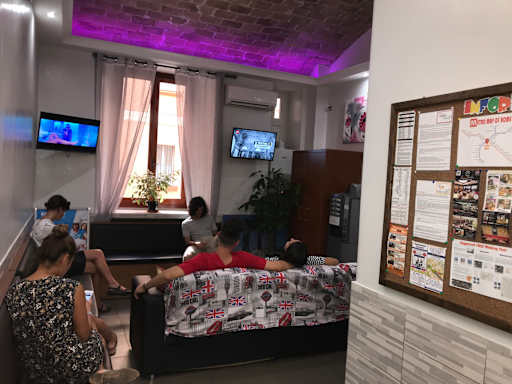 This hostel is split between two buildings, which can make socializing a bit difficult depending on where you're staying. There's a large television lounge where you can relax and hang out. There are also kitchens available to guests where you can cook your own meals. This is particularly convenient as there is a supermarket very close by. If you have a late flight out, the staff is ok with you hanging out in the lobby, which is a nice plus.
The Location
Termini Central Station
What's Nearby?
This hostel is in a convenient area walking distance to the train station in an area with many quaint but affordable restaurants and cafes. There are also convenience stores and a supermarket very close by.
Rome is a very walkable city, or public transportation is convenient if that's more your style. You can walk to the Trevi Fountain in about twenty minutes. The Spanish Steps are about a 25 minute walk away and the Colosseum is about half an hour on foot.
Nearby Transportation
The Legend R.G. is conveniently close to three different metro stations. Repubblica is on Line A. Castro Pretorio is on Line B, and Termini is on both Lines A and B. Rome Termini Train Station is about a ten minute walk away.
Activities
The time to meet people at this hostel is the free happy hour that they host every night at 7pm. They offer free wine and light snacks and it's easy to join the crowd and strike up a conversation. This is a popular gathering, so if you're looking to meet people, don't miss it!
Amenities
This hostel has the standard amenities, including a simple breakfast every morning of a pastry and coffee. There are also kitchens available to guests if you want to make your own food and vending machines where you can grab a quick snack.
The building is very secure with keycard access, security lockers, and a safety deposit box available to guests. The reception area is also open 24 hours a day.
Staff
The staff here are professional and helpful. They organize the nightly happy hour and can answer any questions you may have. They're also very relaxed and will store your luggage before you check in or after you check out. If you need to hang out for a while before your flight, that's not a problem either.
Heads Up
The biggest complaint with this hostel is the wobbly and squeaky bunk beds. Some people feel the bathrooms could be cleaner, but the actual dorm rooms are kept pretty clean.
Legend R.G
Do you have a favorite hostel that you would like to review? Let us know!