Everything was perfect, the place was clean, quite, well located. Marco gave us all the information we needed and a warm welcome when we arrived. Thank you very much. - Anonymous
What sets them apart?
This is a really small hostel that's more like a bed and breakfast or a small boutique hotel. There's only four rooms and the owner is very accessible, but really only on-site in the afternoons. This is a quiet retreat in a central location that's perfect if you want affordability without the typical hostel atmosphere.
Hostel Personality
Who's staying here?
This hostel is really more of a bed and breakfast. It doesn't have the typical backpacker hostel vibe, so it's perfect for families, couples, or young professionals who want a quiet and peaceful retreat in the city.
Insider Tip
Ask the owner for restaurant recommendations so you can find local options and avoid the tourist traps.
La Controra Hostel Rome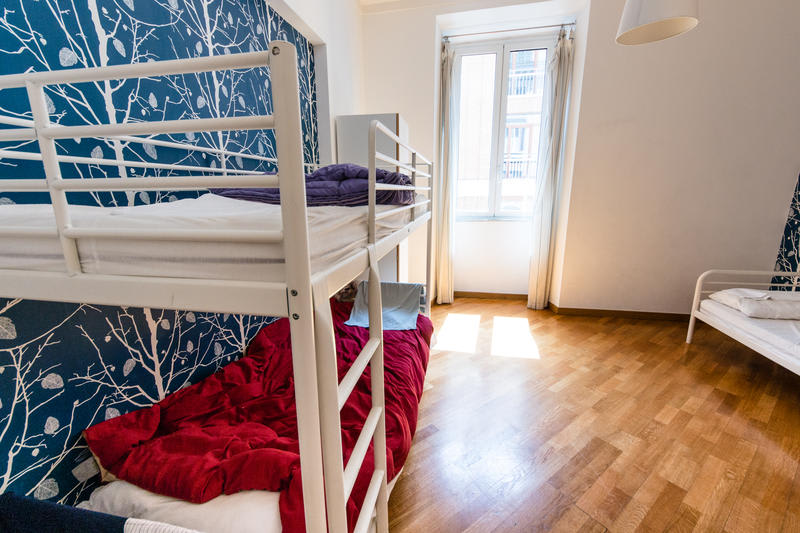 La Controra Hostel is the sister hostel to a place of the same name in Naples. It offers guests a quiet retreat in a central location in Rome. It's in a very safe neighborhood near many embassies. There are great restaurants nearby and you can walk or take the metro to most of Rome's most popular tourist sights.
The hostel is really more of a bed and breakfast. The owner is around in the afternoons, but accessible by phone or email any time you might need him. The rooms are nice and you'll enjoy a simple breakfast every morning that's included in the price of the room.
The Facilities
Private Rooms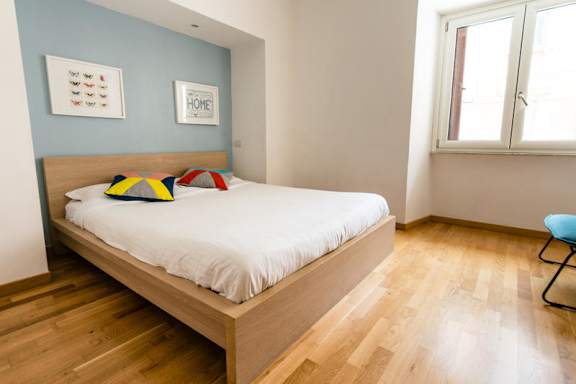 This hostel has only four rooms in total, that sleep either two, three, or four people. The rooms are surprisingly large and each has a television and some simple furnishings. The two person room has a queen bed.The three person room has a queen bed and a twin bed, and the four person room has one queen bed and bunk beds. The rooms are cleaned daily and are generally comfortable and quiet. If you open a window then the streets below can be pretty noise, but the windows and walls are very soundproof so things stay very quiet as long as the window is closed.
Bathrooms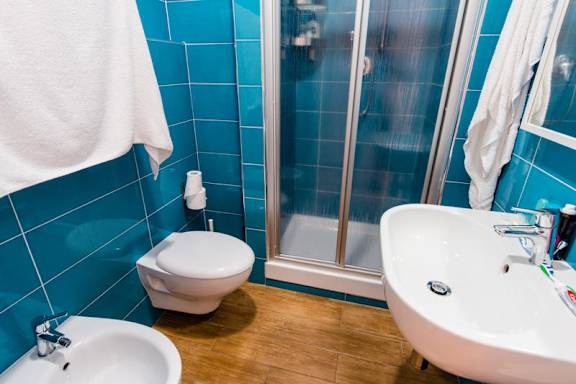 All of the rooms at this guesthouse have en-suite bathrooms. The bathrooms are cleaned regularly and they're reliable and large enough. There's a shower, bidet, and hairdryer provided in each bathroom.
Common Areas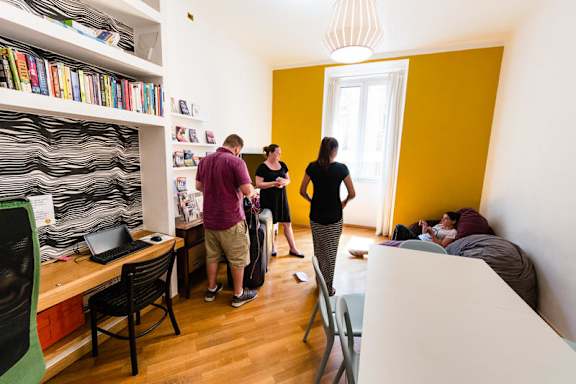 This hostel has a simple common area where guests can hang out. The vibe here is much more like a guesthouse or bed and breakfast than a hostel, so don't expect a social environment. It's still nice to have the common space though, which has public computers with internet access, a large television, and a wide selection of movies you can choose from. This is a nice space to relax and unwind after exploring the city.
The Location
Ludovisi / Via Veneto
What's Nearby?
This hostel is in a very safe and quiet part of Rome. It's about a six minute walk from Piazza Barberini and in the surrounding neighborhood you'll find many consulates and embassies. The hostel is next to the US embassy. There are many great restaurants nearby and there are a few supermarkets where you can pick up ingredients to make your own meals. There's also a laundromat just a few minutes away if you need to do laundry.
The hostel is a bit of a hike to most tourist attractions, but it's doable. Otherwise the metro is very close by and convenient. The Trevi Fountain is about a fifteen minute walk away or about ten minutes by metro. The Colosseum is about a fifteen to twenty minutes away by metro or a half hour walk. The Spanish Steps are about a ten minute metro ride away or a fifteen minute walk.
Nearby Transportation
Termini Station, which is Rome's main railway station, is a ten to fifteen minute walk away. The closest metro stop is Republica, which is just four minutes away and on Line A. There's also bus stops nearby, and the bus is a comprehensive and efficient way to get around the city.
Amenities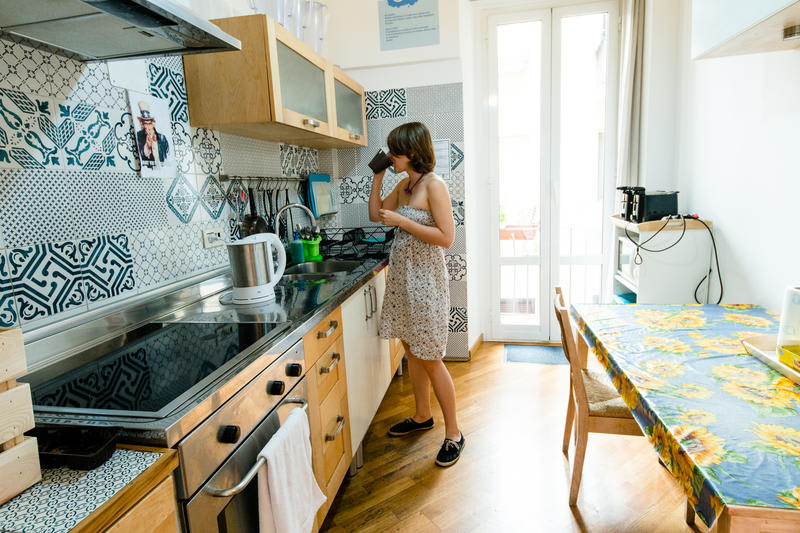 This is a very small hostel with the basic amenities such as Wi-Fi access and luggage storage. There's a kitchen area that guests can use as well. The owner leaves the makings of a continental breakfast for guests to prepare. It includes different cereals, snacks, yogurt, and orange juice. It's a basic breakfast but still offers a nice start to the day.
Staff
The owner is very helpful. The staff are really only there in the afternoon, but you'll get the owner's phone number and email address and he's very responsive. For the size of this hostel and the personal, homey experience, this is perfect.
Heads Up
This is a small hostel so don't expect the social atmosphere you find at other places. Some of the tourist sights are bit far away as well, but public transportation is convenient and easy.
La Controra Hostel Rome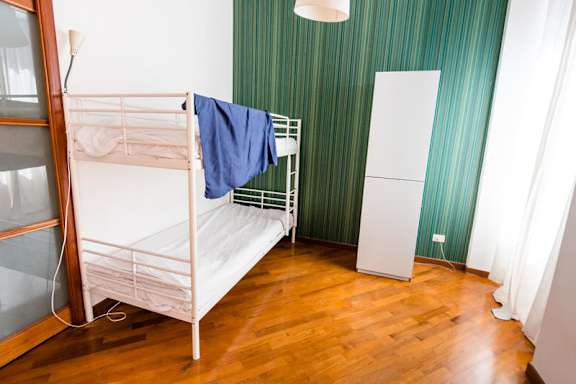 Do you have a favorite hostel that you would like to review? Let us know!